The global digital currency market is worth more than US$1 trillion and with many merchants now accepting digital currencies, encrypted wallet security is firmly in the spotlight. A Hong Kong-based technology company launched an innovative patent-pending solution this year that can efficiently and securely manage digital assets. Leading global banks and professional investors have quickly adopted the technology.
The solution won Custonomy a place in the line-up of winning start-ups in this year's edition of the Hong Kong Trade Development Council's Start-up Express entrepreneurship development programme. The company will make a new round of venture capital financing in the fourth quarter of this year to develop more services and expand its global market.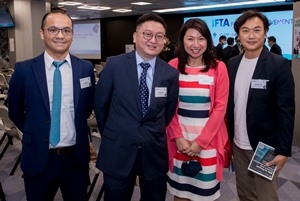 Custonomy was founded in 2020 by Chief Executive Officer Keith Hung, Chief Engineer Raymond Lam, Chief Operating Officer Annie Hui (main picture) and Chief Strategist Calvin Choi. The four founders have been in the IT industry for many years. Having worked in multinational technology companies such as IBM and Oracle, they are well aware of the management, compliance and security needs of corporate customers.
"Moving away from high-paying jobs is our biggest investment in starting Custonomy," Ms Hui said.
Their entrepreneurial mission began with first-hand experience of a Bitcoin theft. "Our accounts on different online trading platforms were hacked and we lost some Bitcoins. From that moment onwards, we were determined to create a cryptocurrency wallet system with a high security factor, that is convenient and easy to use," she said.
Innovative financial technology
Ms Hui said the team based its system on two technologies – the HTSS layered signature system and MPC or multi-party computing technology – to write multi-level passwords that are difficult for hackers to crack.
"Simply put, it is like a puzzle that never actually exists. Different pieces are distributed to different people at the beginning. To restore the puzzle, a certain number of pieces must be found, as well as the main pieces of different parts. This greatly increases the difficulty of cracking [the passwords] and makes it impossible for hackers to get started."
Before launching this technology, the team specifically recruited different IT experts as hackers to try to break into the system, "but they were unsuccessful. Indeed, no potential risks were found," Ms Hui said.
Custonomy has applied for patents on this innovative technology in the United States, the United Kingdom and Hong Kong, hoping to provide robust and effective products for the financial sector and large enterprises that will increase investor confidence.
"We expect digital assets to be a major trend. Ensuring asset safety is the key for more effective promotion, and in turn increasing traditional investors' receptiveness to fintech," Ms Hui said.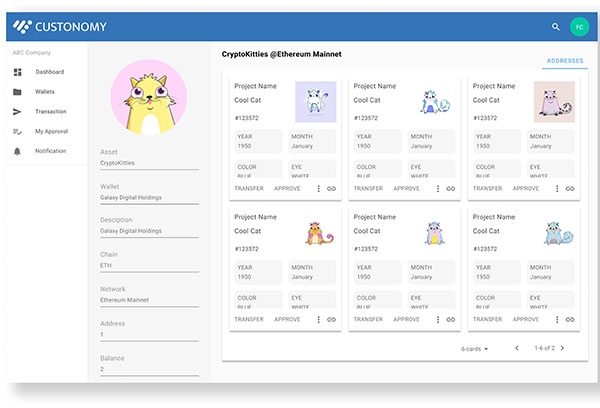 Lower threshold
She said the name Custonomy is derived from "customer" and "autonomy" – the company offers a solution that gives customers greater autonomy to protect their wealth. "The sooner investors are ready, the better, because our solutions lower the entry barrier, making it safer and easier for more people to manage their digital assets."
Nowadays, many companies are looking to enter the non-fungible token (NFT) and metaverse markets, but many don't know how to help customers manage their digital assets effectively.
Custonomy provides a business-to-business-to-consumer (B2B2C) solution for such enterprises, allowing end-users to manage third-generation internet (Web 3.0) assets without a private key to enjoy a hassle-free experience. This lowers the barrier for customers to manage digital assets, and also makes it easier for enterprises to enter the huge Web 3.0 market.
"Apart from financial institutions, enterprises in different fields can also adopt this B2B2C solution to manage smart contracts and NFTs as well as support their online-to-offline promotions," Ms Hui explained.
Seed funding
Custonomy completed a seed fundraising round at the end of last year and received US$2 million from a number of industrial and institutional investors. "These strategic investors provide us with capital and more importantly, also give us contacts, industry knowledge and business experience to help us improve our strategic plan, product ideas and expand our development," Ms Hui said.
The company's current cryptocurrency solution was launched in May this year and has already been adopted by many institutions and professional investors. It has also brought Custonomy several awards, including the IFTA FinTech Achievement Award 2020 from the Asian Institute of FinTechs, and the Platinum Award and 2021 Fintech Award – Blockchain Solution from ETNet.
Asset verification
Ms Hui is bullish on industry prospects. "The market will eliminate the weak and retain the strong, and companies need to adopt more powerful tools to protect digital assets. There are less than 10 companies like ours in the world that provide encryption solutions, and many of those have been acquired by conglomerates one after another," she said.
"Our core system has unique advantages, and its function will be more complete as the number of customers grows. We will also continue to develop new products and expand the market. Custonomy expects to achieve its initial goal within three years."
Custonomy plans to continue expanding its network and influence in the market through the next round of financing. Target investors this time round are financial institutions, asset management companies, family offices, high net worth investors who are interested in managing digital assets and NFTs, and related advisors or service providers.
"Nowadays, the digital assets of many large enterprises are stored in cold wallets [a cryptocurrency storage solution that is not connected to the internet]. As investment in digital assets becomes more and more popular, our products will significantly simplify related operations, and related digital records can also assist enterprises in processing work such as auditing."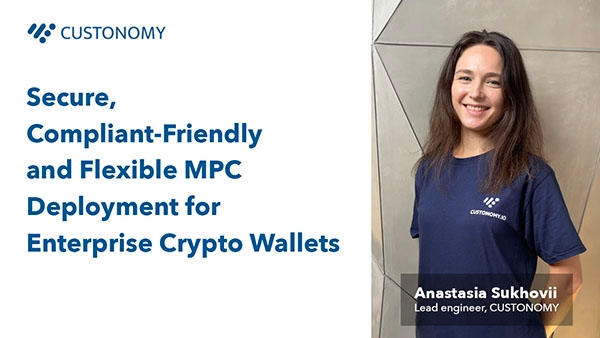 Market expansion
Custonomy participated in the fifth Start-up Express entrepreneurship programme, becoming one of 10 laureates in 2022. The win enables the firm to take part in a series of local and overseas activities to help it expand into new markets, build networks, increase its exposure and find partners.
"The event has hugely increased our exposure and helped accelerate the pace of expansion into overseas markets, including the booming Association of Southeast Asian Nations (ASEAN) countries such as Singapore, Vietnam and Indonesia, as well as crypto-friendly places such as Abu Dhabi and Dubai," Ms Hui said.
In the coming months, Custonomy will participate in a number of HKTDC-organised events, including the International ICT Expo (October 13-16), Entrepreneur Day (November 30-December 2), Asian Financial Forum (11-12 January 2023), to further reach out to potential investors, clients and partners.
Related links
Custonomy
Start-up Express