The Hong Kong Trade Development Council (HKTDC) helped the Chinese University of Hong Kong (CUHK) reach a research agreement with AI Medical Service (AIM) – a Japanese medical start-up which develops artificial intelligence (AI) endoscopic diagnostic technology – to accelerate development, promote it in Hong Kong and enhance clinical application in other Asian economies.
AIM's AI diagnostic system can identify gastrointestinal cancer early and help improve patient survival rates. After obtaining patient consent and removing personal data, CUHK provided endoscopic images of 100 gastric cancer patients to AIM for reference to further improve the sensitivity and accuracy of the system in detecting gastric cancer in Chinese patients. AIM will now explore the potential of this system in clinical practice in Hong Kong.
Sharper accuracy
Japan has always been a global leader in endoscopic diagnosis and treatment and AIM has conducted joint research with more than 100 medical institutions and published over 40 articles in top journals. It is hoped the AI diagnosis system will be clinically applied as soon as possible. It can reduce the chance of missed and delayed diagnosis of cancer and save more lives.
Dr Tomohiro Tada, CEO of AIM and a visiting lecturer at the Department of Oncology, Faculty of Medicine, University of Tokyo, said early detection of gastric cancer is crucial. The earlier detected, the higher the survival rate would become. That's why, we decided to first focus on Endoscopic AI that can detect and classify early gastric cancer.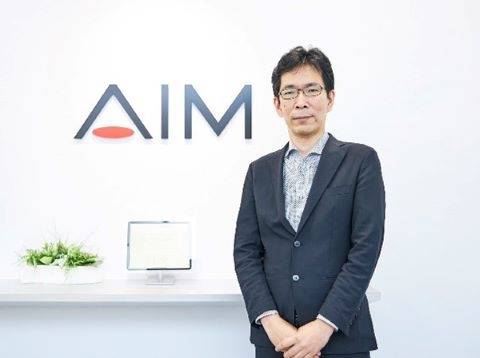 "About 30% of the deaths due to cancer are gastrointestinal cancer patients. Although endoscopic examination can diagnose gastrointestinal cancer at an early stage, due to the shortage of experienced endoscopists, about 20% of the cases are detected at an advanced stage. The purpose of my establishment of AIM is to solve these problems with AI technology, effectively eliminating gastrointestinal cancer through early detection, and contribute to the further improvement of endoscopic medicine."
Softbank Investment laureate
AIM has successfully developed AI diagnostic system which can identify cancerous lesions of early gastric cancer from endoscopic images and is also conducting research on an AI diagnostic systems that can identify oesophageal and colorectal cancer.
The system uses a Neural Network Algorithm built up from a large data set, including images of cancerous lesions, benign lesions and normal tissue obtained with a standard endoscope, so it can identify cancerous lesions.
This advanced diagnostic technology has won many international start-up awards for AIM, and drawn the attention of leading investors such as Softbank Vision Fund 2, successfully letting the start-up complete its A to C rounds of financing.
Fast-track approval
The United States Food and Drug Administration (FDA) has designated AIM as a breakthrough device, label designed by the FDA for medical devices and device-led combination products. Designated devices and systems are fast-tracked for approval.
AIM has also applied for a manufacturing and marketing license from the Japanese Ministry of Health and Welfare, and planned to expand AI endoscopic gastric cancer diagnosis system to the world after approved.
CUHK contact
CUHK took part in the Asia Summit on Global Health (ASGH) – co-organised by the Hong Kong Special Administrative Region Government and HKTDC – last year and established contact with AIM at the conference. The two parties immediately signed a one-year cooperation agreement.
Dr Gene Man, Manager of Research and Knowledge Transfer Service Office of CUHK, said the university had led 10 start-ups to participate in the event, and under the arrangement of the conference, they met potential investors and partners.
"We have reached a consensus with AIM to exchange data from Hong Kong and Japan, and conduct research on the effectiveness of AI in the diagnosis of gastrointestinal cancer. CUHK will provide endoscopic images of gastric cancer, and AIM will provide endoscopic images of colorectal cancer," Dr Man said.
There would be opportunities to help AIM conducting further clinical tests in Hong Kong. "This patented technology has great potential for development. It can assist junior doctors with inexperience to make accurate diagnoses and formulate appropriate treatment plans for patients in a timely manner."
ASGH
The HKSAR Government and HKTDC will host the ASGH at the Hong Kong Convention and Exhibition Centre on 17 and 18 May, inviting major government officials and healthcare organisations from around the world, international Scientific research and medical experts came to Hong Kong to address the forum, sharing valuable experience in public health, medical technology, international business cooperation and investment, as well as the latest developments in the industry, and jointly discussing prospects and business opportunities of the medical and health industry.
The concurrent Hong Kong International Medical and Healthcare Fair, at the same venue from 16 to 18 May, will promote Hong Kong's advantages in the healthcare sector and further promote exchanges and cooperation among stakeholders in the global healthcare industry.
Related links
AI Medical
CUHK Faculty of Medicine