Environmental, social and corporate governance (ESG) investing has moved into the mainstream and, at US$53 trillion, could account for one third of assets under management as soon as 2025, based on data from Bloomberg.
A showcase for green development is Masdar City, just east of Abu Dhabi, which has laid out a "greenprint" with sustainable smart home and farming solutions. The city has a start-up accelerator Catalyst, which has been supporting its green infrastructure innovations.
Green power generation, storage and EV projects have drawn the lion's share of attention from investors but are just part of the green energy ecosystem. Reducing power use is one of the most effective ways to curb carbon emissions.
Power austerity is unlikely to find favour but increasing power efficiency without sacrificing performance should interest anyone. A raft of technologies under the Internet of Things (IoT) and property technology banners are making this possible.
So, it should come as no surprise that technology seed-bed and property-business giant Hong Kong is home to a firm which helps businesses cut down on the number of watts consumed through efficient building technology, Negawatt Utility Ltd.
Having established itself in Hong Kong, Negawatt is looking further afield and earlier this year signed an MoU with Masdar City and Catalyst, alongside hpa, during a mission to the Middle East led by Hong Kong SAR Chief Executive John Lee in February.
Catalyst signed a further cooperation agreement with Negawatt during the HKTDC's Belt and Road Summit 2023 for the Masdar City pilot project on smart building platform and series A fundraising activity.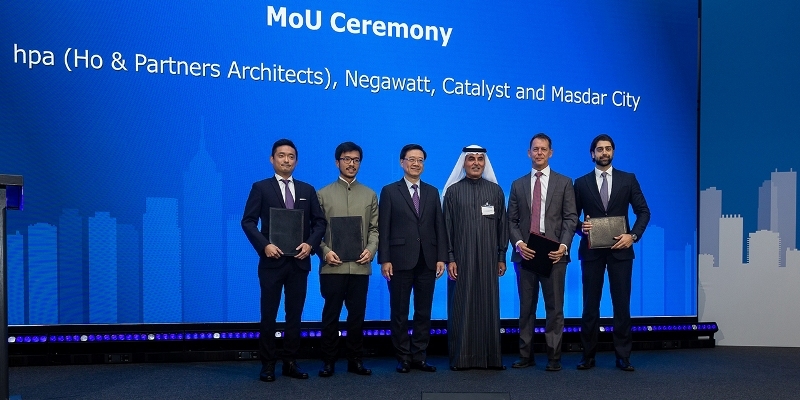 Negawatt Founder and CEO Arthur Lam said: "I believe that in this development and green transformation, there will be a huge sustainable market in the Middle East."
Negawatt combines information technology with building services knowledge into commercial practices, optimising energy use in different industries to achieve negative watts and offer comprehensive solutions with cloud platforms, hardware and engineering consultancy.
Catalyst is a joint venture owned by Masdar City Services, representing the first climate-tech venture investor in the Middle East and North Africa region with an exclusive focus on sustainability. Catalyst was committed to supporting early stage ideas actively engaged in developing sustainable solutions for current and future challenges.
After conducting technical due diligence, Masdar City has expressed an interest with Negawatt's IoT solution and wishes to initiate a pilot project within the next three months, involving a 100,000 square foot (9,300 square metre) mixed development building.
The pilot includes design and build IoT systems with smart-energy and water metering, digital smart building platform to drive its ESG initiatives.
Mr Lam outlined their moves planned for coming months. "Our next step involves implementing our Negawatt AI IoT infrastructure solutions and our individual behaviour change reward app Zero2, within Masdar City. This aims to promote wellness, sustainable living and community engagement as well as drive smart city transformation."
He sees the UAE as pivotal in the region, making it the ideal venue to launch Negawatt's expansion into the rest of the Middle East and North Africa.
The carbon footprint calculating app Zero2 was a deciding factor in Negawatt being crowned one of the 10 winners in this year's edition of the HKTDC's Start-up Express entrepreneurship programme.
In parallel, Catalyst is interested in exploring an investment opportunity in Negawatt, subject to completion of Catalyst board's approval.