As the number of oenophiles in Mainland China jumps, Hong Kong is reinforcing its wine trading hub status.
Data portal Statista predicted that mainland wine-sector revenue would reach US$27.2 billion this year and grow 3.93% annually between 2023 and 2027
Given its duty-free port status, wine merchants and investors regard Hong Kong as the most cost-effective and convenient distribution hub to store investment grade wines for delivery to markets on demand. Key destinations were Mainland China and Macao, which accounted for about 69% of wine exports last year. In value terms, Hong Kong wine exports increased 45.1% in 2022.
The HKTDC Hong Kong International Wines & Spirits Fair, organised by the Hong Kong Trade Development Council (HKTDC), will be held from 3 to 5 November at the Hong Kong Convention and Exhibition Centre. The 15th edition will assemble more than 500 exhibitors from 17 countries and regions to showcase fine beverages from around the globe as well as wine-related products and services.
The HKTDC's Deputy Executive Director Sophia Chong said the COVID-19 pandemic had hit the wine industry, but the market was full of potential and was expected to grow continuously. Statista estimated that global wine industry revenue would amount to US$333 billion this year, with sales growing 5.52% annually between 2023 and 2027.
The first two days will be open to industry professionals and buyers, while the last day, 5 November, will welcome public visitors, offering wine lovers an opportunity to enrich their knowledge and sample a broad selection of wines from around the world.
The Fair will feature a diverse range of fine beverages, including old-world and new-world wines as well as whiskies and beers. The fair will feature 11 group pavilions showcasing products from Australia, France, Germany and Italy, Japan, Mainland China as well as the Hong Kong General Chamber of Wine & Spirits.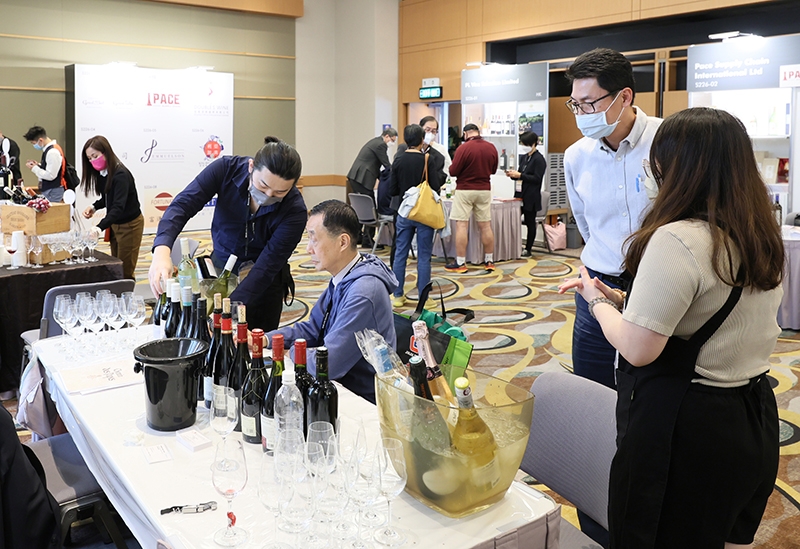 In addition to beverages, the Wine & Spirits Fair features zones that promote the industry's all-round development, including Wine Education as well as Wine Accessories, Equipment and Services. Snacks and nibbles to accompany wines will be showcased in the Friends of Wine zone.
The opening reception on the first night will welcome Paul Chan, Financial Secretary of the Hong Kong SAR Government, as guest of honour. Also on the first day, Wine Master Debra Meiburg will host a Wine Industry Conference, titled EcoVino: Sustainability Trends and Solutions, to explore sustainability trends and solutions with experts, including a representative from the UK's Sustainable Wine Roundtable.
Various seminars and tasting sessions will explore wine trends in different regions and markets, and introduce wines, sakes, whiskies, beers and more, offering buyers and visitors a chance to savour unique flavours.
Prize-giving ceremonies for the Cathay Pacific Hong Kong International Wine and Spirit Competition 2023 and WineLuxe's Top 10 Food & Wine Pairing Restaurant Award will be held on the first and second day, respectively. The Hong Kong Bartenders Association will also host the Hong Kong International Mixology Showdown 2023, themed Artistic Elixir, on the first day.