World city Hong Kong has become the world's food capital this week, as suppliers of ingredients and cuisine from across the globe gather to the city following the end of travel restrictions.
Organised by the Hong Kong Trade Development Council (HKTDC), the HKTDC Food Expo this year features Food Expo PRO, where exporters and importers can sample foodstuffs from all four corners of the Earth.
Items on offer included Mexico's agave syrup, Korea's flavoured pickled seafood, which is the female blue crab marinated with glasswort and soy sauce, Thailand's freeze-dried mango with sticky rice, and Sakura Brightening soft gel capsule.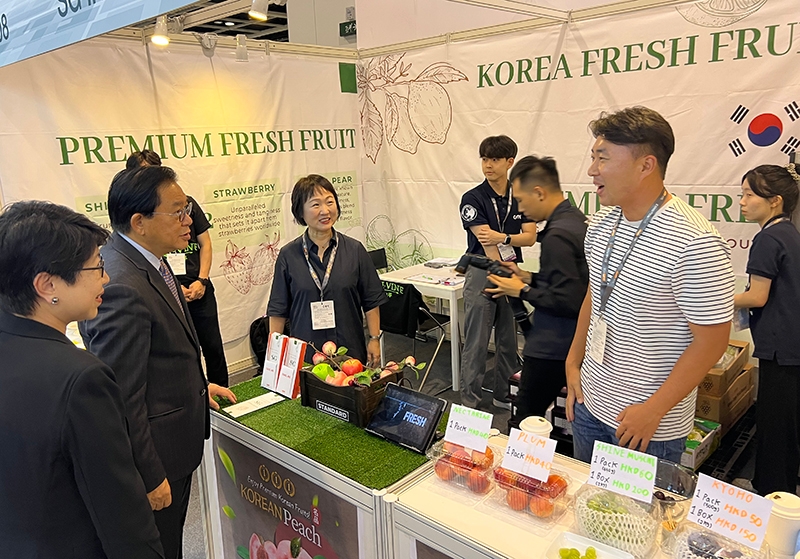 Hong Kong Executive and Legislative Councillor Mr Jeffrey Lam was at the opening and exchanged views with exhibitors from different places, such as Japan, Korea, Poland, Mainland China and Hong Kong.
"Full of surprise from great food of different exhibitors, there are many visitors coming to the Expo," Mr Lam said. He also remarked on the varieties of food found in wholesale and retail counters, which were very attractive to visitors.
In support of the exhibitors, Mr Lam bought some local manufactured food, such as Hong Kong style truffle milk tea, beef balls, Korea Makgeoli wine, and gin-based oat liqueur.
World of tea
The fair emphasised the truly global nature of food culture. At the concurrent Hong Kong International Tea Fair, the regular exhibitors from Mainland China, India and Sri Lanka were joined by exporters from Kenya. The Managing Director of Purple Chai, Joyce Florence, said the distinctive purple brew is unique to the East African country.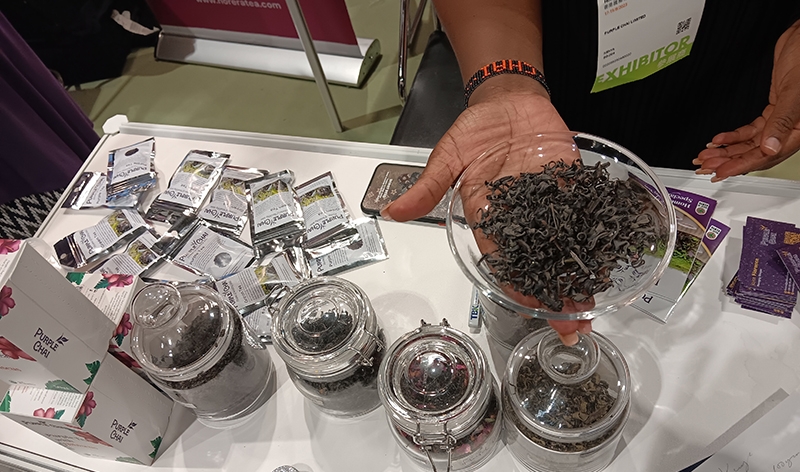 "The cultivar of the standard tea bush, Camellia sinensis, has a high concentration of anti-oxidants and is effective at fighting cancer," she said. It also varies from the familiar green and red varieties in giving a distinctive purple brew.

Among the international pavilions Japan was strongly represented, with more than 150 booths. A Japanese exhibitor said the country's exhibitors were delighted that the fair had returned to a fully open format, with tasting, for the first time since 2019.
Japanese cuisine, culture and craft are perennially popular in Hong Kong and he was pleased that many of the city's residents had made the country their first port of call after travel restrictions were lifted. He expected this popularity to generate brisk trade at the fair.
Sought-after Japanese items included a wide range of seafood, ramen noodles, sake and wagyu beef.
Emphasising the growing reach of Japanese cuisine, a stall from South Africa was offering wagyu beef, produced and marketed on a stud-to-table basis, with most of the importers being in Hong Kong, Mainland China and other African countries.
Swift homes
Several ASEAN members, including Malaysia, Thailand and Indonesia, also had pavilions.
Indonesia's Echo Nusantra exports bird's-nest gel, blended with other dessert ingredients such as pandan. The firm had 173,000 hectares of rain forest in East Kalimantan in Indonesian Borneo, ensuring the nest-building swifts have natural, organic food, CEO Sachi Sophia K Djojohadikusumo said. The suppliers set up barns for the swifts to nest in, rather than gathering from caves, a more sustainable and safe practice.
The debut Food Science and Technology Zone showcased innovative food processing technologies, such as peanut protein-based and alternative plant-based chicken products developed by food tech start-ups, and non-alcoholic beers developed by local academic institutions.
International fare was also on offer for Hong Kong-based visitors at the Gourmet Zone, from Asian cuisine and Western delicacies to beer, coffee and sweet treats. An exciting new addition this year is Wine Whisky Wonderland, along with the additional Korean food zone, K-Food.
The Food Expo, along with the concurrent HKTDC Beauty & Wellness Expo, and HKTDC Home Delights Expo International Conference of the Modernization of Chinese Medicine and Health Products (ICMCM), attracted more than 1,800 exhibitors from around the world.
Related links
HKTDC Food Expo PRO
HKTDC Hong Kong International Tea Fair
HKTDC Food Expo
HKTDC Beauty & Wellness Expo
HKTDC Home Delights Expo
The International Conference of the Modernization of Chinese Medicine and Health Products (ICMCM)