ASEAN is becoming an important destination for and source of investment capital from Hong Kong.
A Hong Kong business mission to ASEAN, organised by the Hong Kong Trade Development Council and led by Hong Kong Chief Executive John Lee in July, yielded 30 partnership agreements.
Among them, Value Partners signed a Share Purchase agreement with its strategic partner in Indonesia, Aldiracita Sekuritas and its subsidiary Star Assets Management, to capitalise on the fast-growing wealth and asset management needs in Asia.
Under this partnership, Sensible Asset Management Hong Kong Limited, a Value Partners subsidiary, will acquire a 29.99% stake in Star Asset Management, while Aldiracita Global Investment Pte Ltd in Singapore will acquire a 29.99% stake in Value Partners Asset Management Singapore Pte Ltd.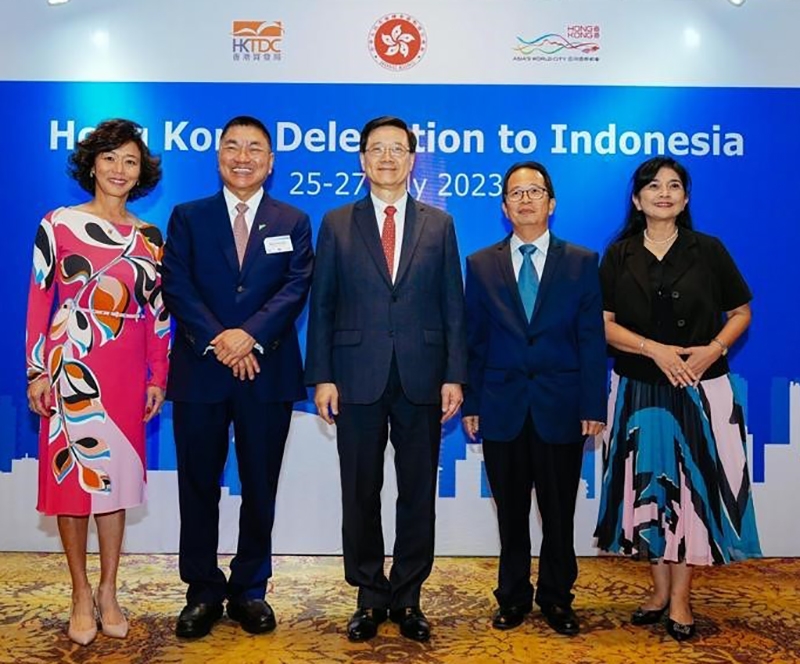 Strong demand for wealth management
The high-level delegation of 30 business leaders visited Singapore, Malaysia and Indonesia. June Wong, CEO of Value Partners Group, joined the exchange file ceremony in Jakarta.
She said Indonesia is one of the fasting-growing economies in Asia, and the rising middle-class has fueled the demand for cross-border asset and wealth management service.
Ms Wong added that internationally acclaimed financial hub Hong Kong has competitive advantages in financial-service exports.
Hong Kong could offer a wide range of competitive investment products that met investor needs and helped expand investment products sales channels through its extensive business network, while Indonesia provided fresh investment opportunities with its booming infrastructure and real-estate markets as well as manufacturing industries.
Emerging bright spots
Ms Wong said the uneven recovery from COVID-19 and uncertainty in traditional markets have cast a shadow on the economic outlook. Against this backdrop, emerging markets have become investment bright spots.
Finding new investment opportunities for investors and risk management were equally important for Value Partners. "Belt and Road countries, such as those in the ASEAN bloc and the Middle East, will be our top priorities in the next three to five years. We target to make in-roads to top-tier cities and launch private equity in these markets.
As a two-way trade and investment hub connecting mainland China and the world, Hong Kong continues to play an important role to promote investment in the region.
Family Office
Noting that Singapore and Hong Kong were angling for family office business, Ms Wong said: "As leading financial centers in Asia, Hong Kong and Singapore both have their own advantages. We welcomed the new Capital Investment Entrant Scheme and relevant incentive measures, such as tax reduction, which may help attract family offices around the world."
Capture GBA opportunities
Value Partners has set up office in Shenzhen in 2015 and launched the first fund in 2018. With the HKTDC's full support, it recently opened its office in Qianhai, making better use of resources.
"HKTDC Director of Guangzhou and Shenzhen provided very useful information, helping us better understand the various policies and industry development. They also connected us with relevant government officials. With their proactive support, we are more confident to expand the GBA market and able to capture the opportunities more effectively.
Value Partner and Shenzhen Capital jointly launched the market's first GBA-focused Special Opportunity Fund on 2 July, aimed at promoting Shenzhen and Hong Kong as world-class financial and advanced manufacturing centres.
"Just like a catalyst, it would help unlock the growth potential of many Hong Kong brands, which are undervalued. We will provide capital market experience, business networks and resources to help these companies expand their business. It will not only deliver attractive returns for investors, but also further cement the twin cities' pivotal role as the dual-engine of GBA development," she said.
Ms Wong believes Hong Kong management talents and professional know-how helps raise the asset and wealth management bar in the GBA, turning it into the Switzerland of Asia.
Value Partners is still investing in GBA development and finding a way for sustainable profitable growth, she said.
In addition, Value Partners can also play a role as a link between Hong Kong and the GBA, allowing Hong Kong brands to gain international recognition.
Related Links
Value Partners
ASEAN