Many economies are striving to achieve sustainable development, while facing the problem of unaffordable homes.
An Australian company is tackling both challenges by constructing modular small houses, green buildings with personalised interior designs. The firm has set up business in Hong Kong, paving the way to explore Belt and Road markets.
Tiny Mobile is a Sydney-based small house builder that creates house components in local workshops and delivers them within Australia. It cooperates with short-term apartment rental online platforms, such as Airbnb, to attract investors to build and rent small houses in rural and tourist areas.
The company is committed to ESG principles and giving back to society. One company programme, ESUARVE, aims to train recently released prisoners as small-home builders. Homes the trainees build will be donated to housing projects for the homeless.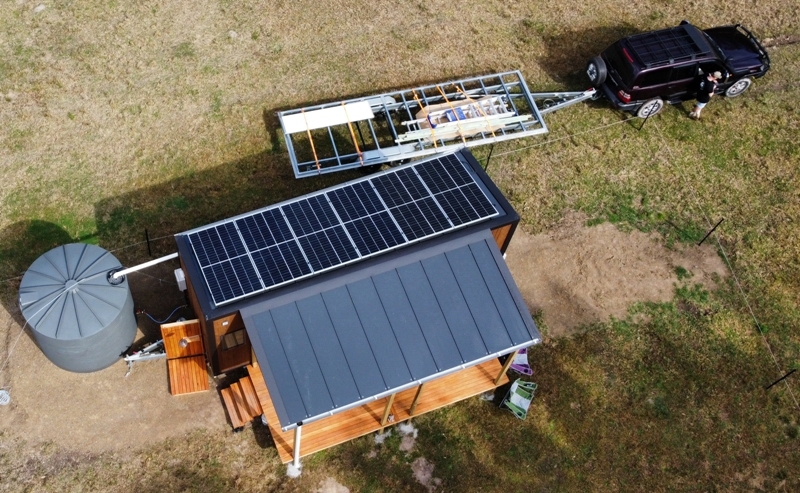 Tiny Mobile Co-Founder Joe Chan is taking the concept overseas. He met Luxgroup from Hong Kong at an Australian business event earlier. Luxgroup has a large network of residential owners and investors in Malaysia and Southeast Asia, so both parties are interested in investing in eco-tourism parks in Malaysia and building small houses. The development will include an electric-vehicle charging station.
In August this year, Tiny Mobile and Luxgroup HK jointly established Tiny Mobile Group HK (TMG), hoping to use Hong Kong's status as an IP centre in Asia to promote the small house concept in Belt and Road countries, especially ASEAN.
The Sydney office of the Hong Kong Trade Development Council (HKTDC) helped Tiny Mobile establish itself in Hong Kong, showing Mr Chan how to take advantage of Hong Kong's financial and legal services hub status. He believed expanding business in Hong Kong would help the company operate more flexibly.
"We intend to open small-house production lines outside Australia to make housing delivery more flexible," Mr Chan said. "The Hong Kong market is mature and has huge potential to develop new businesses, and investors are deeply interested in ESG projects. Through the HKTDC's diverse activities, we have contacted and gotten to know many potential investors."
Tiny Mobile has taken part in the Belt and Road Summit Summit since 2021. Mr Chan met Watergen, an Israeli atmospheric water capture technology company, in 2021. The parties later started cooperation and Tiny Mobile has successfully built five small houses equipped with atmospheric water capture for Australian customers.
During the 2022 Belt and Road Summit's investment-project matching session, Tiny Mobile encountered Brisbane-based BlueMount Capital and explored future cooperation.
Tiny Mobile also met Vietnamese business network company IPA Vietnam and discussed opening a factory in Vietnam. Mr Chan said Vietnam was an ideal market for the development of small houses.
Tiny Mobile scored another success at this year's Summit, signing a memorandum of understanding with Riolavish Marketing, which will help the firm establish itself in the Malaysian market.
Mr Chan plans to continue participating in the Belt and Road Summit and plans to bring Tiny Mobile's small house samples to the exhibition venue to let the industry further understand the concept.