Easy BUD, a simplified application process for the government's Dedicated Fund on Branding, Upgrading and Domestic Sales (BUD Fund), was launched last month to cut the processing time for applications.
Under the scheme, authorities are targeting to process applications within 30 working days, half of that required for general BUD Fund applications. To do so, the application form, required support documents and vetting arrangements have been streamlined to offer more timely support to Hong Kong enterprises.
HK$500 million more injected to BUD Fund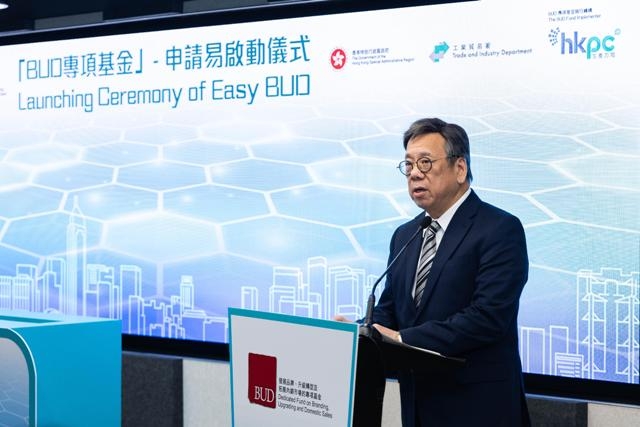 Officiating at the Easy BUD launch ceremony, Secretary for Commerce and Economic Development Algernon Yau said the Government has further injected HK$500 million into the BUD Fund to facilitate the growth of SMEs.
He said companies can also make use of the fund to expand their business to Mainland China and emerging overseas markets to tap post-COVID-19 business opportunities.
Broad BUD Fund usage
Companies can make use of Easy BUD to apply for funding for specific purposes, including advertisement placement, participation in exhibitions, as well as test and certification of products.
Funding under Easy BUD will continue to be provided to grantees after the completion of projects on a matching basis, with a funding ceiling of HK$100,000 per project. All Easy BUD projects must be completed within 12 months. Each company can only submit one Easy BUD applications every six months.
BUD Fund helps companies upgrade
The BUD Fund was launched in 2012 to help Hong Kong enterprises seize opportunities arising from national development. The aim is to facilitate local companies' expansion to Mainland China through developing brands, upgrading and restructuring their operations, while promoting domestic sales in the mainland.
In 2018, the Government extended the geographical coverage of the BUD Fund to ASEAN markets and further expanded to all economies with free trade agreements with Hong Kong in 2020.
Apart from Easy BUD, businesses can continue to apply for funding through the general application track under the BUD Fund all year round.
Each company can apply for BUD Fund for as many as 70 projects, with a ceiling of HK$7 million per enterprise.
Related links
BUD Fund website
HKTDC's SME Centre