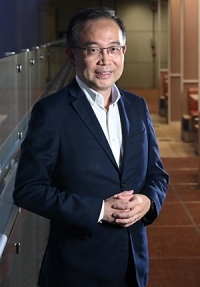 Mainland China, the second-largest economy in the world, continues to draw strong market interest, especially in relation to the development of the Guangdong-Hong Kong-Macao Greater Bay Area (GBA).
Hong Kong is regarded as an engine of development in the region, said Daniel Chan, Executive Vice President and Head of Greater Bay Area of HSBC China. The city's international status will play a bridging role in China's domestic-international dual-circulation economy. HSBC is also committed to helping companies connect to opportunities arisen from stronger ties between GBA and ASEAN.
RCEP brings 'China Plus One'
"It is estimated that by 2030, the GBA will reach a population of 100 million while its gross domestic product will grow 2.5 times to reach US$4.7 trillion," said Mr Chan. "The GBA plays a unique role in the mainland's dual-circulation policy.
"Enterprises in the region have already taken the 'China Plus One' concept on board. As the economic and trade relations between the mainland and the Association of Southeast Asian Nations (ASEAN) continue to develop, the two sides can complement each other by transferring labour-intensive production processes to ASEAN. This would reduce costs while keeping advanced manufacturing in the mainland GBA cities."
In addition, the implementation of the Regional Comprehensive Economic Partnership (RCEP) will further strengthen such ties, and help drive the economic development in the region. "Enterprises should capture the opportunities brought by the RCEP in addition to the dual-circulation policy."
In tandem with the GBA, innovation in science and technology is also boosting the ASEAN digital economy. Mr Chan said that by 2025, ASEAN e-commerce is expected to grow to US$88 billion. Guangdong is also famous for cross-border e-commerce. "Digital and cross-border e-commerce exchanges between ASEAN and the GBA will increase, boosting start-ups and SMEs."
While the HK-mainland border is not yet re-open, the future prospects of GBA remains positive. Initiatives such as stronger connections between Shenzhen Qianhai, Zhuhai Hengqin and Macao, as well as Hong Kong's "Northern Metropolis Development Strategy" will also benefit its long-term growth.
Each of the 11 GBA centres had its own characteristics, Mr Chan said. Hong Kong's advantages lie in a solid legal foundation, a free trade and financial system, and mature professional services. As industries boom and international networks mature, the GBA market will provide huge opportunities for high-end professional services.
Meanwhile, Shenzhen, Dongguan and Zhuhai have emerged as high-end manufacturing centres in the GBA, playing an important role in the transformation of the entire region. Dongguan has become the fifth city with trillion-dollar of GDP, alongside with Hong Kong, Shenzhen, Guangzhou and Foshan. Total economic output of the entire city cluster reached RMB12.6 trillion (US$1.96 trillion) at the end of last year, equivalent to the level of the entire Tokyo Bay area.
Global attention
An HSBC survey last year found that international companies are looking at GBA development opportunities. Three-quarters of the surveyed companies plan to scale up business activities in the GBA in the next three years, with technological development in the region being the top attraction.
In addition, there are 368,000 high net worth households (that is, assets more than Rmb10 million, US$1.47 million) in Guangzhou, Shenzhen and Hong Kong, accounting for 8.6% of the national total. In 2020, ASEAN's per capita GDP was about US$4,800, while the GBA reached $23,000, which is about five times that of ASEAN. For the middle class with higher spending power, they are also interested in overseas purchases.
"Consumer demand for branded goods continues to rise, so when ASEAN and international companies enter the GBA, they are not only looking for production partners in high-end manufacturing, but also seeing this as an ideal entry point to tap into the mainland's consumer market," Mr Chan said.
HSBC's international network
As the only foreign bank in the GBA that operates in all 21 prefecture-level cities in Guangdong, HSBC has set up the GBA office last year. With regulatory relaxation bringing more opportunities to the financial industry in Hong Kong, HSBC has allocated more resources to provide companies and individual customers in the region with more convenient and comprehensive services.
"With operations in 64 countries and territories, HSBC's network covers major trade corridors around the world," he explained. "We leverage on our global connectivity to provide seamless support for the two-way flow of business investment. For example, when a mainland company plans to expand in Indonesia, our global account manager will follow up its situations in the mainland, while international business team will also provide one-stop solution such as local business consultation and advisory service in Indonesia. Likewise, we also provide same level of services for ASEAN businesses who are interested in entering the mainland market, and facilitate the collaboration between ASEAN and GBA enterprises."

Wealth Management
Personal investor demand for wealth management services in the region continues to grow. Mr Chan said residents in the GBA have become more wealthy and their attitude towards asset allocation is more flexible.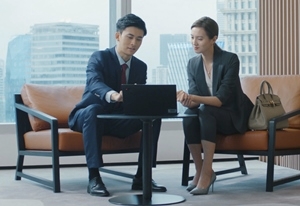 HSBC aims to become Asia's leading wealth manager, Mr Chan said. "We plan to hire 3,000 more wealth planners in the mainland by 2025, including those in the GBA. HSBC Group already has 27,000 employees in Guangdong alone and we will continue to invest in our people and train our talents in areas such as technology."
"For example, we offered 100 roles under the HKSAR Government's GBA Youth Employment Scheme. They are now undergoing on-the-job training in Guangzhou and Shenzhen. We will also build a global training centre in Nansha in 2024 for employees around the world."
GBA platforms for SMEs
HSBC and the HKTDC announced a strategic partnership last year, combining their extensive networks, business connections as well as market and digital expertise to help a wide range of SMEs tap into the GBA's growth potential. Initiatives under the partnership include sharing practical information and in-depth analysis of GBA on their respective digital platforms, organising economic and trade missions and exchange activities in the mainland, conducting special market research, and providing exclusive support services and programmes.
For example, the GoGBA platform launched by the HKTDC provides business and market analysis on the GBA through WeChat mini-programmes, with some of the information uploaded to HSBC's digital sharing platform, HSBC VisionGo.
"We are pleased to have forged strategic cooperation with the HKTDC," Mr Chan said. "SMEs have strong demand for business insights and tips in order to adapt to the rules of different mainland cities. The HKTDC's GoGBA and VisionGo of HSBC are both dedicated to helping SMEs enter the GBA. We also jointly held online sharing sessions and published research reports. More activities will be rolled out to help SMEs explore business opportunities on the ground."
Related link
HSBC GBA