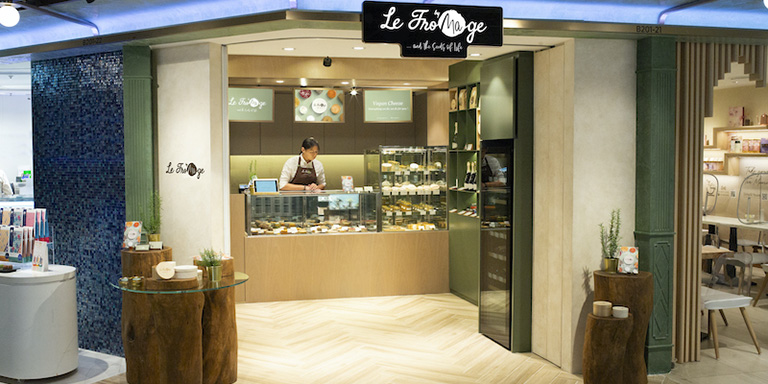 https://hkmb.hktdc.com/en/1X0ALPYZ
Vegans turn to nut 'cheeze'
A French entrepreneur in Hong Kong taps the growing demand for animal-product-free versions of traditional dishes.
Giving up cheese is often a big barrier to adopting a plant-based diet but dairy-free alternatives are on the rise, with tastes and textures to rival the real thing. Just ask Le Fromage by Ma, a Hong Kong shop selling "cheeze" – a term it uses to mean vegan cheese.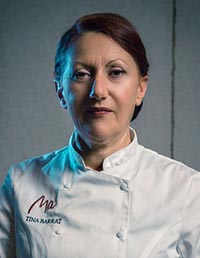 The store's offerings include a brie made from cashews rolled in pink peppercorns, a feta crafted from almonds and cashews, and a classic cheddar made from almonds with a semi-hard texture and a mild, nutty flavour. The nuts or seeds used are soaked, blended and fermented with the same types of bacteria used to make dairy cheese. Salt, nutritional yeast and herbs are then added for flavour.
Modelled on a traditional French cheese shop, Le Fromage was launched in April by local restaurant chain OBH F&B Group and French vegan chef Tina Barrat, who opened vegan restaurant "Ma … and the Seeds of Life" in Hong Kong late last year. Ms Barrat, who began to travel to Hong Kong from Paris frequently as part of her fashion work in the 1990s and moved to the city in 1994, shares her recipe for success.
You were initially a jewellery designer. What prompted the switch to food?
It wasn't planned, it just happened. In 2008, I lost a lot of customers and thought I'd have to change direction. I love cooking but had no training, but luckily it worked out.
Who are Le Fromage's customers?
Some of them are old customers from my first café, Maya, which I opened back in 2013. We also have some young customers who've seen me on Instagram and want to try something different. Then there are the vegans and the dairy-free crowd. There are so many people with dairy allergies that still want to enjoy dairy-free cheese.
How would you describe the cheeze market in Hong Kong?
I know a few other people doing artisan vegan cheeze in the city, so the market is growing. I'd say our cheeze is more suitable for a cheeseboard at a party rather than being an everyday cheeze.
What kind of cheeze products do Hong Kong people like?
The number-one seller at the moment is a brie. I call it brie because it melts in the mouth and it's not sour, as Chinese people don't really like sour cheeses. It's a little bit spicy because of the pink peppercorns. The second-best seller is the sans goat, a mild, soft textured cheeze that's rolled in black pepper or Provencal herbs.
Can cheeze eclipse the market for real cheese?
I think we're going to see more and more vegan cheeze, but there are still some people who prefer the taste of real cheese. I think the mass market can go for vegan cheeze, as it can be cheap to create non-dairy cheese. I just hope more people will try vegan cheeze, that's why I'm trying my best to make it taste really nice.
How are your cheezes made?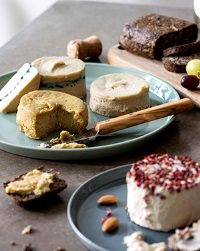 We make soft textured cheeses with cashews and harder cheeses with almonds, with new batches made daily. I use probiotics to get different flavours, and sauerkraut. Some cheeses I developed very quickly, whereas others took longer to perfect. The North Pole star uses fermented tofu and has a very strong taste, like a gorgonzola, and that was developed very quickly. Other cheezes took longer.
You stock other products alongside cheeze. What sells well?
The keto bread is selling well and the crackers – there's a lady in Hong Kong who makes sourdough crackers, and we source them from her. We'd like to stock more local brands as we want to represent the Hong Kong artisan community.
Can you do beverage pairings with cheeze?
Yes. The raw bichon, a creamy textured cheese made with sauerkraut goes very well with red wine. Most of the other cheeses pair best with white wine. We also have a non-alcoholic white wine, Absolute Zero, and the cheeze goes well with that. At a dinner at the restaurant recently, we paired the brie with a poached pear for dessert, along with a sweet wine, which was fantastic. Hopefully, we can show people there's more to vegan food than just salad.
What are your long-term plans for Le Fromage?
We are a small-batch artisan cheezemaker, so it's going to be complicated to expand and freeze and ship our products as that may alter the flavour. We would have to open a kitchen in another location [to ensure the quality of our products]. We want the cheeze to be perfect.
What's your advice to those planning to set up a business in Hong Kong?
With all that's happening in the world right now, do something that can impact the world and benefit others, and do it with passion.
Related link
Le Fromage by Ma