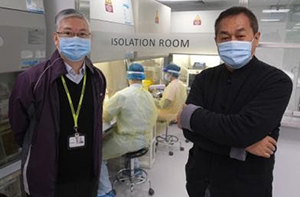 Hong Kong's success in keeping the COVID-19 pandemic in check has often been attributed to several factors, including the city's experience as the epicentre of the Severe Acute Respiratory Syndrome (SARS) in 2003.
HaiKangLife underscores this advantage – the firm was established shortly before the SARS outbreak and played a key role in testing for the virus during the epidemic. This experience left the company in a good position to spring into action as soon as the COVID-19 pandemic began sweeping the globe, offering test kits that helped authorities keep a lid on the outbreak in the city.
The company and fellow biotechnology firm Pangenia Life pooled their resources late last year to launch a three-way test to detect COVID-19 and seasonal influenza A/B simultaneously, as epidemiologists warn that the seasonal flu might pose a threat to the already vulnerable COVID-19 situation in Hong Kong.
HaiKangLife said the tool eliminates the chance of yielding "false positive" results and reduces the time required for testing to one-third of the current market standard.
Pangenia CEO Desmond Hau said the three-in-one testing service and reagent kit were rolled out in Hong Kong and Macao before being sold to the rest of Asia, the Middle East, Eastern Europe and South America.
Experience counts
"HaiKangLife has been in the test kit business for over 20 years. We built up our world-renowned reputation by quickly reacting to emerging outbreaks," said HaiKangLife Founder and Chairman Albert Yu. "It was no different in the case of COVID-19. We observed the progress of COVID-19, having already paid close attention to the virus when it was first reported in 2019.
"Once we confirmed COVID-19 will become a full-blown pandemic, we kicked off development of our C/Tech SARS-CoV-2 qPCR test kit. We initiated our kit development back in January 2020 and it took us two months from product development to releasing it to the market. Our test kit was among the first qPCR test kits that went for sale in Hong Kong, and it has been quickly adopted by the world for COVID-19 detection."
Mr Yu said HaiKangLife's unique sample-pooling protocol and very sensitive messenger-RNA testing technology allowed for rapid, reliable tests which had the same level of sensitivity as those using individual samples.
He anticipated stronger demand for his firm's products when international travel resumes as the virus is expected to remain endemic in much of the world.
"The question is how we can handle the overwhelming volume of tests required when the global economy finally reopens," Mr Yu said. "It will take the whole world to work together to achieve this, and Hai Kang will humbly play our part and provide our service to all who is in need."
HaiKangLife had been operating for four years when SARS hit in 2003 and acted swiftly as the disease developed.
"As HaiKangLife is an IVD [in-vitro diagnosis] solution provider, we swiftly developed our SARS qPCR detection kit when SARS hit. In fact, our SARS qPCR kit was the world's first-ever test kit targeting the SARS virus," Mr Yu said.
"We also developed our ERT-PCR SARS detection kit, which had the highest sensitivity in the world back in 2003. Our ground-breaking discoveries were published in major scientific journals including New England Journal of Medicine (NEJM) and Biochemical and Biophysical Research Communication (BBRC)."
Scan and treat
HaiKangLife is also a pioneer in electric field-assisted diagnostics (EFAD), also known as lab-on-a-chip. Star Trek fans will remember Dr McCoy placing a recently beamed up patient on a bed and scanning for almost any imaginable condition. The EFADchip Bioradar system does not scan an entire patient but does scan samples taken from the patient and can diagnose a wide range of conditions.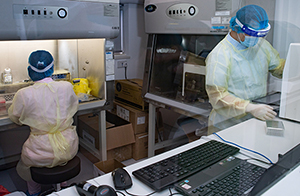 "Our BioRadar technology is much more down to earth comparing to the diagnostic instrument displayed in Star Trek," Mr Yu said. "Our system is a highly specific system that studies patients' symptoms at the molecular level. We have developed dedicated panels targeting specific diseases including respiratory tract infection and cancer."
When a patient has symptoms, loading a sample to the BioRadar system will output the complete profile of biomarkers related to the target disease. The data allows physicians to make better decisions by choosing the best-suited treatment for the patient. BioRadar can also provide continuous monitoring of patients' medical conditions at the molecular level and have a better understanding of drug reactions in patients.
"This allows doctors to make swift judgments when certain medical administration is not optimal," Mr Yu said.
The Bioradar solution plays a part in personalised medicine – medical professionals recognise that one-size-fits-all treatments are often sub-optimal and each individual case requires a unique set of treatments.
"That's the reason why we developed our BioRadar system," Mr Yu said. "The success of precision medicine is critically dependent on the delivery of important medical information to the doctor in a timely manner so they can make prompt, good medical decisions accordingly."
When dealing with a microbial infection, the most important problem a doctor needs to address is the characterisation of the pathogen, Mr Yu said.
"In current medical facilities, this requires the culturing of the pathogen in a dedicated lab and the whole process takes up to three days. BioRadar can do that in 30 minutes without a lab. This is why BioRadar is a disruptive technology," he explained.
"A hospital is a battlefield. Every minute counts and the saved time could save a life."
<<<PLEASE HIGHLIGHT & INSERT CONTENT HERE>>>