https://hkmb.hktdc.com/en/1X0ALIKY
Activating nuts for health food
Queries about wholesome yet tasty snacks alerted a nutritionist to a gap in the market.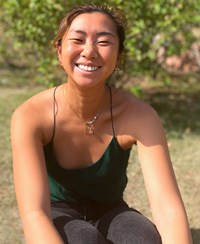 Hong Kong nutritionist Shan Shan Feng often fielded queries from clients about healthy, delicious snacks. Sensing a gap in the market for nutritious and tasty items, she established Nomsoftheday, supplying activated nuts in three flavours: maple glazed rosemary pecans, spicy Sichuan cashews and garlic lime almonds.
The activation – soaking followed by dehydration then baking in spices – "increases bioavailability, reduces digestive burden and helps ensure all the nutrients, such as zinc, iron and calcium, are absorbed from each nut," according to Ms Feng, who has a Bachelor's degree in Biomedical Science and a Master's in Nutrition from the University of London. The nuts are prepared at a local kitchen.
Since setting up the business in February, Ms Feng has been raising the profile of the brand by attending pop-ups across the city. The three-month old start-up has already secured shelf space at health food stores, and the items can be bought through the website.
Do many people know about activated nuts?
No, not a lot of people know about them, but we soak beans and legumes and the same theory applies to nuts. There are so many people with food intolerances, skin irritations, bloating and brain fog, which all relate back to digestion and eating food too quickly. By soaking beans, legumes or nuts, you increase nutritional content of the food and make it easier to digest.
How did you achieve so much so quickly?
Doing pop-ups has helped a lot and led to collaborations with other vendors, including [monthly wine subscription box service] My Wine Guy. We found out that the Sichuan cashews go well with white wine, as the spiciness brings out the sweetness. They've put a sample of my nuts in their subscription box, along with my info card.
How did you make the pop-ups work?
Initially, I had no idea about how to set up and had to factor in that the tables are below eye level. As I only have three products, I needed to make my stall eye-catching so people would approach me.
Pop-up events work well for food, as you really have to try it to see if you like it. I love meeting my customers in person, too. One bought 18 bags at a pop-up ahead of Mother's Day for a family gathering, and this provided me with a lot of referrals.
Will you introduce more flavours?
Yes, I have around 15-20 ideas so I'm definitely branching out, but I need to sample all these flavour combinations first and see what they taste like. It's not just whether they taste good: I've got to consider the shelf life and how long it will take to prepare the nuts, as it's just me doing everything at the moment.
What drew you back to Hong Kong and what do you like about doing business?
While I've studied overseas, Hong Kong will always be home as my family are based here. In terms of business, I like how everyone seems to know each other and as a new start-up, it's been amazing as everyone has been so supportive. Hong Kong people love to try new things and explore different food and beverage concepts, too, so that's another reason why it's good to be back.
What are the next steps for Nomsoftheday?
I'd like to work with restaurant chains like Classified and reach out to bars, too, as nuts are a great snack when you're having a beer with friends. With restaurants, I could even add flavour profiles to the dishes, like avocado toast or yogurt topped with rosemary pecans. A serving of nuts is a good way to add protein and healthy fats to a meal and nuts keep you fuller for longer, too.
How ambitious are you for the brand?
I'm quite ambitious and want to make my nuts more readily available and prove that healthy snacking can be delicious. I'm looking to ship overseas when I'm more established and am keen to find a courier firm that can give me a good deal. The shelf life of the nuts is three months, so it's possible.
A variety of quick bites will be showcased at the HKTDC Hong Kong World of Snacks held from 14 to 20 July this year.
Related link
NOMS of the Day