Night-time satellite photos of Earth show a world full of dark areas, lighter areas, bright zones and extreme bright spots, mirroring the dome of stars above the planet. As with light, economic activity is absent in some areas, present in others and glows brilliantly in a handful of bright spots.
Just as an alien spaceship approaching Earth would be drawn to the brightest spots on the planet, assuming these are the most active, investors and businesses aim for the economically glowing regions.
East Asia and particularly the East and South coast of China contains a high proportion of these bright spots and the most brilliant of all in this Milky Way of brilliance is the Guangdong-Hong Kong-Macao Greater Bay Area in southern China.
Many small and medium-sized enterprises (SMEs) from overseas are drawn to this region. At the recent Drive 2021 virtual conference held by HSBC, a panel of experts discussed the potential benefits the Greater Bay Area offers.
Stars align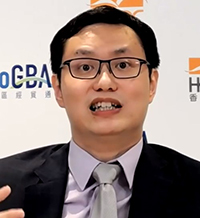 "The Greater Bay Area [GBA] is a very exciting area and a very exciting opportunity," Dr Patrick Lau, Deputy Executive Director of the Hong Kong Trade Development Council (HKTDC), told the webinar. "China is the growth engine for the world. The GBA, in turn, is a growth engine for China."
The International Monetary Fund projects that the mainland will expand economically at more than the rate of the world at large this year – 8.4% against .6%, he noted.
"The GBA has been developing fast. The momentum is there. And the ecosystem is already there. A lot of infrastructure is already there," he said, adding that the region has a population of over 70 million and annual gross domestic product (GDP) of about US$1.7 trillion, which are "huge numbers".
"The stars are aligned for GBA opportunities for international businesses," he said.
Dr Lau noted that the region also offers incentives to international businesses, with its development blueprint including pilot schemes offering "national treatment" to overseas innovation talents setting up technology enterprises in the Greater Bay Area, meaning they are subject to the same terms as domestic peers.
Overseas businesses that are interested in the region could consider working with Hong Kong, which could help them expand into the market, he said. Overseas technology companies, for example, could work with Hong Kong institutions such as the Hong Kong Science and Technology Parks and Cyberport, he added.
He advised that the HKTDC runs a range of trade fairs connecting suppliers with buyers, including those from the mainland, including the GBA, offering a testing ground for products and services. The HKTDC also organises events and activities to help companies understand the business dynamics in the GBA.
Dr Lau also advised that the HKTDC will soon launch the GoGBA digital platform providing practicable up-to-date info on the GBA, as well as government incentives and preferential policies. The platform will also offer business support such as advisory, workshops and market development opportunities. Additionally, the HKTDC offers digital marketing tools and organises business missions and workshops to help companies expand into the GBA.
As well as innovation and technology, healthcare is also a promising sector in the region, shared Dr Lau. The GBA can serve as an entry point to the mainland, whose healthcare market offers enormous potential to multinationals.
Canada-sized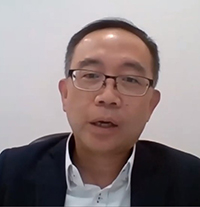 Explaining just what the Greater Bay Area is, Daniel Chan, Head of Greater Bay Area at HSBC, said the GDP of the region already exceeded that of leading international economies such as Canada or Korea, and is expected to grow 2.5 times by 2030.
Each city in the Greater Bay Area – which comprises the Hong Kong and Macao special administrative regions and nine adjacent cities in Guangdong province – has a specific set of strengths, Mr Chan said. Hong Kong is an international financial centre and start-up incubator, while neighbouring Shenzhen is a centre of innovation and the provincial capital of Guangzhou is a commercial hub.
Leading mainland companies such as telecommunications giant Huawei, drone maker DJI and information technology innovator Tencent are headquartered in the region, he noted.
Overseas acceptance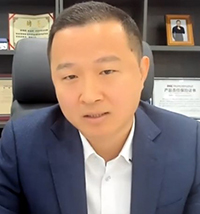 Andy Lam, Managing Director of Gama Healthcare, a sanitary products maker based in Hemel Hampstead in the United Kingdom, said the firm has offices in six cities around the world and chose to set up its regional headquarters in the Greater Bay Area city of Foshan (main picture).
The firm was drawn to the region since it is a key area in national development and the 70 million population exceeds that of the UK, Mr Lam said.
The Greater Bay Area population is younger and richer than that of the mainland as a whole, he said, making for a good and growing consumer market. The area is also home to many world-class universities, highly rated medical schools and massive container ports, he added. The mainland's opening up to the world began in this region in 1979 and Gama hoped a UK brand will be accepted in the Greater Bay Area.
Young and mobile consumers
Dr Lau also said the Greater Bay Area's consumer base is young and twice as rich as the mainland as a whole based on GDP per capita. Many people in the area are entrepreneurs, wealthy entrepreneurs and middle-class professionals. These consumers are increasingly interested in quality products and services from around the world, and are interested in sustainable products green and socially responsible products. Furthermore, they are willing to pay more for quality.
"The GBA consumers are also Internet-savvy," said Dr Lau. They have adopted mobile technology and are well into e-commerce, digital banking and digital wallets. He advised companies to conduct some digital marketing, adding that key opinion leader (KOL) marketing is particularly important in the region.
Consumers living in mainland Greater Bay Area cities are regular visitors to Hong Kong during times of normal travel, making the city a good launch site for brands seeking to enter the mainland market, according to an HKTDC survey conducted in 2020. Some companies also leverage the Hong Kong platform to enter the GBA market, either by partnering a Hong Kong company or setting up in Hong Kong, said Dr Lau.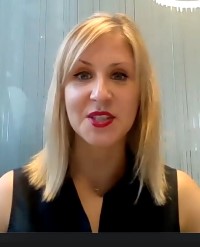 Mr Chan said SMEs seeking to move into the mainland should start in a place with familiar law, language and customs but accessible to factors of production and close to the booming market. The Greater Bay Area offered all these.
The area is ideal for product development, he said, with leading universities and high-calibre talent, with 16 national-scale laboratories having branches in Hong Kong.
Mr Chan added that a product developer wishing to carry out fast-prototyping of a product could do so in just two or three weeks in Shenzhen, much faster than elsewhere in the world.
The webinar was moderated by Andrea Tirwana, Senior Vice President, Asia Pacific Commercial Business Banking, HSBC.
Related link
HSBC Drive