As COVID-19 vaccine roll-outs boost recovery hopes at home and abroad, businesses see improving prospects for Hong Kong and other cities in the Guangdong-Hong Kong-Macao Greater Bay Area (GBA).
Their stronger performance showed up in the GBA Business Confidence Index (GBAI), based on quarterly surveys of more than 1,000 companies operating in the Greater Bay Area (GBA) conducted by the Hong Kong Trade Development Council (HKTDC) and Standard Chartered Hong Kong.
Business confidence in the Greater Bay Area was off to a strong start in the first quarter of this year. The GBAI's Current Performance index for business activity rose further above the 50 neutral mark to 53.0 in from 50.2 in the fourth quarter of last year, while the forward-looking Expectations index soared to 62.7 from 54.1.
Hong Kong showed early signs of improvement, with its Expectations index jumping to 50.7 – consistent with economic expansion – from 38.3 previously, although its Current Performance index for business activity stayed below 40 for a fourth consecutive quarter.
"We believe a shallow recovery is underway. Externally, we expect Hong Kong to benefit from the improving global outlook; domestically, the unwinding of social-distancing measures since February should provide relief," Kelvin Lau, Senior Economist, Greater China for Standard Chartered said in a report, adding that the vaccine rollout is also expected to gather pace.
"We however expect momentum to pick up only in the second half, as headwinds from a still-rising unemployment rate could linger in the coming months."
Thematic questions in the survey focused firstly on how respondents see various opportunities and challenges in 2021 and secondly what their plans are for renminbi trade redenomination and their views on the ease of cross-border money movement, Mr Lau said.
Opportunities on horizon
"Our first question was about the impact of various events on respondents' businesses in 2021," Mr Lau said. "Unsurprisingly, almost 70% of respondents see either very positive or somewhat positive implications from the large-scale vaccination rollout in Mainland China, and an even higher 72% for vaccine rollout elsewhere. This helps explain the leap in the GBAI expectations indices, as the US is currently on track, and the mainland is striving, to achieve herd immunity by the end of this year, making border reopening and international travelling a real possibility on the horizon."
New Year break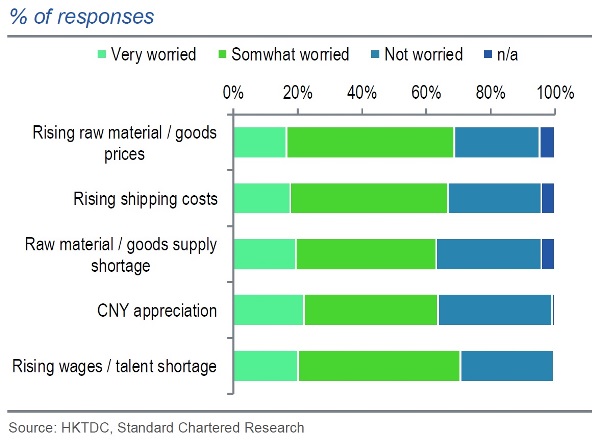 The improvement in the overall and Expectations indices came despite a seasonal slowdown in factory production and transitory COVID containment measures around Lunar New Year, plus worsening profit pressure due to rising costs.
Worldwide vaccine rollouts likely fuelled the broad-based improvement, with all eight sub-indices above 60.
Six out of eight GBAI sub-indices rose quarter-on-quarter, indicating improvements across new orders, capacity utilisation, investment and financing activity. The index for prices of finished goods and services was particularly strong, jumping 9.4 points to 63.8, consistent with improving demand but possibly also stronger pass-through of higher costs amid rising commodity prices and component shortages.
Building cost pressure helped explain the quarter-on-quarter fall of 2.1 points in the profit sub-index to 62.7 points.
"This, in our view, gives policy makers more cushion to taper stimulus, which could weigh on growth in the second half of this year," said Mr Lau.
The survey results also show continued outperformance by manufacturing and trading, with retail and wholesale surprisingly coming in second, beating information and technology and financial services. This hints at a broadening of China's services sector recovery.
"Shenzhen and Guangzhou's more developed services sectors probably contributed to their latest outperformance among cities, in our view, adding to their edge in manufacturing and technology," said Mr Lau.
"Our thematic questions showed that respondents are mostly concerned about higher costs and other production challenges in 2021," he noted.
The survey also revealed that renminbi use is gaining traction, with 21% of respondents already using renminbi trade settlement and a further 16% of total respondents planning to start using renminbi invoicing for international trade this year.
"This supports our call for a likely evident pick-up in renminbi globalisation in the coming quarters," Mr Lau said. "We see room for policy relaxation to make cross-border money movement easier."
Positive across board
The improvement in the GBAI expectations index was broad-based, with all eight of its sub-indices rising above the 60 mark. The increases in production/sales (+11.2 points) and new orders (12.7 points) were particularly impressive, supported by strong demand both domestically and globally.
The global reflation story, especially fuelled by the swift rollout of vaccines and an impending fresh round of fiscal stimulus in the US, has helped lift the new export orders outlook, boosting the Greater Bay Area's prominent manufacturing sector alongside the strong domestic recovery.
"We expect Q4 [fourth-quarter] growth to slow to 4 to 5% year on year partly due to a high base previously, as well as clear policy intentions to taper monetary and fiscal stimulus in order to stabilise debt.
"We believe our GBAI prints will start converging back towards the 50 neutral mark when the global reflation story stabilises and domestic policy tapering hits," concluded Mr Lau.
Related link
Full report