Autumn was already giving way to spring in the minds of Guangdong-Hong Kong-Macao Greater Bay Area businesses in the fourth quarter of last year, the GBA Business Confidence Index (GBAI) indicates.
The index survey, compiled by Standard Chartered Bank in association with the Hong Kong Trade Development Council (HKTDC), queried more than 1,000 respondents on their plans for this year and received upbeat responses, especially on prospects for markets in Mainland China. Most respondents said business activity had nearly returned to pre-COVID-19 levels by the fourth quarter. The pandemic had begun to make itself felt in the region in February last year.
Wage inflation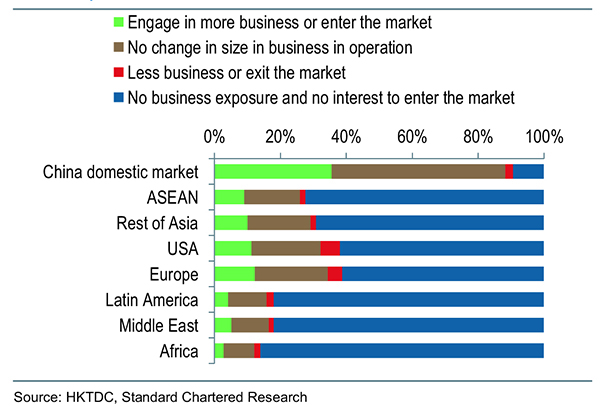 In addition to the regular survey questions, the fourth-quarter 2020 survey looked specifically at plans for 2021. Businesses plan to increase wages by an average 2.5% in 2021, up from 1.4% in 2020. This average improvement was driven largely by respondents who had had a "no change" position in 2020 moving to the 5% and 10% increase categories.
Kelvin Lau, Standard Chartered Senior Economist, Greater China, said for many firms, production was approaching pre-COVID levels, bringing a willingness to boost pay.
"Of the respondents 12% are now operating at under 70% of pre-COVID workforce levels," he said. "We also asked respondents if they planned to change market exposure across regions. Over 90% already have or plan to have exposure to Mainland China's domestic market, followed by less than 40% saying they would have or boost exposure to the United States and European markets."
About 36% of respondents plan to do more business, or start doing business, in the domestic market, expecting growth outperformance for the mainland and Greater Bay Area region to continue for much of 2021.
"We believe that companies considering expanding into Association of Southeast Asian Nations markets [ASEAN] (and the rest of Asia) have the potential to grow much more than the current survey results suggest, whether with a view to diversifying production, saving wages or tapping ASEAN's growing consumer market. Respondents are most optimistic on [Mainland] China's domestic market."
Pandemic concern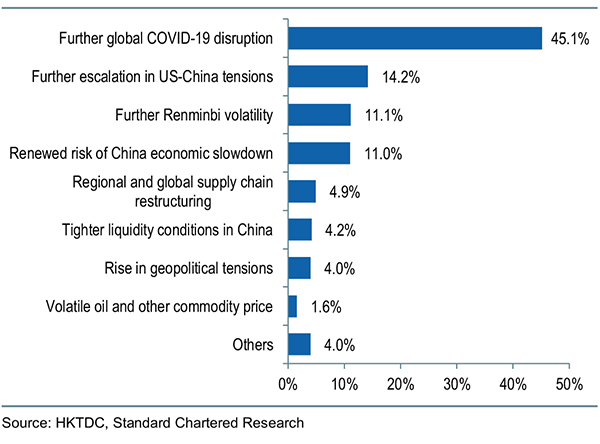 When asked about potential problems in the coming year, a substantial 45% of respondents see further global COVID-19 disruption as their biggest concern for 2021, followed by a further escalation in United States-mainland tensions at a distant second (14%). Further renminbi volatility and another growth slowdown in the mainland (both 11%) make up the top four concerns.
Mr Lau said most respondents believe the Greater Bay Area has established a clear lead over other economic zones in China in terms of economic reform pace, market openness, ease of doing business and business opportunity.
"While 12% of respondents noted that the Greater Bay Area needs to catch up with other economic zones in terms of quality of labour force and the talent pool, half still responded favourably on this count," he said.
"Further integration between Greater Bay Area cities should boost the region's ability to attract high-end talent via a siphoning effect, i.e. the Greater Bay Area's innovation drive, industrial upgrading, higher wages and favourable residential policies should make it competitive in job creation and create a 'siphoning in' effect of not just rural workers, but also high-end talent from other major mainland cities."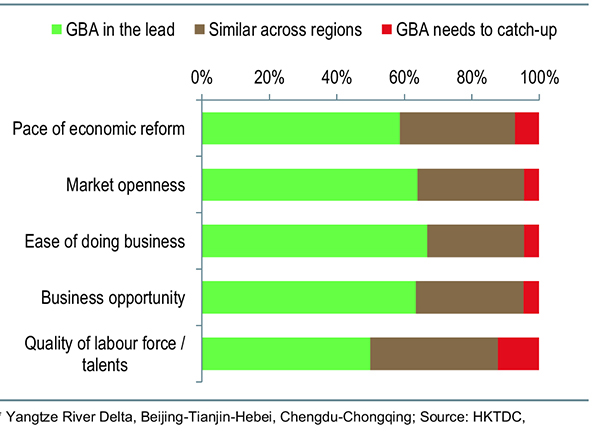 Positive territory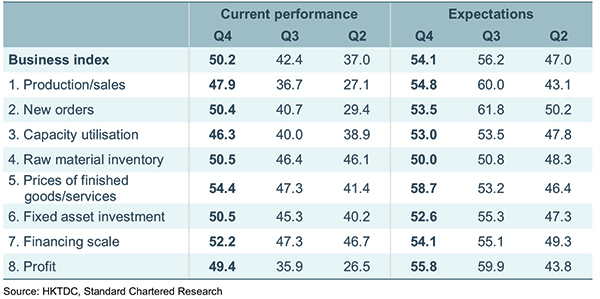 The GBAI's broad "current performance" index for business activity rose above the 50 neutral mark to 50.2 (indicating a slight expansion) in the fourth quarter from 42.4 in the July-September quarter, . And while the forward-looking "expectations" index eased to 54.1 from 56.2 previously, it remains comfortably in expansion territory, reflecting a more normalised pace of improvement with the mainland having passed the steepest part of its post-COVID recovery.
A detailed breakdown shows a broad-based recovery led by production and sales, orders and profits. "Innovation and technology" was overtaken by "manufacturing and trading", which posted a sector-best 51.6 for "current performance" and 55.4 for "expectations", boosted by robust production and exports.
For manufacturing respondents, borrowing costs ceased to fall as monetary policy turned neutral but this was offset by improved surplus cash and receivables turnover. City-wise, the sub-indices for Dongguan and Foshan (main picture) outperformed as the cities continued to play catch-up, enjoying a positive spill-over from Shenzhen and Guangzhou.
Related link
GBAI full report