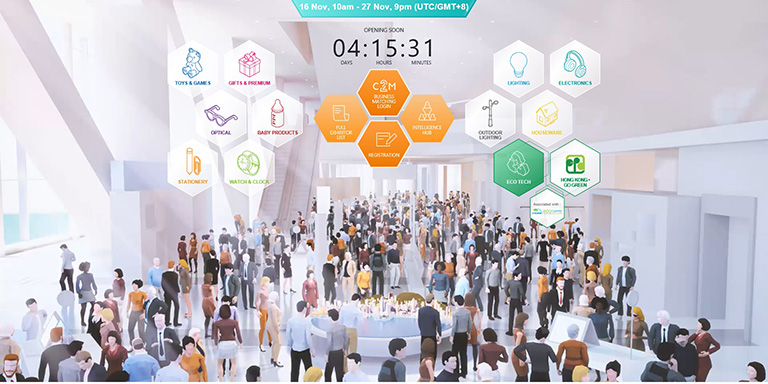 https://hkmb.hktdc.com/en/1X0AL1DK
Digital fast track
AI, big data upgrades on the HKTDC's online trading platform bring exhibitors, buyers and conference goers together in cyberspace.
The lifetime which has passed since the invention of the transistor in Bell Labs, New Jersey, more than 70 years ago has seen profound changes on both the largest scale – spacecraft have ventured beyond the Solar System – and smallest – vast libraries can be compressed into a device smaller than a pen. This digitisation has a profound, and accelerating, influence on every aspect of business from entertainment – putting all the features of a cinema on to a phone –to agriculture – sending robot harvesters into fields.
As with any technological progress, the pace has not been even, with slow patches and fast ones. In 1990, the internet was an obscure academic and military project, but by 2000 it had 400 million users, driven by the worldwide web and launch of the commercial internet. The number had ballooned to 3 billion by 2015.
Change driver
The COVID-19 pandemic has been another turbocharging event for digital transformation.
International trade, as well as exhibitions and conferences serving commerce, has gone into overdrive with its digital transformation as a result of the pandemic. In the same way the Hong Kong Trade Development Council (HKTDC), which initially launched its online sourcing site two decades ago, has moved rapidly to accommodate the shift in trade winds.
The HKTDC has upgraded its hktdc.com Sourcing platform in the run-up to the HKTDC Autumn Sourcing Week | ONLINE virtual exhibition, helping small and medium-sized enterprises (SMEs) capture global business opportunities and adapt to digital sourcing models in the new normal and beyond.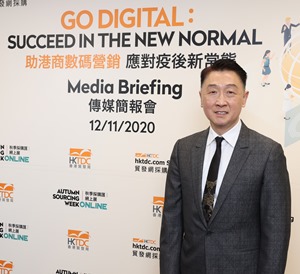 "The pandemic has changed the sourcing pattern of many companies and accelerated the transformation of the global supply chain," said HKTDC Deputy Executive Director Benjamin Chau.
"The latest HKTDC survey shows that Hong Kong companies are adjusting their business strategies to cope with the new normal. Companies are increasingly 'going digital' to expand their online distribution channels (69%), conducting online marketing (56%) to develop new business markets (57%) and accelerating the application of technology in their business (47%),":
Mr Chau observed that trade activities were on the rise in the third quarter of 2020, with a rebound in Hong Kong's total exports. While physical trade fairs cannot be held at present, he called on local businesses to leverage the HKTDC's digital platforms and services to tap into various markets, especially economies that have signed free trade agreements with the city such as Mainland China and the Association of Southeast Asian Nations (ASEAN).
"Mainland China is probably the only economy in the world that will see positive GDP (gross domestic product) growth in 2020, and its 'dual circulation' model of development with an emphasis on the domestic economy will stimulate consumption growth.
"As a major trade fair hub in Asia, Hong Kong can play a pivotal role in attracting more local and international brands and products to the mainland market," he added.
Omnichannel platform
In response to these new developments, the HKTDC recently launched the upgraded hktdc.com Sourcing platform.
"Users will notice a refreshed design as well as new features that deliver a better, more personalised smart-sourcing experience anytime and anywhere," said Mr Chau. We have also employed new technologies such as artificial intelligence (AI) and machine learning to increase the efficiency through which we connect buyers with suppliers and improve the overall user experience."
Mr Chau said hktdc.com Sourcing is an easy-to-use platform that allows local businesses to customise online store pages and upload rich content, videos and images. The platform employs image recognition technology to swiftly provide keyword suggestions for relevant products, enabling target buyers to find the right products more easily.
Suppliers can also examine page-performance data from the dashboard at any time, helping to improve supply chain management and making it easier to assess marketing effectiveness. The new platform records buyers' preferences and recommends relevant new products to them.
"Local businesses are also provided with the option to purchase promotion 'boosters' based on their business needs and promotion strategies. This gives them the flexibility to increase their exposure on hktdc.com Sourcing platform pages and enhance their reach to potential business partners," Mr Chau said.
"In addition, the NewsBites content page introduces the latest sourcing trends and popular products. It also pushes notifications via social media channels such as Facebook, Instagram and Twitter to encourage more prospective buyers from around the world to visit suppliers' online stores on our platform."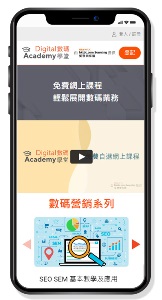 "The new supplier authentication system classifies companies on the platform into Gold, Silver and Bronze categories based on reputation and activeness. A record of companies' participation at HKTDC events and their last update time are also provided, serving as a reference for buyers as they seek out the most suitable suppliers," Mr Chau said. The Third-party Authentication Service, meanwhile, allows suppliers to highlight their credibility and product quality to strengthen buyer confidence.
"We are also launching the Digital Academy to provide SMEs with comprehensive, free-of-charge assistance and training in the area of digital marketing," Mr Chau continued. These pragmatic, easy to understand courses, conducted by digital marketing experts, explore a variety of topics including search-engine optimisation (SEO), search-engine marketing (SEM), social-media content marketing, product photography, filming, copywriting techniques, and e-commerce business strategies. For example, award-winning film director Oliver Chan will share some of the secrets behind creating video content for digital platforms.
Online exhibition
The HKTDC is running Autumn Sourcing Week | ONLINE (ASWO) from 16 to 27 November, featuring the latest products from different industries including electronics, houseware, lighting, outdoor lighting, eco tech, gifts and premiums, toys, baby products, stationery, optical and watches and clocks. The virtual fair serves as a one-stop online sourcing platform to keep SMEs connected with global buyers and help create business opportunities across various sectors.
"The pandemic will eventually come to an end, but for now Hong Kong companies are taking a positive approach to the new normal by making more use of online promotion platforms to capture online-to-offline (O2O) business opportunities. The HKTDC has reacted to these changes swiftly, developing online exhibitions that can help SMEs attract new buyers and gain new orders during this difficult time," said Mr Chau.
Under the theme "A New Connected World Beyond the New Normal", ASWO has attracted 2,600 exhibitors from 33 countries and regions, featuring 37 group pavilions, including the Japan External Trade Organization (JETRO), Korea Trade-Investment Promotion Agency (KOTRA), Taiwan Electrical and Electronic Manufacturers' Association (TEEMA), Zhejiang, Chongqing and Jiangsu provinces from Mainland China, Cyberport and the Federation of Hong Kong Industries.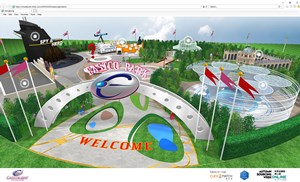 A new 3D virtual booth has been introduced at ASWO to enable exhibitors to showcase their products and promote their brands in a more attractive and effective way.
Buyers and exhibitors can make deals through the HKTDC's business matching platform, Click2Match, which uses AI technologies to conduct automatic matching between potential business partners. The platform also helps participants to schedule meetings, get together for video conferences, chat in real time and exchange e-business cards. In addition, the HKTDC has mobilised its network of 50 offices worldwide to invite quality international buyers, arranging online business matching meetings according to their sourcing needs to increase the chance of business collaboration.
Mr Chau expected that the HKTDC can resume its physical trade fairs in March 2021 at the earliest. "We hope the HKSAR Government can reach agreement with more countries to establish 'travel bubbles' and promote cross-boundary business travel, making it possible to resume international physical trade fairs in Hong Kong and continue to create business opportunities for local traders," he said.
Related links
hktdc.com Sourcing
ASWO