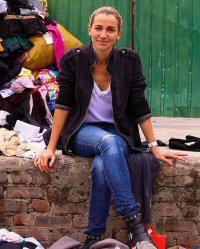 As COVID-19 raises awareness of sustainability issues, Hong Kong fashion collection Refashioned has become the first label globally to be recognised by the new Upcycling Verification Program launched by Swiss certification firm Standard Global Services (SGS) in July this year. The programme verifies upcycling claims in the market. Comprising functional wardrobe classics such as jumpsuits, dresses and trousers, the 20-piece collection is made from rescued waste fabric and produced on demand in collaboration with Hong Kong-based manufacturers. Each garment is made only when a customer decides to buy after choosing their favourite style, size, and fabric.Launched in early August, Refashioned is the latest collection from Hong Kong upcycled fashion brand The R Collective, which highlights environmentally friendly consumption and production models. The brand was conceived by Hong Kong-based environmental charity Redress, which seeks to prevent and transform waste in the fashion industry. Refashioned was designed by four international award-winning designers, all previous participants in the Redress Design Award, a completion organised by Redress to recognise designers of sustainable fashion. The collection is available on The R Collective's e-commerce site.Redress founder Christina Dean, a prominent figure in the city's sustainable fashion movement, recently discussed upcycled fashion with Hong Kong Means Business.How did the idea for Refashioned come about?
Before the pandemic, The R Collective was on a mission to reduce fashion waste and utilise dead stock. Excess inventory is something that plagues the industry and we wanted to bring new solutions to the table. We have our own dead stock and were keen to create this "made on demand" model in response to consumer interest. It's also about responding to the current economic situation: the pandemic has shed another huge, painful light on fashion's unsold stock. Businesses have money tied up and are looking for opportunities to liquidate stock. What does it mean to be the first global brand recognised by the Upcycling Verification Program?
We're very excited and it's widely significant. We want there to be this transparency and help demystify what upcycling is. Waste issues are very unclear and many fashion companies don't disclose or talk about waste. There's this inner resolve to get rid of waste. But actually waste is not waste – it's a resource. To bring this clarity to the world is a massive achievement, as is bringing practical, real-life solutions to the market. How are you marketing Refashioned?
We are inviting customers to show off their collection on social media. A lot of people have opened their closets to photography and we've been seeing [more posts of] people at home during the pandemic. I think many are bored of uber-polished marketing campaigns.

You partnered with Avery Dennison to create sustainable branding and packaging - is the industry doing enough to address this side of the business?
We've worked with [global materials science and manufacturing company] Avery Dennison over the past two years and it's opened my eyes to solutions such as paper hand-tags while also highlighting auxiliary waste. Post-consumer waste is just the tip of the iceberg, and packaging is very important. Consumers don't want a lovely garment wrapped in plastic. It's about creating a 360-degree experience. How has the pandemic altered consumers' views to fashion, particularly fast fashion?
I think people have realised that they don't need as many clothes. It's additionally underlined the fact that fashion has this momentous economic entanglement with developing countries. But when consumption falls off a cliff, vulnerable people lose their jobs. To be sustainable, fashion must adopt a triple bottom line of financial, social and environmental considerations.You launched the Redress Design Award back in 2011. What can the fashion industry learn from you?
First off, businesses need to accept there's no overnight solution [to sustainability] and that there needs to be transparency. But through various partnerships, government support and long-term commitment, you can get good results. Well-managed companies with good environmental, social and corporate governance (ESG) will stand the test of time. ESG should go above and beyond the sourcing conversation and instead extend to the whole operation. What sustainable initiatives would you like to see within the fashion industry post-pandemic?
There needs to be a much greater focus on evaluating the incineration of textiles as we prepare to tackle all the apparel and textile waste that's been boarded up in warehouses during COVID-19. We also need to talk more about carbon footprint analysis [the amount of CO2 and other greenhouse gases emitted over the cycle of a product] as no-one really knows that much about it.
Related links
Redress
SGS
The R Collective