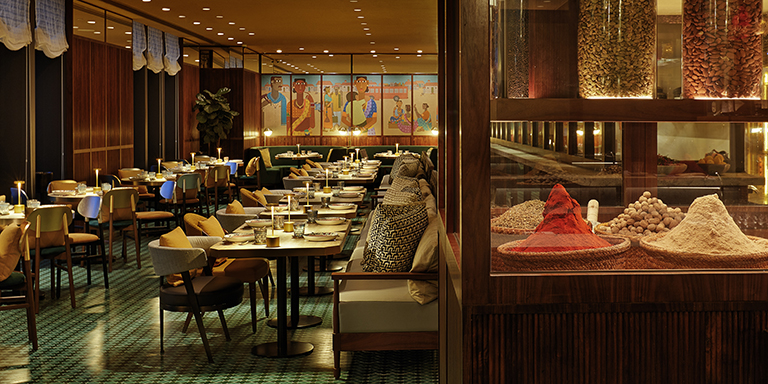 https://hkmb.hktdc.com/en/1X0AKQDH
Indian street food goes upmarket
A restaurant offering a fine-dining twist on traditional Indian cuisine has adapted quickly to COVID-19 restrictions.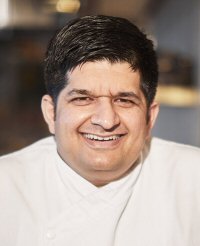 Many Indian restaurants in Hong Kong offer versions of the country's diverse cuisine. A new establishment at Rosewood Hong Kong, CHAAT, showcases a discerning take on traditional Indian street snacks such as home-made paneer cheese and pav bhajis. Head chef Manav Tuli - whose CV includes stints at other five-star hotel groups such as the Oberoi and Intercontinental - is a big fan of Hong Kong's attitude to food and dining out. Before joining Rosewood, Mr Tuli was at Tamarind, the first Indian restaurant in London to receive a Michelin star. The Rosewood is on the harbourfront in the tourist hotspot of Tsim Sha Tsui.

"I never thought Hong Kong would be so vast and varied in terms of its food culture," he said. "Being in London I used to think, 'that's it, there's nothing better than here!' But when I arrived in Hong Kong, it was like a totally new ball game. People are incredibly aware of quality. It's challenging but rewarding if you can hit a sweet spot that meets demand."

How is the restaurant coping with the switch to take-out only restrictions for evening dining, put in place to limit the spread of COVID-19?
Things have definitely changed for everyone in the city, and we have shifted to a delivery service of selected dishes only. We've also started offering a complimentary delivery service for orders of HK$800 or more. In addition, we offer 15% discount on all self-pickup orders. The response has been very positive [in Kowloon, where the hotel is based] and a lot of customers are asking for us to deliver to Hong Kong Island too.
What are the challenges of operating a takeout service and how are you tackling that?
Generally, the notion is that Indian food is made for delivery service. I'd say this is not true – the curries can travel and survive the transit time, but it's not the same for most of our kebabs. Kebabs should be moist and succulent with all the flavours in there, but if you make that kebab travel from one place to another, it's not the same. We have introduced two new kebabs specifically to meet this challenge, the Tandoori free range chicken, with a red marinade of Kashmiri red chilli, mustard oil and home-ground garam masala, and the Tangdi Kebab, with a yellow marinade of turmeric, dried fenugreek, yellow chilli and hung yoghurt. Both are served on the bone as the meat doesn't dry to the same degree as boneless meat.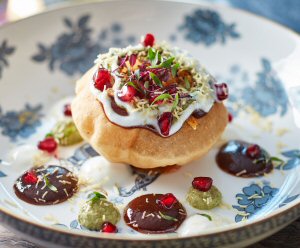 CHAAT's menu showcases your favourite traditional street snacks. What were some of the challenges of adapting them for a fine-dining restaurant?
The biggest challenge was to re-create street food fit for the refined environment of the Rosewood while keeping true to its roots. I did re-interpret the dishes but the base recipes and flavours are the same. For example, the traditional Raj Kachori is piled with different chutneys, and that makes it soggy very fast. I had to adapt the dish to the humid environment of Hong Kong to keep the textures intact, so the chutneys became part of the plate presentation.

Indian street food tastes great but the ingredients that they use (and the meat quality) is often not the best. Street food is driven by cost and profit margins, but here at Rosewood, that's where we excel. We have access to prime quality meats such as 1855 Black Angus Beef and New Zealand lamb and free-range chicken among others.

What do you like about Hong Kong's dining culture and what are some of your favourite restaurants?
Hong Kong's dining culture is extremely varied, excelling in a multitude of cuisines and local street food. Some local street eats that I've enjoyed in particular are those cheap-as-chips traditional-style cart noodles with beef. I've also really enjoyed experiencing Hong Kong's famous yum cha tradition and love the expertly crafted dim sum at Duddell's. Din Tai Fung is one of my favourite snack stops for hand-pulled noodles, dumplings and drunken chicken. Roganic Hong Kong makes use of high quality seasonal and local ingredients to produce a fantastic contemporary British menu for great value.

Do you think you can introduce more diners to the delights of Indian cuisine with a fine-dining twist?
I was very scared of opening in Hong Kong as I didn't know if the locals, expats and the Indian community would accept my food and pay a premium price for it. However, I'm very happy that people in Hong Kong have welcomed my food with open arms. Everyone has been very kind and supportive of the food I'm doing.

How do you plan to continue building your customer base?
There are still so many dishes that need to be showcased to celebrate Indian street food. The biggest celebration will be Diwali (festival of lights) in November, when we intend to do a set menu that will run for four to five days.

I think we have a good formula going now – we will keep our roots intact and not play with the principal flavours. We will design the menus according to the seasons but continue to celebrate Indian street food in CHAAT's refined setting.
Related link
CHAAT