Any discussion of Hong Kong is bound to include words such as crossroads, business hub and East meets West – all involve people moving. The COVID-19 outbreak has put tight restrictions on physical movement across borders, keeping many of the city's frequent-flyer executives at their desks.Putting these executives back in the sky (or on boats and trains to neighbouring parts of Mainland China, or even safely into office buildings and schools) is likely to require some form of digital health certification to show that a person is not carrying the virus. Companies, educational institutions and organisations are also seeking ways to ensure employees, students and customers are safe from the virus by keeping tabs on employees' carrier status.
Solution provider
Hong Kong technology company EMALI is offering a health-tracking solution, Immunodex, which the firm says "presents digital proof of any user's health to a verifier (such as an employer, school or business), in a completely tamper-proof and privacy-preserving way".Immunodex users can arrange tests by certified medical practitioners who can confirm their health status – for any condition although the focus at present is on COVID-19. Since the system is blockchain-based, the data is not centralised but is securely encrypted and spread across distributed ledgers. Updates are instant.Lawrence Ma, CEO of EMALI, said privacy concerns were paramount in medicine. "Our system is offering a new and better way to handle this privacy. The medical industry has only known one way of doing things: via centralised, siloed collection and management of information. We propose a decentralised and patient-centric approach: let the patients handle their own data, so the medical community's role is only in attestation and declaration that the data is valid. We combine this with a bulletproof governance framework that ensures trust and integrity between all parties involved." Mr Ma said privacy is at the core of EMALI's operations. "Most people do not appreciate privacy until they have lost it. We are used to being undervalued in the privacy business. While consumers mostly do not appreciate it (yet), any chief information officer or chief technology officer or CEO worth his salt would," he said.
Early adopters of Immunodex are likely to be medical services firms seeking a safe way to link patient IDs to records. "There is an interest in adopting our technology stack for 'accountable health' because we bring the convenience of digital records with the reliability of auditable records via blockchain, topped off with an uncompromising privacy-preserving design," Mr Ma said.EMALI cut its teeth on medical insurance and its experience in the sector has put the firm in good stead to expand. "We've overcome plenty of challenges building blockchain infrastructure solutions for financial, insurance and regulatory institutions over the past four years," Mr Ma said. "Just from sheer experience, we may be among the most knowledgeable people in this unique intersection of expertise — health, insurance, and verifiable credentials."
Travel bubble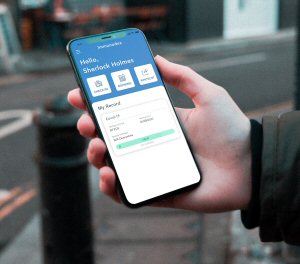 He said Immunodex services could be useful in the proposed Guangdong-Hong Kong-Macao travel "bubble zone", where no cross-border entry curbs or quarantine requirements would be imposed on travellers with a coloured QR-code showing they are certified to be COVID-19-free. "An immediate improvement we could bring to the proposed coloured QR-code system is safeguarding individuals' privacy."EMALI recently undertook a project for the Hong Kong Trade Development Council (HKTDC), developing an app that allows Council members to conveniently declare their interests as public-office holders. Mr Ma said this could serve as a template for other declaration- and passport-type apps."There are many scenarios where people fill out forms and sign at the bottom to declare that the information is correct. Now, one of the more critical scenarios is status of health, specifically concerning COVID-19," noted Mr Ma. "One of the products of Immunodex is a variant of the HKTDC application – members declare their health status with regards to COVID-19, allowing them to access physical facilities without having their privacy compromised."Mr Ma believes Hong Kong's financial-hub status makes it the ideal home for fintech firms, and privacy will play a critical role in fintech in the city going forward."What Hong Kong needs is to move beyond and into privacy. We believe blockchain can give Hong Kong an additional edge, and we are not talking about the cryptocurrency hype."The world missed an opportunity to incorporate privacy into the foundations of the internet revolution during the 1990s. As technologists at the leading edge of the trust technology revolution, we hope to help the world do better this time," Mr Ma said."Blockchain technology, on top of being a deeply complex topic academically with even more confusing public branding, is the key to a more privacy-preserving future. What we need is strong fundamental training for privacy and blockchain for our Hong Kong students, especially in fintech and enterprise applications. Helping our students will form the foundations of a strong service economy across financial and high technology sectors in Hong Kong."Mr Ma said Hong Kong universities produce some of the world's best cryptographers."Hong Kong universities now offer fintech programmes. Finance is very much a part of Hong Kong culture, and technology is gaining a foothold. Financial and fintech literacy is just as important as linguistic literacy for Hong Kong. It is how the world defines us and how we differentiate from other world cities."EMALI is participating in a technology promotion campaign organised by the HKTDC in collaboration with the Hong Kong Special Administrative Region Government from June to August. The three-month campaign promotes Hong Kong companies in healthtech, medtech, e-learning, e-business and smart-city technology, showcasing their products or solutions to overseas markets.
Related link
Emali