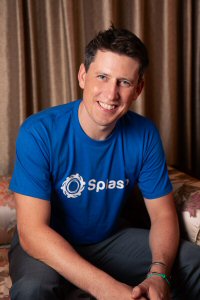 Many people in Asia live near the coast but millions can't swim. In Hong Kong, Splash Foundation aims to address that anomaly by coaching people from low-income communities, for whom private lessons are financially out of reach.Established in 2015 by Simon Holliday, a local long-distance swimmer and record-holder, with co-founders Libby Alexander and Shu Pu, Splash has taught nearly 3,000 adults and children how to swim and be water-safe. Supported by corporate sponsors and individual donors, Splash Foundation has also trained 200 volunteer coaches.
Fifth anniversary plan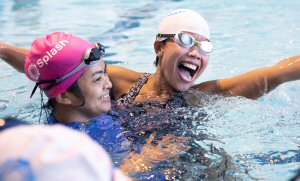 In 2020, its fifth anniversary, the Splash Foundation appointed a board of directors that will be integral in securing the organisation's long-term future. With decades of experience in the finance, insurance, hospitality, philanthropy and public-relations sectors, the new board will "take Splash to the next level", said Mr Holliday, who is also the foundation's Board Chair. "They will help us transition from a grass-roots charity to a significant, sustainable non-profit organisation. With the support of the board we will get closer to our goal of ensuring everyone in Hong Kong has the opportunity to learn to swim." The new board comprises James Riley, Group Chief Executive, Mandarin Oriental; Jo Soo Tang, Honorary Chairman of Hong Kong Adventist Hospital Foundation - Board of Governors (Stubbs Road), and adviser to World Wildlife Fund-Hong Kong and Food Made Good Hong Kong; Mark Stamper, Chief Financial Officer at Cigna International Markets; Nikhil Eapen, Deputy CEO and Chief Investment Officer, Singapore Technologies Telemedia; Reyna Harilela, founder and director of public relations firm Bonvivant & Bellavita; and Simon Holliday, Learning & Development Manager - Asia, Herbert Smith Freehills.Mr Riley said Splash had built a great model and is now ready to scale programmes both in Hong Kong and beyond."Learning to swim is a life skill, yet it is financially out of reach in many parts of the world," he said. "According to the World Health Organization, 93% of drowning deaths occur in low- and middle-income countries, predominantly in Asia and Africa. Splash addresses this gap in a cost-efficient way by building a well-trained volunteer network who share a tangible, life-saving skill."This year, he added, the charity's priority will be to find key investors and patrons who believe in making swimming accessible and understand the impact this has on the whole community."We are looking for patrons and corporates to sponsor a class, a term of classes or an entire year of classes," Mr Riley said. "It costs just HK$50,000 to teach 30 women how to swim and be water-safe in 12 lessons, or HK$40,000 to sponsor 16 kids." Their support would build on the sponsorships received so far this year by corporates including Herbert Smith Freehills, Steelcase, Generali, Hysan, Morgan Stanley, Lululemon and PCCW."We know that people who learn how to swim are more likely to ensure their children learn to swim so it is a gift that has a ripple effect," Mr Riley said. "Beyond being a life-skill, it is an activity that has both physical and mental health benefits and once learned, swimming is relatively affordable in Hong Kong given the extensive public pool facilities and surrounding sea."Splash is organising several events and celebrations in its milestone anniversary year, starting with the Splash Dash Relay on Sunday 29 March. This is a fun, community fundraiser where corporates, schools, clubs and teams of families and friends are joined by "Splashers" who have recently learned to swim.
Aquatic marathon
Each team swims as many laps as they can in 30 minutes. The goal is to raise HK$1.5 million that will help more adults and children from under-served communities experience the joy of swimming. Mr Riley said anyone who can safely swim 50 metres is invited to participate."Our aim is to bring together people from different backgrounds who share a love of swimming," he said. "Splash Dash Relay will be a fun and inclusive event that is accessible to many different swim abilities. We have young children, competitive students, recreational adult swimmers and ex-Olympians all swimming with women who have just learned to swim. It is heart-warming to witness. "He added that Splash is projecting 35% growth in its beneficiaries this year "and we rely on Splash Dash to cover about half of our annual budget". Registration is now open on the Splash website.
Related link
Splash Foundation