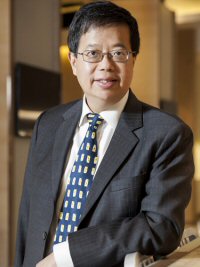 Supply chains across the world are changing abruptly as many countries adopt protectionist stances resulting in trade conflicts such as that between Mainland China and the United States. Chang Ka-mun, Managing Director of Li & Fung Development (China) Limited and Fung Business Intelligence, described the Sino-US dispute as a "new era of trade quotas". These trade barriers were no longer simply quotas; the issue had become a matter of "geopolitics", he said.How have these factors impacted supply chains?
Goods will eventually be sold to European and American consumers but the sales route has changed. Sino-US trade used to be direct but has since become indirect, routed through one or more production bases that are not affected by geopolitical factors. The role of Hong Kong has been to connect raw materials, upstream and downstream manufacturing, and European and American consumer markets, and facilitate indirect trade services between the mainland and the US. Hong Kong should also support industrial transfer, including promoting enterprise upgrading and transformation. The city should grasp the huge opportunities presented by the Belt and Road Initiative and the Guangdong-Hong Kong-Macao Greater Bay Area.How can Hong Kong take advantage of Industry 4.0?
The Greater Bay Area brings together all the advantages of the Pearl River Delta, the world's largest factory. As the global economy and supply chains digitise, mainland authorities are ushering in a new stage of development. The era of Industry 4.0 and digital production has begun and sophisticated technology is available to drive high-tech digital solutions. The relationship between Hong Kong and the other 10 cities in the Greater Bay Area is evolving; they complement each other and play an important role in global supply-chain development. The region will in fact become a model for development throughout the mainland.The trade dispute between the leading global economies takes place against a backdrop of the Industry 4.0 era, and the conflict has undoubtedly slowed technological development and impacted various industries. The imposition of tit-for-tat tariffs by the mainland and the US has greatly increased risks in interactions between enterprises. The Greater Bay Area has created a new partnership in which Hong Kong and cities in the Pearl River Delta can build a digital future.Traditional manufacturing is affected by the tight trade relationship between the mainland and US and has accelerated the move to cheap production markets outside the mainland. The Greater Bay Area has become a test site equipped with digital production systems where manufacturers can test and improve high-end consumer products. Hong Kong will continue to play a key role in supporting this digital production capacity in line with international standards.How will the Greater Bay Area drive progress in Hong Kong?
Industrial innovation is boosting competitiveness around the world. Hong Kong must defend its lead, continue to expand its innovative and technological "ammunition", enhance competitiveness, open up market segments and seize the advantages the Greater Bay Area offers. To drive its transformation, Hong Kong must further develop its existing roles in professional services, trade, logistics, international marketing and sales, improve its standards, strive for excellence and take on fresh tasks, assuming a global mindset. The city should also be a centre for fintech as well as other emerging fields such as artificial intelligence, big data analytics and advanced medical services. Hong Kong should also contribute towards the development of high-tech manufacturing and service industries in the Pearl River Delta. Hong Kong can look forward to participating more actively in all areas of the technology industry in the Greater Bay Area, achieving business-oriented development. Facilities such as Hong Kong Science Park (main picture) offer opportunities to do this.Hong Kong businesses cannot ignore the massive synergy between the Greater Bay Area and the Belt and Road. If you look at the Maritime Silk Road, its starting point is actually in the Pearl River Delta. So far, we have seen a lot of infrastructure development − in finance, roads, railways and other areas. These projects often use Hong Kong's financial resources and management expertise. The Greater Bay Area is a large consumer market as well as a big production base. We hope Hong Kong can play a major role.As connectivity in the Greater Bay Area improves, companies will be able to draw on the manufacturing base in Guangdong and the service industries of Hong Kong and Macao to provide a wider range of goods. Since Hong Kong enterprises in Guangdong and other parts of the mainland still encounter a "door half open" situation, deeper cooperation in the Greater Bay Area can improve the coordination of normative standards and mutual recognition of qualifications, giving Hong Kong enterprises more preferential treatment and easier market access. This will help reduce existing barriers to doing business.Does this mean Hong Kong firms will have to adopt new business models?
The Sino-US trade dispute is leading some companies to move their final product manufacturing out of the mainland. As the global supply chain transforms, Hong Kong enterprises must simultaneously seek opportunities by "going out" and "bringing in". Many supply chains used to originate in the Pearl River Delta, but sources are moving along the Belt and Road to places such as Vietnam, Bangladesh, India, Indonesia, and even as far as the Middle East, Egypt, Ethiopia and other African countries.As mainland enterprises begin to play a greater role in international markets, Hong Kong should give full play to its advantages. Foreign exchange restrictions mean mainland enterprises cannot easily conduct the sourcing of funds in overseas currencies. Hong Kong can serve as a mature fundraising platform. Firms in Hong Kong can help Guangdong enterprises raise funds through borrowing, equity financing, bond financing or venture capital. Hong Kong firms can also provide mainland enterprises with mediation or arbitration services when handling business or contract disputes.This interview originally appeared in the Hong Kong Economic Journal.
Related link
Fung Business Intelligence