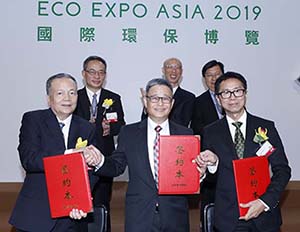 The factory of the world is fast becoming the sustainable factory of the world as manufacturers in Mainland China adopt green manufacturing and churn out environmentally friendly products and services.The Guangdong-Hong Kong-Macao Greater Bay Area has become a nucleus of this green transformation with manufacturing centres such as Dongguan and research hubs such as Shenzhen drawing on Hong Kong's capital, access to international markets and professional services to explore the world at large.Recognising this, authorities decided to create a group which could coordinate and speed up the green-industry transformation in the region, launching the Guangdong-Hong Kong-Macao Greater Bay Area Environmental Industry Alliance at the 14th edition of Eco Expo Asia, organised by the Hong Kong Trade Development Council (HKTDC) and Messe Frankfurt (HK) Ltd.The expo opened with a ceremony to mark the launch of the new alliance, with representatives from environmental industry alliances from Hong Kong, Guangdong and Macao signing a memorandum of cooperation to strengthen ties between green industries in the Greater Bay Area.
Regional input
The Greater Bay Area zone returned to the 2019 expo following a successful launch in 2018, gathering nearly 100 related companies and industries from all the Greater Bay Area cities. Among the broad range of exhibits, Guangdong Proudly New Material Technology Corp showcased its water-soluble material, membrane and products, which have been trialled by the Hospital Authority in Hong Kong.
Another prominent exhibitor was E Tech Dynamic Technology in the Green Transportation zone, which displayed, and made available for test drives, its recently released FAW VERTEC 5.5-ton electric truck (main picture), a 100%-electric vehicle with zero exhaust emissions that has already received approval from Hong Kong's Transport Department to launch in the city.The four-day expo ran from 30 October to 2 November and featured over 300 exhibitors from 17 countries and regions, creating a quality marketplace through which industry players could capture the latest green opportunities. Groups from Macao, Guangdong, Foshan, Hunan, Zhaoqing and Shenzhen, as well as first-time participant Guangxi, joined 13 pavilions to showcase the latest green technologies. The final day of the expo was open to the public to promote waste-reduction awareness. At the expo opening ceremony HKTDC Deputy Executive Director Benjamin Chau said: "This year's Eco Expo Asia aims to bring together the latest environmental technologies from around the world, helping the industry to explore green business opportunities while encouraging the development of a low-carbon economy and greener lifestyles. This year's fair embraces the theme 'Less Carbon, Less Waste • Green Innovation' and our goal is to push more industries to adopt innovative green technologies and pick up the pace for sustainable development."
Greater Bay Area
A panel discussion at the Eco Asia Conference, "Cleaner Production in the Greater Bay Area", explored the latest Greater Bay Area green industry developments. Chaired by Raymond Fong, General Manager, Environmental Management Division, Hong Kong Productivity Council (HKPC), the panel featured Ou Yuezhou, Chairman, Guangdong Association of Environmental Protection Industry; David Lo, Senior Consultant in Environmental Consultancy Services at the HKPC; and Rakesh Vazirani, Head of Sustainability Services, TÜV Rheinland Group.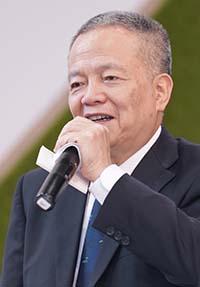 The environmental industry in Mainland China effectively began in 1973 with the establishment of the country's Environmental Protection Leadership Group. The industry has grown considerably over the past 46 years and now, with the new development opportunities offered by the Greater Bay Area, is regarded as a high-value-added innovative industry with the potential for rapid growth.Mr Ou told the panel the environmental industry and related businesses in Guangdong had been worth US$319.2 billion in 2011. With an estimated annual growth rate of 15%, this was expected to have reached about US$800 billion in 2018, with retail-related environmental products, services and recyclable products contributing US$240 billion."Guangdong's green industry may reach US$1.2 trillion by 2035," Mr Ou said, adding that green industry technologies are innovative and mature, making it possible to export environmental services to other regions. However, he said the mainland environmental industry still lacks facilities compared with the global industry.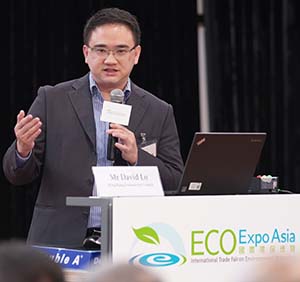 Cleaner production pays
Speaking from the experience of the Cleaner Production Partnership Programme, which helps Hong Kong-owned factories operating in Guangdong and Hong Kong to adopt cleaner production technologies and practices, the HKPC's Mr Lo said using automatic environmental technologies on production lines will reduce costs and bring income growth in the long run. He noted that manufacturing processes common to many industries – including printing, coating and plastic melting – will release volatile organic compounds (VOC). The main source of photochemical smog and pollution in the Greater Bay Area comes from the combination of VOCs and the nitrogen oxides (NOx) resulting from vehicle emissions.Industries are now finding ways to employ technology to reduce or eliminate the emission of VOCs during production. Mr Lo said: "With the support of the Cleaner Production Partnership Programme, a company can invest HK$660,000 in related equipment and reduce VOC emissions by 5.4 tonnes with a cost reduction of HK$1.16 million per year and a payback period of seven months."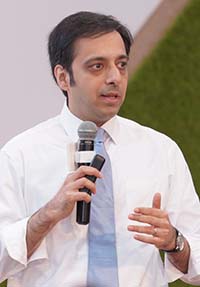 TÜV Rheinland Group's Mr Vazirani held a similar view. "Cleaner production not only reduces waste generation, but improves the efficiency of the production process, providing economic benefits," he told the seminar audience. He believed governments, manufacturers and the general population are keen to see sustainable development promoted further and are well supported by environmental groups and even funds. They are now striving to make sustainable development practical through various means, including new technologies, business models and systemic thinking.On the second day, the expo hosted the Greater Bay Area Forum, where green firms described the technologies and services they offered. Speakers included Yin Hegui, General Manager, Guangzhou Heyuan Eco-Tech Development Holding Co Ltd – who described the company's low-carbon water eco-system restoration technology – and Hu Yadong, General Manager of R&D Department, Bio-form Technology Limited Company, who introduced the firm's research and application of cyanobacteria bloom bio-control technologies on the ecological management of lakes and reservoirs.
Related link