The fashion world is turning its spotlight on the message and the brand, according to exhibitors and buyers surveyed at the Hong Kong Trade Development Council's (HKTDC) CENTRESTAGE 2019.The HKTDC commissioned an independent on-site survey during the show, which ran from 4 to 7 September, to gauge future product trends and the outlook for the fashion industry. Interviewing more than 300 exhibitors and buyers, the survey found the respondents believe celebrity and key opinion leader (KOL) endorsement (40%), brand licensing (40%) and crossover promotion (39%) are the most common and effective product development and sales strategies. On product trends, the survey found that 65% of the respondents expect casual wear and city wear to be the most popular product categories, followed by fashion accessories (18%) and high fashion (10%).Nearly half of the survey respondents expect overall sales to remain steady, and more than 30% anticipate growth in the coming year. Sourcing prices or production costs will remain steady, 57% of respondents expected, while 35% expect costs to grow. Reflecting a reluctance to transfer cost increases to customers, 65% of respondents said they would not raise unit or retail prices.
Keeping the industry informed
The four-day event (4-7 September), drew about 240 fashion brands from 23 countries and regions to Hong Kong and attracted nearly 7,000 buyers from 74 countries and regions. There was growth in the number of buyers coming from Europe and Latin America, reinforcing the show's strength as an international promotional and launch platform for fashion brands. A key function of the show is to act as a forum where industry players can exchange ideas and observations.HKTDC Deputy Executive Director Benjamin Chau said at the close: "As a premium fashion event in Asia, CENTRESTAGE attracts many brands and buyers. It serves as a platform for industry players to exchange information and designers and brands to promote their products. A number of fashion shows were held during the fair period. Local designers and international brands showcased an incredible creative force, further raising Hong Kong's status as Asia's fashion hub."The HKTDC organised 36 buying missions comprising over 1,500 international fashion buyers to visit the fair, and pooled additional resources to strengthen business matching between exhibitors and buyers for more business opportunities," he added.
European buyers explore Asian brands
"Future Tribes", the central theme of CENTRESTAGE 2019, showed that designers' efforts can make a fearless future by creating new identities through culture, images and aesthetics to devise modern and fashionable brands. More Asian fashion brands have been stepping onto the world fashion stage recently, gaining favour with international buyers. French boutique store Handsome Paris SAS sells about 60 fashion brands in France. David Kang, General Director of the store, came to CENTRESTAGE to inject more diversity into the store's brand collection. He said he learned more about Hong Kong brands through the FASHIONALLY Collection #14 fashion show, and was interested in DEMO and NERCO POON's designs. He also found VVISSI, another Hong Kong label, and will negotiate with them further. He expected to place initial orders of US$5,000-10,000 with each brand.
Young brands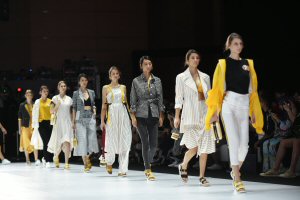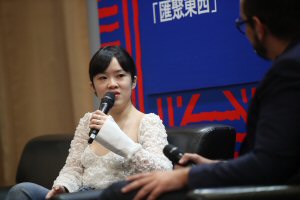 More than 20 fashion shows were staged during the four-day run, with the spotlight opening gala CENTRESTAGE ELITES seeing the global launch of pre-spring 2020 collections from Hong Kong designer Anais Mak (brand: ANAÏS JOURDEN) and acclaimed New York designer Joseph Altuzarra (brand: ALTUZARRA), attracting more than 1,000 industry players, celebrities and fashionistas. The designers later shared their challenges and tips on design under the "When East Meets West: Young Creative Forces Reinventing International Runway" theme. Renowned Japanese fashion designer Mihara Yasuhiro also shared his ideas at the "Crossover Fashion Trend Reshaping Brand Value" seminar.One of the participating local labels, MEIKING NG, has participated in CENTRESTAGE since its first edition in 2016. June Ng, Founder and Chief Designer of the label, said that, as a Hong Kong designer, she enjoyed the home advantage in being able to grasp the opportunity to release her latest collection at the signature Fashion Hong Kong Runway Show, which is a desirable event to gain media exposure. She was also impressed by the HKTDC's extensive publicity campaign and business matching meetings, through which she met with buyers from Italy and Ningxia and Wuhan in Mainland China. A buyer from an upscale department store in Paris, France, was also interested in the MEIKING NG sunglasses collection. Ms Ng noted that the event helps in building connections and finding partners.
At the FASHIONALLY Presentation, designer Charlotte Ng showcased her latest collection on an unconventional fashion stage – decorated as an office. Local brands Fake Fan and SFZ & SON also hosted exceptional fashion parades under the theme of films and craftsmanship respectively.
Green fashion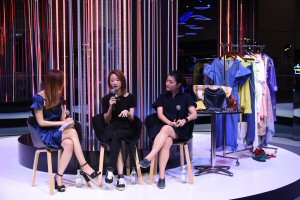 Spotlight events included the Redress Design Award sponsored by Create Hong Kong, the world's largest sustainable fashion design competition, and Fashion Summit (HK) 2019, Asia's first large-scale conference on sustainable fashion. The Knitwear Innovation and Design Society presented the Knitwear Symphony 2019 and the ninth Hong Kong Young Knitwear Designers' Contest to promote Hong Kong's knitwear industry. Another highlight of this year's CENTRESTAGE was the final of the Hong Kong Young Fashion Designers' Contest 2019, where 16 shortlisted candidates competed for five honours. The first prize winner was Wilson Yip with "Forgetful Still", a whimsical collection inspired by the aesthetic of absentmindedness. Mr Yip also took the Best Footwear Design Award. "I put all of myself into this work and I am glad to be able to share it with tonight's guests," he said on receiving the two prizes.
Public access
The final day of CENTRESTAGE, titled "OPENSTAGE", was open to the public and attendees had free access to events such as the Fashionista's Sharing Series, a makeup demonstration by NARS, and a sharing session on fashion trends with fashionista Rikko Lee and designers from local brands METHODOLOGY and MEIKING NG. Public visitors had the chance to check out the latest designs from leading local and overseas brands, and buy clothes from selected brands.
Related link
CENTRESTAGE