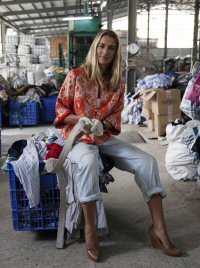 Hong Kong is leading the way in sustainable fashion across Asia thanks to the continued success of the annual Redress Design Award, the largest sustainable-fashion competition in the world. Established by environmental charity Redress in 2011, the competition amassed entries from 45 countries this year, and 10 finalists will battle it out in the grand final at CENTRESTAGE on 5 September for the chance to help create a sustainable fashion collection for Mainland China fashion house JNBY Group.Redress CEO Christina Dean said there is much more understanding around sustainable fashion, and the opportunities it presents, than ever before although radical change is needed within the industry to make real progress.
The competition is now in its ninth cycle. Tell us about your approach to judging and the entries you received.
There's a very stringent judging process, and we try to present the entry as neutrally as possible so it's all about the strength of the designers' applications. The sourcing strategy is very important, as our fundamental mission is to reduce waste in the fashion industry, so we're looking for circular design strategies. The general trend is that we're seeing more wearable, functional pieces that are more marketable.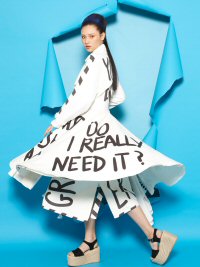 There will be men's collections for the first time at the grand final. What inspired the idea?
We've wanted to do this for a while, and we're finally opening up to a wider range of designers. We've had menswear designers knocking on the door for a while, and we don't want to alienate them. One finalist, Julia English, refers to herself as a fashion activist rather than a sustainable designer. Is this becoming a widely used term?
I think fashion design can be [a form of] positive environmental activism. Competition entrants are generally quite young and have only lived through a time of complexity in fashion; all they've known is a very troubled industry. Around 50% of all applicants said they had a strong sense of their role in [promoting] positive fashion. We massively welcome that – fashion needs a point of view at the moment. You have established some partnerships since setting up the award. How have these collaborations helped advance your cause?
One of the most significant partnerships has been with [Hong Kong-based apparel giant] TAL, which has factories across 11 regions. For them to open up their factory floors and collaborate with the next generation of designers has been a breath of fresh air, and a mutual learning space. It's beyond an eye-opener for these designers: they suddenly understand that certain designs may be really wasteful, for example. For TAL it's also very powerful, as they can gain an insight into these next-generation designers. CreateHK [a government agency dedicated to promoting the development of creative industries in Hong Kong] has been a major sponsor of ours since our very first cycle, and without their annual support we wouldn't have been able to do this. The stylist for the award's collections, Kieran Ho, commented that you can't even tell the designs have been created by upcycling. Are designers becoming more adept at working with upcycled materials?
I think so. What I do know is that the concept of upcycling is now much more legitimate. For a while upcycling was seen as being niche and non-scaleable. But recycling hasn't yet delivered on its supposed promise, and we're left sitting on a lot of fabric waste. What are some of the most common misconceptions about sustainable fashion?
Thankfully, we're well over the point of people thinking sustainable fashion was just for tree huggers. Sustainability belongs at any price point and in every wardrobe, whether you're surviving on a dollar a day, or have a garage-load of Ferraris. There's always this focus on affordable luxury, but why should someone on a low income have to buy clothes that are unsustainable and unethical? Sustainable fashion has become much more visible, and talked-about in recent years. Would you say it has gone mainstream?
I do think it's mainstream – but there's still an ugly elephant in room. The Boston Consulting Group's "Pulse of the Fashion Industry" report found that roughly 50% of the industry have still not done anything to address sustainability.

How has the Hong Kong fashion industry's attitude to sustainable fashion changed since you set up the Redress Design Award?
Sustainability used to be seen as a straitjacket, but I think it's now viewed as an opportunity, and people know that they need to innovate and adapt. There's no shortage of creativity in design, but now we need creative solutions to advance sustainability.Awards such as yours are vital in keeping sustainable fashion in the spotlight. What initiatives would you like to see within the industry?
There needs to be much more collaboration; at the recent Copenhagen Fashion Summit, there was talk that it shouldn't be a competition between brands on sustainability, and there should be much more knowledge exchange. If there are solutions and information out there, it should be unlocked, as it's for the betterment of the public good.
Related links
CENTRESTAGE
CreateHK
Redress
Redress Design Award