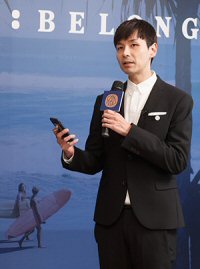 A veteran of Hong Kong's real-estate scene – he founded the ACTS Group in 2005 – entrepreneur Carl Gouw has recently launched lifestyle brand Canvas, which offers complimentary stays at Asia-based hotel and residential developments, sessions with a life coach and the chance to network with its members. Canvas has members in Hong Kong, Bangkok and Shanghai, and will launch in Singapore in August.Comprising three components – hospitality arm Canvas Place, membership programme Canvas Belong and events-driven Blank Canvas – Mr Gouw said Canvas subverted the traditional role of developers by focusing on strengthening networks, enhancing communities and exploring unique experiences. "By developing an integrated brand with real estate, we're thinking about not just the physicality or even design, but also who will be inhabiting these spaces. A sense of community is more important now than ever, and we want to take the lead in fostering this movement with each venture," he said.The Canvas Belong membership programme grants access to hotel and residential developments including Canvas Place resorts in Bali, Indonesia (main picture), and Hua Hin in Thailand, and the chance to meet inspirational business owners.Tell us how the membership programme works
A few of the privileges that come with membership include complimentary stays at Canvas Place Bali or Canvas Place Hua Hin. Members also have access to lifestyle offerings and unlimited attendance at curated experiences across Asia. The events will always feature a tastemaker or an authority in their respective fields – in Hong Kong, for example, we've tapped Andrea Buccellati, one of the world's most renowned jewellers, for a lunch and one-on-one meetings on jewellery; Douglas Young, founder of the Hong Kong lifestyle brand G.O.D., for a cocktail exchange on building Hong Kong's cultural identity; and Wilson Kwok, the first Chinese wine chevalier, for a wine appreciation dinner. Our Canvas ambassadors, meanwhile, include Esther Sham, restaurateur and founder of Maison ES; Nicholas Ho, an award-winning architect and Belt and Road adviser; and Sharan Valiram, executive director of luxury conglomerate Valiram Group, which represents brands including Breguet and Montblanc. You also offer Canvas Belong members one-to-one sessions with a life coach. What prompted the decision to provide this service?
More than ever, wellness and self-improvement have become a priority across the world – and rightfully so. The aim for this addition to our programme is for members to emerge from their sessions feeling empowered, with a renewed sense of purpose. Our life coaches will be able to provide counsel on personal and professional relationships as well as leadership strategies. The programme first launched in Hong Kong, with Bangkok and Shanghai following shortly after. What is distinct about the Hong Kong market?
Hong Kong is an extremely dense and international city, and as such, it caters to a very wide range of members with extensive interests and passions. We've found that the Hong Kong market really appreciates diversity in our offerings, which we've succeeded in putting together with our recent ventures. You started your career in real estate at the age of 18. What are the major benefits of being involved in the real estate market in Hong Kong – and how has it changed during your career?
Hong Kong is notorious for being one of – if not the most – expensive real estate markets in the world. It has always been a thoroughly competitive industry that has taught me the values of grit and resilience. Growing up in Hong Kong, I have seen the city go through some rapid changes in urbanisation over the past decades. During my childhood, I witnessed many buildings and monuments demolished in favour of new complexes, and roads that were developed into new neighbourhoods. Boundaries have become blurred as a result of these changes. You are an active member of the Entrepreneurs' Organisation (EO). Tell us how your experiences there have shaped you as an entrepreneur.
I've been a member of EO for 19 years and have been serving as a regional and global member-leader. EO's core values include trust and respect, as well as to boldly go. We learn about being authentic, leadership and peer-to-peer learning through a safe and non-judgemental setting. I constantly apply these values to Canvas and to empower our teams. As an entrepreneur since the age of 18, what advice would you give to anyone looking to start their own business in Hong Kong?
Nurture your passions, keep learning – and always be curious. During my generation, everyone from my university, the London School of Economics, wanted to be a high-flying banker or professional. Now, everyone wants to go into business or the start-up scene. Being an entrepreneur means having the ability to adapt, change and live in a highly uncertain environment. It's not for everyone and it is a 24/7 job. But it comes with the satisfaction of seeing things you create from scratch come to fruition.
Related link
The Canvas