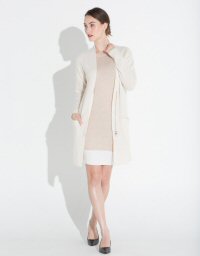 Founded in October last year by Ivan Tang and Christine Chow, Tove & Libra makes stylish wardrobe essentials that use deadstock yarns and materials sourced from their families' garment businesses. With items like ribbed tees, long zipped jackets and wrinkle-free hybrid leggings that combine the comfort of the regular legging with the sleek tailoring of a trouser, the brand's thoughtful designs, feel-good materials and smart production methods have attracted a solid customer base in Hong Kong. Having introduced overseas shipping a few months ago through its e-commerce site, plans are afoot to enter other markets in the coming months including the United Kingdom and Singapore.The start-up takes a grassroots approach to brand-building, with a showroom in the Tsim Sha Tsui area of Hong Kong and a host of pop-ups under its belt. Meeting customers to spread the message of their enlightened approach to garment production is a high priority. In-house sourcing and production facilities, meanwhile, mean they can ensure ethical production and a high level of quality control.The brand's 400-square-foot showroom has enough space to show its two existing collections, and is located near the Hong Kong Science Museum in Tsim Sha Tsui East. "We're very fortunate – it's spacious by Hong Kong standards. There's a feeling of space, as it's very minimalist and clutter-free," Mr Tang said.
Manufacturing expertise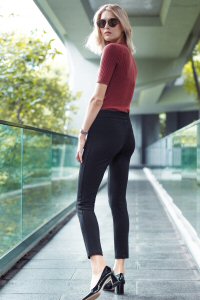 Business partners Mr Tang and Ms Chow – the latter is the designer of the garments – have known each for about seven years. Their parents and grandparents worked in the garment industry and their families' firms continue to make clothes for overseas clients. Both continue to work for their respective family businesses as they scale up their own company. "We've both worked with a lot of international brands, and seen how they work. We've enjoyed sharing our frustrations and identifying potential gaps in the market that may not be obvious to operators that have been operating a long time," Mr Tang said.Ms Chow said some customers tell them they have been disappointed by the quality of garments produced by fast-fashion brands and appreciate that Tove & Libra is addressing the issue of making one of the world's most polluting industries more eco-conscious. "When we tell customers about our sustainability story, they really do appreciate it. There is a bit of lag in Hong Kong, but it is picking up, and sustainability is gaining traction through pop-ups and so on," Mr Tang said.
A bespoke touch
Mr Tang and Ms Chow both hail from a manufacturing background so entering the business-to-consumer (B2C) world entailed a learning curve, although events including trunk shows at Hong Kong's Mandarin Oriental hotel have been definite highlights on the start-up's journey so far. "By engaging with customers, we can help them understand our philosophy and message, and tell them how their purchase impacts positively on the environment," Mr Tang said. The next planned pop-up is at bespoke eyewear store Khromis in Tai Ping Shan, on Hong Kong Island, from 14-23 June, where they will have an embroidery machine and offer personalised embroidery – such as monograms – to customers. "Personalisation is really big, and hopefully it will drive people to the store," Mr Tang said. If the embroidery service proves popular, then this personalisation option may be added onto the brand's e-commerce site, he added. Ms Chow cites the Swedish fashion brand Cos as an inspiration but admits not all of that company's clothes are flattering to Asian women, who tend to be more petite than their European counterparts. She is also keen to cater for the Asian market by utilising breathable materials such as linen and silk. "Not that many brands cater to Asian women, and so many international brands don't cater to our climate, with super-heavy knits and coats in their winter collections. We want to design pieces for this regional audience, clothes that will beat the heat," she said.
A different take on models
In addition to reclaiming leftover materials and giving them a new lease of life, Tove & Libra differentiates itself by using everyday women alongside professional models to showcase its collections – including the journalist Angie Lau and professional dancers in its Spring/Summer campaign. As they continue to build the brand, the entrepreneurs plan to have more of a physical presence in the city, and concentrate on doing more pop-ups and for longer periods of time, perhaps up to one month. "In Hong Kong, people are not so quick to do online shopping, as the city's density means people don't have to buy online," Mr Tang said. Many young fashion brands still dream of their clothes being represented on the rails of department stores or high-end boutiques, but the landscape may be changing. Rather than reaching out to retailers, Mr Tang believes going direct to consumers is the way forward. "These days, there's not much need for middlemen unless it's an exciting multi-brand concept or a really unique experience. We'd like to get more physical exposure in multi-brand boutiques, but we don't want to rely on that solely," he said. For now, they concentrate their efforts on hosting more pop-ups, which they hope will drive customers to the company's showroom and e-commerce site before it looks into entering the Mainland China market later this year.The fashion world will be heading to Hong Kong in July for the HKTDC Hong Kong Fashion Week for Spring/Summer. Green business will be in focus at ECO Expo Asia at the end of October.
Related link
Tove & Libra