The global shipping hub of Panama, which links the Pacific Ocean to the Atlantic with its canal, has much in common with Hong Kong, President of Panama Juan Carlos Varela Rodriguez pointed out when visiting the city early this month.Both places serve as centres of international trade and, stemming from this, believe in promoting the Belt and Road Initiative, he said.The massive investment project will create a web of transport, investment, business and cultural links spanning the globe. As well as reviving the ancient Silk Road land and maritime links between East Asia and Europe, the initiative will also bring in Africa and the Americas [https://hkmb.hktdc.com/en/1X0AGU2G/inside-china/Latin-countries-take-to-Belt-and-Road]."We both are small territories with important roles in the global economy; we promote global connectivity and we both are gateways to our regions because of our strategic geographical positions," Mr Varela said, underlining the similarities between Panama and Hong Kong."We both are open economies and have remained stable even during our biggest global economic transformations. Even though we are very far away geographically, our success stories and challenges are very similar," he said.
Trade grows strongly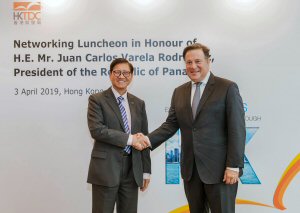 Hong Kong Trade Development Council Deputy Executive Director Raymond Yip, welcoming Mr Valera, said the volume of trade between Panama and Hong Kong had leapt 29%, to almost US$300 million in 2018, while the value of exports from Hong Kong to Panama soared 33%, reaching US$262 million. He expected this trade momentum to continue, fuelled further by two significant developments driven by Mainland China."The first is the Belt and Road Initiative − a grand vision that aims to create common prosperity among nations and economies through improving trade, infrastructure and social exchange," Mr Yip said. "The Belt and Road is making its presence felt across Asia and into the Middle East, Africa, Europe and beyond, including the Americas. I am sure you are all aware that in 2017 Panama became the first Latin American country to sign a memorandum of understanding with China to promote the Belt and Road Initiative."

Linked in with the Belt and Road is the Guangdong-Hong Kong-Macao Greater Bay Area, he said. The 11-city cluster has a population of 70 million people and a GDP equivalent to that of Korea and Australia combined."The blueprint for the Bay Area was published in February, with an aim to develop a vibrant word-class city cluster and globally influential innovation and technology hub," Mr Yip said. "Hong Kong is playing a pivotal role in these initiatives, serving as a centre for financing, investment, logistics, trading, infrastructure and real-estate services, and a whole range of professional services including dispute resolution, risk management and more. This makes the city an ideal partner for Panamanian enterprises looking to seize opportunities in this region."
Infrastructure boost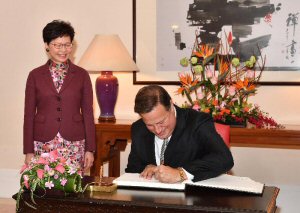 Mr Valera said that expansion of the Panama Canal, as well as investment in new ports and other large infrastructure projects, meant the country's competitiveness would continue to improve.
"One of the main factors behind all of Panama's growth is our logistics platform, which is consistently among the best in the region," he said. "Our objective, in terms of competitiveness, is not to lead regionally, but to compete globally."Panama ranks fifth in the world in terms of port infrastructure, he said, with the main ports in Latin America moving more than 7 million containers per year combined. "Panama is the only country on the planet with a terminal that has access to the two oceans," Mr Valera said."From Panama, you will have access to a much larger market: 300 million middle-class consumers in Latin America, the same number of middle class consumers as Mainland China," he said. "Beyond that, the reach and connectivity of Panama can help you reach a wider market of 1.3 billion consumers."The World Economic Forum says Panama is globally recognised for the development of its financial market, strength of its banks and availability of financial services that meet the needs of the market. "Currently, we have 90 international and local banks," Mr Valera said, adding that many multinational companies have set themselves up in Panama. "A great reason why we have so many multinationals in Panama is because of our location and also because of our Multinational Corporation Headquarters [SEM] regime laws. Today, more than 150 companies have established their regional offices in our country, generating more than US$800 million in investments and more than 5,000 new jobs," Mr Valera said.Of these companies 12 are from Mainland China, such as China Harbour Engineering, China Construction Bank, Huawei, Power China and the Bank of China. "These companies have chosen Panama as the country to establish their regional headquarters and are comfortable with the business environment in Panama. Some have even made the decision to expand their operations," he said.The president was in Hong Kong to inaugurate the Consulate General of Panama.Hong Kong's Chief Executive Carrie Lam, accompanied by the Secretary for Transport and Housing, Frank Chan, and the Acting Secretary for Commerce and Economic Development, Bernard Chan, met Mr Varela at Government House during his visit. Panama's Minister of Commerce and Industry, Nestor Gonzalez, and Minister for Canal Affairs, Roberto Roy, also attended the meeting.Mrs Lam welcomed Mr Varela's visit to Hong Kong, which came almost two years after Mainland China and Panama established diplomatic relations in 2017.
Transshipment hub
Mrs Lam said Hong Kong, an international financial, logistics and business centre, is the ideal gateway through which overseas enterprises can access markets in the mainland and Asia; while Panama, a vital global hub for trade connecting the Pacific and the Atlantic, has served as a transshipment and logistics hub in Latin America and the Caribbean. Pointing out that both places possess excellent ports and are dedicated to developing the maritime industry, she said Hong Kong is striving to develop high-end maritime services and stressed that cooperation between the two places is set to create synergy. Mrs Lam said she believed the establishment of Panama's Consulate General in Hong Kong will add impetus to the advancement of bilateral trade and economic relations between the two places, and boost cooperation and exchanges in more areas.Pointing out that Hong Kong is able to play a key role in the growing trade flows and bilateral ties between the mainland and Panama, Mrs Lam encouraged Panamanian enterprises to leverage Hong Kong's status as an international financial, maritime and trading centre to explore markets in the Guangdong-Hong Kong-Macao Greater Bay Area, the mainland and elsewhere in Asia.
Service-oriented
Mr Yip also underlined the similarities between Hong Kong and Panama."Hong Kong is the world's most service-oriented economy, with services sectors accounting for more than 90% of GDP," he said. "Panama also has a well-developed service sector, which makes up more than 80% of GDP."Banking, commerce, tourism and trading are among the key sectors in both places. Hong Kong and Panama also serve as major logistics, maritime and trading hubs. Panama is the No.1 transshipment container centre in Latin America, with transshipments accounting for about 87% of the country's sea cargo volume in 2018. In the same year, about the same proportion (that is, around 87%) of Hong Kong's imports were re-exported, Mr Yip said."On the financial front, Hong Kong is among the world's top three financial centres. We also serve as the largest offshore renminbi hub. Panama, similarly, is one of the world's oldest offshore financial centres," he said."Meanwhile, the ties between the two places are getting a boost from the rapid development of Panama, which has been one of the fastest-growing economies in Latin America over the past decade, achieving double-digit growth in some years," Mr Yip said. "As the country's economy has surged, we have seen a corresponding growth in bilateral trade between Panama and Hong Kong."
Related link
Consulate General of Panama