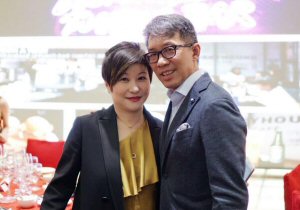 With stylish décor, beautifully presented plates and contemporary twists on old classics, two newcomers to Hong Kong's vibrant food scene present a modern interpretation on the Chinese restaurant. SHÈ, inside Lane Crawford at ifc mall in the Central business district, delivers a setup for a post-shopping get-together. The tea set features such photogenic dishes as prawn dumplings dusted with rose gold and a yin-yang sponge cake. Its sister restaurant Redhouse, a new roast-meat specialist based in the trendy Lan Kwai Fong pub and eatery area in Central, embraces the symbolism of red in Chinese culture in its decor. Both restaurants take their cues from modern Asian design, according to David Cheung, CEO of their holding company Gaia Group.
SHÈ and Redhouse are sister restaurants, with SHÈ based in Lane Crawford ifc and Redhouse in Lan Kwai Fong. Do the restaurants share much synergy?
Both showcase menus that feature contemporary Chinese cuisine. SHÈ offers a menu that boasts only premium ingredients prepared in a healthy, home-cooked style. Redhouse offers a more extensive menu that features more than 200 modern Chinese dishes, with an emphasis on signature roast meats such as Peking duck and crispy suckling pig. The service style at both restaurants is largely similar, with Redhouse serving up more table-side serviced items such as the Peking duck, in which slicing is performed at the dining area.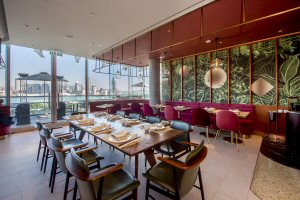 You have more than 40 restaurants in the group, including Isola, Tyfun Dim Sum and Petite House Gelato. What do your two newest restaurants have in common with other Gaia restaurants – or are they quite different?
Both SHÈ and Redhouse are very distinctive in terms of their concepts, interior design and their interpretations of Chinese cuisine. There is greater emphasis on aesthetics for sharing style presentation, and a more health-oriented and authentic culinary technique. There's a focus on nostalgia at Redhouse with dishes like "fish maw nourishing pot" on the menu. Do you think there is a trend towards reviving such old-school dishes in Hong Kong's restaurant scene?
Absolutely – at Redhouse, we aim to redefine the way Chinese cuisine is being appreciated through modern cooking techniques and an authentic culinary style. With a diverse culinary background and a strong passion for regional Chinese cuisine, our teams have created a menu of traditional favourites with an injection of modern flair while preserving the authenticity of Chinese cuisine similar to the home-style cooking we grew up with. Tell us about the clientele at these two new restaurants
At SHÈ, our clientele are mostly people who work around the neighbourhood, shoppers, tourists from nearby hotels, and celebrities. At Redhouse, our clientele comprises a younger crowd, fans of Lan Kwai Fong's night life, and people who work at nearby offices. What food trends are you noticing in Hong Kong – and are there any plans to incorporate those into up-and-coming menus?
There is a growing expectation, and desire, for creative dishes, experiential dining, health-oriented dishes and exotic cuisine. We keep up with market trends by injecting a fun and healthy approach into our menus while preserving the authenticity of our dishes. Gaia Group was founded almost 20 years ago in 2000. What have been some of the biggest changes you have seen in the last two decades within Hong Kong's food scene?
The increased vibrancy of the restaurant scene, which undoubtedly comes with greater competition. There is also more of a need to manage different diners' expectations owing to the influx of cultural influences from different parts of the world. In addition, there is a rising demand to increase transparency in the process of ingredient sourcing, as well as the sustainability pledge to pave a greener path for Hong Kong's dining scene. Will you open any new restaurants this year?
We have two new concepts opening on the Kowloon side in the second half of 2019.Hong Kong is home to one of the best dining scenes in the world. How do you stay one step ahead of the game?
It's about R&D [research and development], market research and strict quality control. As we pride ourselves on food quality, emphasis is placed on ingredient sourcing, and searching for the best ingredients from suppliers. We also send our head chefs to different parts of the world to source the best quality ingredients and get inspired to create unique dishes for our menus.
Related link
Gaia Group