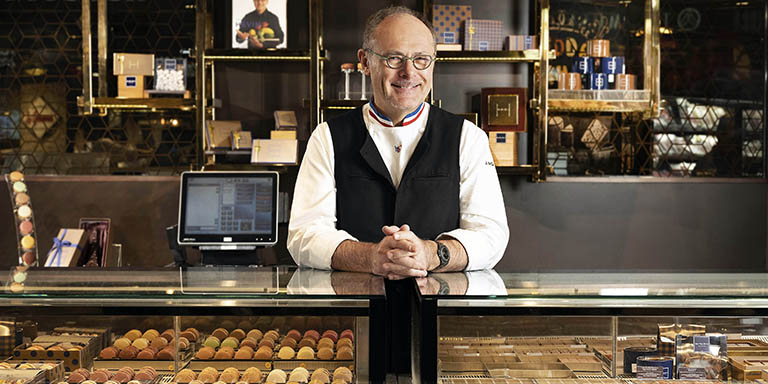 https://hkmb.hktdc.com/en/1X0AGHAB
French confectioner fetes Hong Kong
The pioneering chocolatier and pastry chef, Jean Paul Hevin, is debuting flavours new to connoisseurs in this gourmets' paradise.
Renowned for his grand cru chocolates and ganache-filled, duo colour macarons, Jean Paul Hevin's delicacies have been well received in Asia, particularly Hong Kong and Japan, where he has amassed a devoted following. The chocolatier has recently teamed up with Hong Kong-based supermarket chain city'super to launch four creations new to the local market: Chocolate Bonbon – Happy (dark chocolate and honey briere), Grand Cru Chocolate – Tana (dark chocolate with notes of raspberry), Grands Cru Chocolate – Madagascar Cao (crafted from the Madagascar vintage cocoa bean) and Matcha Almond Chocolate (nuts coated in milk chocolate dusted with matcha powder). This collaboration with city'super's store at the IFC shopping mall is the first of four planned with the retailer in Hong Kong, a hotspot for the food business.
 
What are the advantages of having a boutique in Hong Kong and what do you like most about the city?
It gives me the opportunity to meet new customers. I really like Hong Kong for its dynamism, and the mix of traditional and contemporary cultures.
You have launched four new chocolates at city'super. Which of the four products are proving most popular and does that surprise you?
The Matcha Almonds. I'm not very surprised, the freshly roasted almonds are very appreciated in my Parisian shops and I think that green tea is a very attractive, and popular, flavour for Hong Kong customers.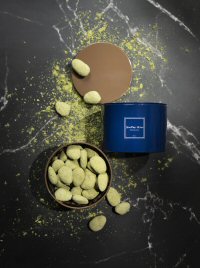 Of all your chocolates, which are bestsellers in Hong Kong?
The most popular items of macaron and chocolate categories are Macaron Pablino [almond and dark chocolate biscuit with dark chocolate ganache] and Chocolate Bonbon – Rocher [almond, hazelnut and nougatine praline with a milk chocolate cover] respectively.

You have stores in Japan and Hong Kong. How does the Asian palate for chocolate differ from European tastes?
I am a chocolate maker and I propose the French version of chocolate to my clients.

Filled with chocolate ganache, your macarons are legendary, and were named the best in Paris in 2012. How do you account for their success?  Do you ever tweak the recipe?
The taste is always my priority. I have reduced the sugar level in my recipes, and ingredients change according to seasons – and so do my recipes.

For last year's macaron day on 15 March, you offered the Annam Macaron to the total cocoa macarons set. Are you developing any new macarons for 2019 to mark this occasion?
This year it will be the Tana Macaron, which is garnished with a dark chocolate ganache made with a grand cru cocoa from Madagascar, as per the Tana Bonbon. In 2019, the profits of that day will be donated to Zazakely Sambatra, an association that helps the children of Madagascar.  

You opened your first store 31 years ago. What have been some of the biggest changes you have seen in the industry since then?
I think I've been a pioneer in chocolate art in Asia. I see that my clients in this part of the world are more and more connoisseurs.

Are you planning any further collaboration with city'super?
City'super has the same spirit and the same quality requirements as I do, and I hope this is just the beginning.

Tell us about your plans for 2019 in terms of new products, new boutiques and other collaborations.
As every year, I have a theme for all my creations. This year, it's about travel until Easter. The theme is yet to be announced – be prepared for some surprises!
Related link
Jean Paul Hevin