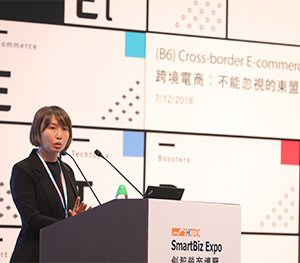 Logistics firms have been finding themselves in a double bind as security concerns increase the need for scrutiny at ports while customers demand ever faster delivery. Many exporters would like the equivalent of a "diplomatic gate" for cargo, letting their consignments take a fast-track through border controls. Hong Kong's Customs and Excise Department is offering just that.The department has introduced the Hong Kong Authorized Economic Operator Programme (AEO) which is a Customs-awarded Quality Mark and lets exporters enjoy the trade clearance measures provided by different economies. Senior Inspector Sherman Yu said enterprises can use the AEO to improve the efficiency of cargo transport.Speaking at a seminar on "Cross-border e-commerce: ASEAN business opportunities that cannot be ignored" held during the Hong Kong Trade Development Council's SmartBiz Expo last December, Ms Yu said the World Customs Organization (WCO) has been promoting the concept of AEOs to strengthen international supply-chain security and facilitate movement of legitimate goods. AEO accreditation for a company is equivalent to having a Quality Mark guarantee, Ms Yu said. The company can enjoy convenient trade with many different economies, accessing such services as priority customs clearance, reduced frequency of cargo inspection and even deferment in tax payments.AEO adoption has become a global trend. Many economies (including most of Hong Kong's major trading partners) have launched their own programmes. The Customs and Excise Department has run the Hong Kong AEO programme since 2012. To date, 49 companies have been certified as Hong Kong AEOs.
Inspection rate falls as much as 80%
The two-tiered programme requires participating companies to meet 10 or 12 pre-set criteria to enhance their security standards, covering cargo handling, premises control, conveyance monitoring, selection of business partners and so on. The Tier 1 seeks to let small and medium-sized enterprises quickly achieve AEO status and benefit from faster customs clearance procedures. After a company's operations have developed further and it can carry out crisis management and an internal audit mechanism, then the firm can be considered to upgrade to Tier 2 accreditation status.Hong Kong AEO status is equivalent to a high level of security in commercial operations. The company's goods imports and exports also enjoy the customs-clearance facilities provided by the Customs and Excise Department. Compared with other non-AEO cargo, the inspection rate for AEOs has been reduced by as much as 80%.
Mutual recognition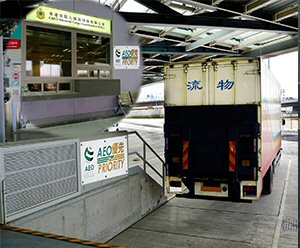 Another advantage of this plan is that the mutual recognition arrangements (MRAs) between economies enable the AEOs in different places to simultaneously enjoy secure and streamlined trade with peer economies, allowing unimpeded transport of goods between ports. At present, Hong Kong has signed mutual recognition arrangements with nine economies – Mainland China, India, South Korea, Singapore, Thailand, Japan, Malaysia, Australia and New Zealand – accounting for more than 70% of the city's total exports. Through the mutual recognition arrangement, the mainland – Hong Kong's most important trading partner – has provided general exemption of cargo examination for all imports from HKAEOs, which has reduced the average customs clearance time by 90% and greatly improved AEOs' goods transport.The Customs and Excise Department is also making good progress in its negotiations for mutual recognition arrangements with relevant government agencies in the European Union, Canada and Israel. Recognition from these economies will further enhance Hong Kong AEOs' business. AEO recognition gives a company more advantages in the industry. The HKAEO status not only gives clients stronger confidence, but it is also equivalent to "security, reliability and efficiency".Related link
Smartbiz