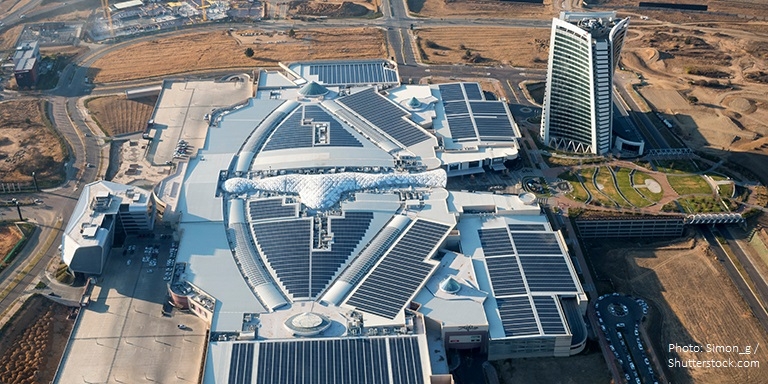 https://hkmb.hktdc.com/en/z6MS4usD
A window for environmental change
The financial industry has a critical role to play in the transition to a zero-carbon world, the UN's climate change chief told the Asian Financial Forum.
Going green evokes images of shutting smokestack power stations, switching to electric motor fleets or putting solar panels on factory roofs. Bankers, insurers and fund managers do not usually spring to mind.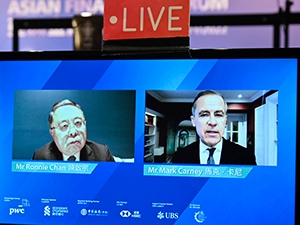 But Mark Carney, United Nations Special Envoy on Climate Action and Finance and former central bank governor of two G7 countries – Canada and the United Kingdom – pointed out that the financial industry supports investment in all sectors so has a critical role to play in reducing greenhouse gas production.
Addressing a keynote session at the Asian Financial Forum early this week, moderated by Ronnie Chan, Chair of Hang Lung Properties, Mr Carney said the COP26 summit in Glasgow late last year had been a turning point for the financial industry.
At the COP summit in Paris six years ago, the financial sector saw climate change as a corporate social responsibility issue, not a strategic imperative, Mr Carney said. Climate change was seen as someone else's problem until large financial institutions calculated that their portfolios could generate warming of 3°C rather than the United Nations' 1.5°C objective.
The rising frequency of extreme weather events has also concentrated minds in the financial sector.
Consensus on goals
Following the Glasgow summit, 90% of global emissions originate in countries covered by commitments to achieve net-zero goals, Mr Carney said – if everyone does what they say they will do.
More positively, the Glasgow summit had brought significant deals, he explained. More than 100 countries had pledged to end deforestation by 2030 and reduce methane output by 30%, and many had joined the coal alliance, which seeks to end coal-fired power generation by the close of this decade for advanced countries and by the end of the next decade in the developing world.
The change of heart by the financial industry had brought climate change to the forefront of finance and made it a core driver of value. Two years ago, major financial institutions had committed US$5 trillion to green investments, which had since ramped up to US$120 trillion.
Mr Carney said the Glasgow summit had achieved the launch of the Glasgow Financial Alliance for Net Zero (GFANZ) which unites the financial industry in a drive towards net zero. GFANZ had committed to set out a detailed plan to achieve its goal within 18 months of its launch.

The private sector group will report on its progress to the G20 group of nations to ensure it sticks to goals. GFANZ members account for 40% of the world's financial assets. The effort will not be confined to energy but also fund green projects and back company plans to decarbonise other industries such as agriculture and cement since the transition involves all sectors.
"There must be a transition, not just a flip of the green switch," Mr Carney said.
Governments needed to close the gap between what they commit to and the policies in place to ensure transitions go through, he said. The financial sector could not drive down emissions alone, but simply backs what others do. Governments needed to take such measures as phasing out coal power plants and removing fossil-fuel subsidies. Mr Carney encouraged countries to enact deep decarbonisation strategies, such as the phasing out of fossil fuel-powered vehicles by 2030 or 2035, and enacting legislation to bring certainty.
The financial sector was developing a new architecture to scale finance for emerging and developing economies to allow the transition. A radical approach was needed to finance transition in developing countries, which Mr Carney said had become possible, driven by commitments made under GFANZ.
"The financial sector has moved from being a mirror that is not doing nearly enough to become a window through which radical actions can deliver a sustainable future," he said.
Motivating change
Mr Chan asked how commitments could be given teeth, to ensure governments and companies follow their plans and words with action. Mr Carney said the real teeth came from the core objective of living in sustainable world. Enforcement could come from the prospect of trade action based on climate, which could concentrate minds to some extent. Positive motivation would come from recognition that the great powers will be green powers. For example, Mainland China is now a leader in sustainability with its massive solar power and electric vehicle industries.
Mr Chan asked if it was possible to overcome climate change resistance from some countries, and groups within countries? Mr Carney said the proportion of countries denying climate change had dropped profoundly, with 90% of emissions coming from countries that had made net-zero commitments.
Political systems could change, however, which was where longer-tail policies that are credible and predicable were a good idea. For example, the UK has outlawed buying new internal combustion cars after 2030, and the supply chain was already preparing for this change. In the United States the administration of President Joe Biden is looking at setting clear objectives and shifting capital investment to green projects that will continue regardless of the party in power. Mr Carney said in Canada, an independent commission judged the effectiveness of policies. Political parties argued over how to achieve the goal, not the goal itself.
He said that following the 2008 financial crisis, many countries delayed green moves but some, such as the mainland and Germany, took green initiatives as a way to address the crisis and are now in a stronger position.
Mr Chan asked how "greenwashing" ­– making false or misleading environmental claims – could be avoided. Mr Carney pointed out that greenhouse gas emissions involved hard figures which were easy to measure, so greenwashing was relatively easy to address with facts.
Another key commitment at the Glasgow summit was advanced economies' commitment to pay US$100 billion a year to developing economies to finance the net-zero transition. This was a start but not enough, Mr Carney said. The developing world needed 10 times as much and he doubted governments will close the gap. Government resources needed to be used as effectively as possible and private resources needed to be brought in.
"Early stages of that came in Glasgow with a US$8 billion deal to help South Africa [main picture] get off coal, but we are advocating a much more ambitious approach for [COP27 in] Sharm El Sheikh in Egypt in November, where five big countries, maybe more, countries like Indonesia and Vietnam, will have much larger financing packages."
Banking Services
Finance & Investment