The COVID-19 pandemic almost forced Vivian Mak, the founder of MingCha, to give up her 20-year-old tea business.
"The number of tourists and business travellers is almost zero, and the number of hotel and Macao casino visitors has plummeted, which has caused the sales of tea gifts and tea-tasting activities to fall significantly," Ms Mak said. "Revenue dropped between 20% to 50% from the peak period. I could not see the way forward, and I once even doubted on my initial purpose in building the brand"
Ms Mak faced problems beyond the pandemic such as the expiry of lease terms and staff changes. The stress took a toll on her health, leading to tooth-grinding and a hoarse voice which made her to want to close the business. She fell into a state of panic.
"I received an order of more than HK$1 million [US$127,000] with a well-known international logistics company but it fell through because of the payment arrangement. It was a waste of a great opportunity. After all, worrying too much madeus lose mutual trust."
Donor boost
Fortunately for Ms Mak, when one door closed, another opened. At the point where she was at her most hesitant and helpless, new projects came in one after another, bringing her a steady income and taking the firm safely through the difficulties.
For example, in order to thank frontline medical staff for their hard work during the fight against the pandemic, a donor ordered 7,400 sets of Jasmine Blossoms, Rose Buds and Honey (Rose and Osmanthus) from MingCha.
"This thoughtful move has brought a taste of sweetness and positive energy to the medical staff, and I have also benefited from it because many of them have come back to buy various products."
Brewing opportunities

Ms Mak sees new business opportunities emerging during the hard times. The traditional tea-brewing process is rather complicated and limited by time and space, but the award-winning Tea Companion, a thermal brewing bottle, is safe and convenient, and preserves the aroma and taste of tea.
"During the pandemic, the public started paying more attention to personal hygiene, and the tea-set on-the-go concept allowed consumers to enjoy tea anytime, anywhere," she said.
The brewing vacuum flask cleverly combines "tea" with "drinking", which drew a lot of business and was especially popular amongfinancial institutions, Ms Mak said.
"Many financial institutions have ordered them as corporate gifts for staff and valued customers, especially those who have to travel frequently and undergo quarantine during the epidemic."
Building the brand

Ms Mak eventually realised she wanted to continue developing and creating products, gifts and workshops, emphasising the connection between people. Everything seemed to go more smoothly after she turned to mindfulness.
She reflected on her priorities. "I am naturally sentimental; I like to communicate with my customers and connect with them through tea. The feedback and appreciation of from them re driving forces for me to persevere.
"This also made me realise that I have to create things that touch my heart before they touch others. Two years ago I started using my own portrait as the trademark, which brings warmth to the brand and creates a friendly and happy image; it instantly establishes a connection with consumers and increases the brand value."
Giving the company's Wellness series as an example, Ms Mak said: "It is specially formulated according to the physical needs of different people, making them happy and healthy. We used white tea or rose tea as the base, blended with sweet-scented osmanthus, chrysanthemum, jasmine, oolong puer. We used playful names for our drinks, such as Kiss Kiss Tea for fresh breath, Poop Poop Tea for detoxifying and Warm Warm Tea to improve circulation."
Simple, clean designs make the products stand out on the shelf and approachable for buyers. The Wellness series has attracted enquiries from United States and Korean buyers and has also been released in a tea room in Singapore.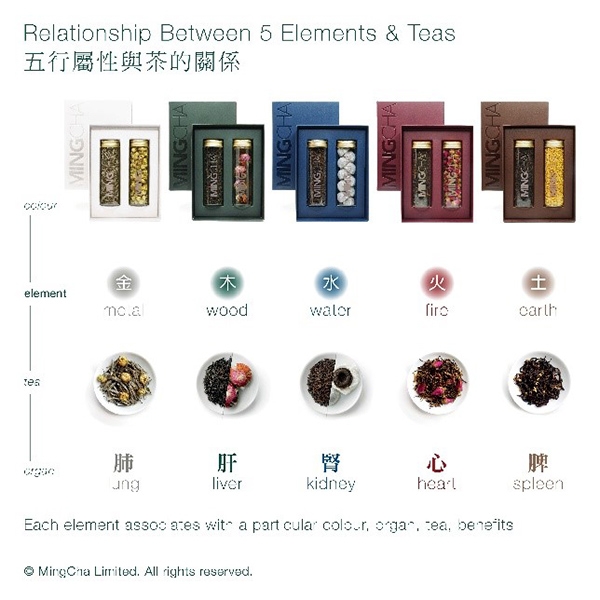 Business ambition

After moving office to Chai Wan, on the east coast of Hong Kong Island, in September 2021, MingCha embarked on a new journey, with more emphasis on the domestic retail market.
The companyalso actively explored online and offline sales channels, including the HKTDC Design Gallery, chain supermarkets, HKTV Mall and even distributors such as Deliveroo. MingCha is also preparing to set up self-operated stores on major online sales platforms to further understand user needs and consumption habits.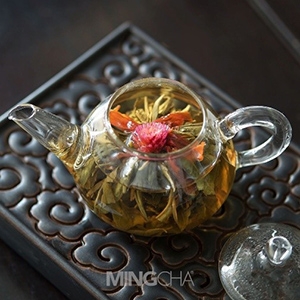 Jasmine Blossom has been a hot-selling product at MingCha, and Ms Mak plans to launch a version of Jasmine Blossom to drink chilled – Cold Brew Ball Ball Tea, which she said will satisfy those people who love cold drinks. The best of all is it is free of a sugar and additives that are both healthy and thirst-quenching will be a new direction for development at MingCha.
The company is also looking to test the Mainland China market and has signed up to participate in the cross-border e-commerce project jointly launched by the Hong Kong Trade Development Council (HKTDC) and mainland e-commerce giant JD.com.
"We have no contacts or partners in the mainland, and the tax and import declaration documents are complicated, and the competition fierce, so we have never dared to set foot in the mainland market. But now the 'pay in Hong Kong, receive in Hong Kong' way to expand sales has given me the courage to try."
Design Gallery boost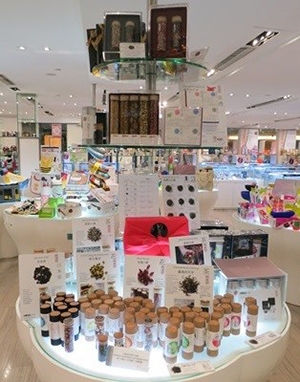 MingCha has sold products in the HKTDC Design Gallery's physical and online stores for many years and she said the sales performance has been satisfactory. The company has also promoted cooperation with the Commercial Press. "The most important thing is to strengthen potential customers' confidence in us, and many of them believe that selling products in the Design Gallery is a guarantee of quality."
Ms Mak expects the market will return to pre-pandemic levels in 2024 and has plans to open a brand-new and down-to-earth tea shop that will allow tea-lovers to taste and experience products in person, and discover new possibilities for tea through tea pairing.
"I have confidence in our products. MingChahas always cooperated directly with high-quality tea farmers we only work with tea farmers who strive to maintain quality tea and have done tests based on European Union standards.."
Ms Mak concluded: "There are many challenges, but I am still optimistic about the future. With creativity I hope I can continue to innovate and take the tea culture to a new level through creativity."
SME outlet
"Hong Kong Design Gallery" JD.com International is a cross-border e-commerce store covering 14 major product categories, including food and beverages, personal care and beauty products, small household appliances, electronic products, household products, gifts and cultural and creative products, fashion clothing, handbags, fashion accessories, watches, pet supplies, sports and outdoor products, toys and baby clothing and supplies.
Small and medium-sized enterprises (SMEs) can participate in this e-commerce venture as long as they have a Hong Kong company business registration and local bank account certificate, as well as Hong Kong or overseas trademark registrations and product quality inspection certificates. SMEs do not need to register a company in the mainland, issue VAT invoices or hold mainland bank accounts, and nor do they need to hold mainland trademark registrations and product quality inspection certificates. After receiving orders from mainland consumers, SMEs only need to ship from Hong Kong and receive payment in US dollars in Hong Kong after the entire transaction process is completed. At the same time, Hong Kong companies only need to pay a relatively small amount of relevant taxes, which greatly reduces the number of processes and operating costs.
Related links
MingCha
Hong Kong Design Gallery
JD.com