Kodifly co-founder Muhammad Saad Shahid Anwel explains Kodifly's independent R&D technology at the HKTDC's Start-up Express pitching session.
International metropolis Hong Kong, which brings together outstanding innovators and talents from around the world, has launched Kodifly, a start-up developing three-dimensional space perception and computer vision technology.
The firm uses brand-new travel and transport AI core technologies to help cities accelerate their smart transformation.
Backed by innotech incubators The University of Hong Kong (HKU), Hong Kong Science and Technology Parks Corporation and Hong Kong Artificial Intelligence (HKAI) laboratory, Kodifly launched the spatial sensing AI core technology. It combines laser detection, light detecting and ranging (LiDAR) and camera sensors to provide real-time analysis solutions. These can be deployed to efficiently monitor railways, construction sites, transport and other infrastructure.
The company became one of the 10 winners at the Hong Kong Trade Development Council's (HKTDC) Start-up Express entrepreneurship programme, which assists start-ups in building capability and connections, exploring markets, seeking business and funding partners, and enhancing brand awareness.
Having participated in the programme and other activities of the HKTDC and its overseas offices has equipped them with the necessary tools to expand in international markets.
"Our entrepreneurial journey began at The University of Hong Kong, when our founding teams first met," Kodifly Co-Founder Henry Wong said. "We realised that technology could have a greater impact, so we promoted the establishment of Kodifly as a technology company specialising in LiDAR technology. Hong Kong not only provides us with a platform to start a business, but also becomes our first market."
He and co-founders Muhammad Saad Shahid Anwel and Lawrence Wong met at HKU. The three had similar interests and also hoped to use technology to promote smart cities, so they sought assistance from two PhD.s from the university and successfully developed the SpatialSense system.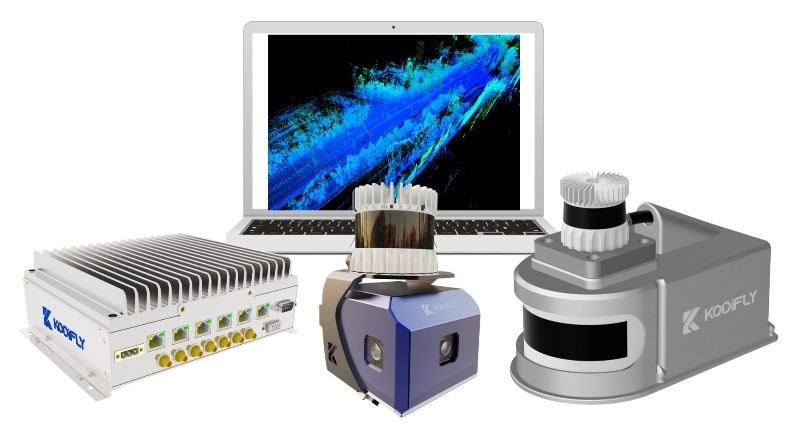 Kodifly's SpatialSense combines LiDAR and AI technology, using advanced machine learning and data analysis technology to understand the distance, volume and precise location of objects, and analyse whether objects around the track pose potential hazards to driving.
Pointing to British railways as an example, Mr Wong said there were an estimated 14 million trees around tracks in the United Kingdom. Fallen trees and other factors lead to more than 400 accidents a year, causing up to €100 million (US$107 million) in damage. Costs do not include inspection.
He said: "Now we only need to install our SpatialSense system on the front of the train. Through our LiDAR, when the train is moving, it can instantly calculate the distance and shape of objects by emitting laser beams and measuring the reflected signals."
To further promote SpatialSense in Hong Kong, Mainland China and international markets and to let the public understand Hong Kong's scientific research strength, Kodifly joined the sixth edition of Startup Express .
Mr Shahid Anwel said: "The competition enhances not only our visibility and market recognition, but also the trust of customers and partners in them, helping the brand enter the international market. We also learned about the knowledge of start-ups in marketing, product development and financial management through the training workshops provided by the Hong Kong Trade Development Council after the competition."
Following its win, Kodifly set up a booth at the HKTDC-organised Belt and Road Summit which ran on 13 and 14 September this year.
Mr Wong said Kodifly was conducting seed financing, with the goal of raising US$3 million to strengthen its R&D capabilities and explore the market in the Guangdong-Hong Kong-Macao Greater Bay Area.
He said: "We plan to invest the funds raised in research and development to further deepen and improve our system. Secondly, we will invest more resources to expand the market, because even if we have the best technology, there are no customers to verify it."
Founded in 2021, Kodifly has an international team with members from Hong Kong, Mainland China as well as Bangladesh, Indonesia, Pakistan and Tajikistan. Its talents' professional fields include mechanical engineering, computer science, computer engineering, civil engineering and logistics engineering. Currently, they employ more than 10 employees in Hong Kong and have set up an R&D office in Pakistan.