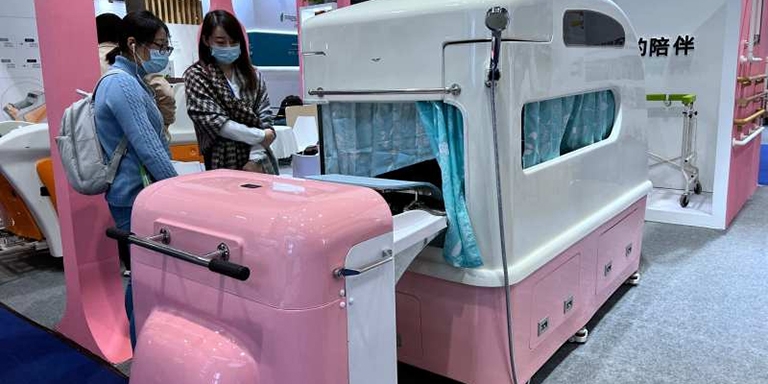 https://hkmb.hktdc.com/en/ddEBcp9c
Property firms look to elderly care
As more elderly people in Mainland China opt for home care, property-management businesses are offering senior-friendly support services.
Across Mainland China, an increasing number of property‑management companies are prioritising a move into the elderly care services sector. This trend was particularly in evidence at the most recent edition of the China International Silver Industry Exhibition. The Guangzhou‑hosted event saw more than 300 businesses showcasing a wide range of elder‑oriented facilities, including intelligent elderly care equipment and rehabilitation care products. Notably, many companies were offering products and services specifically designed to help property‑management companies transition into the elderly care sector.
This year's event also saw many companies looking to highlight their range of multifunctional smart elderly care and rehabilitation equipment, while in the services sector several providers were keen to promote the benefits of co-location, where children and seniors are cared for within the same facility.
In-home services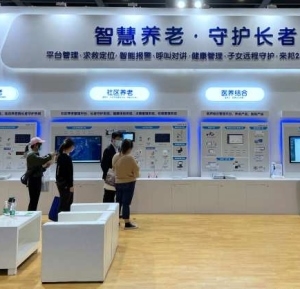 Addressing the prospects for the sector, Huang Xiaojiao, Sales Manager of Shenzhen‑based LonBon Technology, said: "The crossover between elderly care and property‑management services represents a huge opportunity for mainland businesses right now. For our part, we specialise in products and services designed for community‑based elderly care, including an integrated service platform, an elderly watch‑over system and a health‑check facility."
At this year's event, the company was looking to showcase its master monitor station, a system comprising a 10.2 inch (26cm) touch screen and two‑way video intercom facility. Among various other applications, this equipment is said to be suitable for installation in a property‑services office as a means of communicating with elderly residents.
Spelling out its benefits, Ms Huang said: "The station has a wide array of functions, including the capacity to track elderly residents, broadcast announcements, remotely unlock internal and external doors and to sound an alarm in certain circumstances. In addition, vulnerable residents can wear LonBon's tracking watches and distress locators, which are all linked to our 24‑hour support service."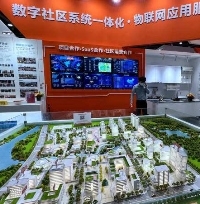 Equally bullish about his company's model for elderly care provision was Lu Xiaojun, Business Manager of the Guangdong‑based Many-to-Many IOT Group (MIG). This year the company was debuting its portfolio of bespoke digital products for the community healthcare and elderly care sector, including a family health "case management" service, a healthcare advisory matching service, an elderly engagement service and a synchronised emergency response/rescue service.
Outlining the changing dynamics in the industry, Mr Lu said: "Typically, when a property‑management company sets out to expand into the elderly care service sector, its new clients have to assent to having specific, safety‑focused modifications made to their homes. As smart systems have become increasingly commonplace in many communities, however, the cost of such modifications has fallen dramatically."
One exhibitor specialising in elderly friendly smart systems was On-Bright Electronics (Guangzhou). According to Du Weihong, the company's General Manager, its range currently extends to smart door locks, smart video cameras, intelligent locators, one‑click emergency alarms, a gas leak detector and an infrared monitoring network.
Explaining how a typical set‑up works, Mr Du said: "Our in‑home smart elderly care hardware continuously transmits data to the cloud, where it can be observed both by our specialist staff and by family members. This allows for enhanced security protection and the remote monitoring of physical indicators and daily interactions."
Also highly visible at this year's show was a wide selection of intelligent rehabilitation and healthcare equipment. Illinois Medicare Robots, for example, had on offer a "wearable" nursing care robot suitable for tending to a patient's urination and defecation needs.
Shenzhen's JC Water Rehabilitation, meanwhile, was showcasing a range of therapeutic equipment, with its rehabilitation bath the centrepiece of its stand. Detailing its functionality, Product Manager Chen Qi said: "Essentially comprising both a bath and a mobile stretcher, with the latter able to be hoisted up and down automatically inside the bath, the unit allows hemiplegics and paraplegics to be moved safely and with the minimum of discomfort."
Co-location model
In terms of co‑location services, Shenzhen's Wanqingyuan Nursing Home was one of several exhibitors running care centres suitable for both children and the elderly. According to Xu Yanyan, Matron of the home, such integrated services have become increasingly popular among families where both very young children and elderly relatives need to be cared for in an at‑home environment.
Emphasising that there are many advantages to the co‑location of seniors and children, Ms Xu said: "We, for instance, have devised a wide range of cultural and physical activities that encourage cross‑generational interaction. Not only do many of these invigorate the minds and bodies of seniors, but they also give them a sense of accomplishment and make them feel valued at home. In addition, when sharing their life experiences, they are helping with the growth and development of the children within the family."
The 8th China International Silver Industry Exhibition took place from 15-17 November at Guangzhou's Poly World Trade Center.
Related link
HKTDC Research
Medical & Healthcare Services
Health & Beauty