The Regional Comprehensive Economic Partnership (RCEP) is a giant trade area extending from the fringes of the Arctic (Hokkaido, Japan, main picture) to the Antarctic (New Zealand) and encompassing the giant economy of Mainland China as well as Korea and the Association of Southeast Asian Nations (ASEAN) and Australia.
Hong Kong sits plum in the middle of this geographic area and is perfectly placed to serve as a hub city so it is no surprise to learn that about 90% of Japan-affiliated companies based in Hong Kong manage or handle business in at least one RCEP market other than Japan, according to a recent survey conducted by the Hong Kong Trade Development Council (HKTDC).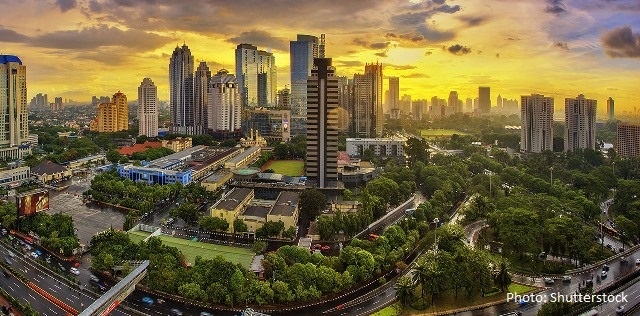 More than 60% of respondents plan to expand their RCEP operations through their Hong Kong office in the next three years, with the Guangdong-Hong Kong-Macao Greater Bay Area (GBA) (40.4%) and ASEAN (39.4%) the most popular destinations.
The respondents make use of Hong Kong's well-developed logistics and commercial networks, as well as its world-class business services to manage and expand global business, particularly in the Asia-Pacific region.
Supply chain integration
RCEP came into effect last year, creating the world's largest free trade bloc made up of 15 member economies. RCEP accounts for about 30% of global gross domestic product, trade and population, injecting impetus into regional economic development.
Last year, RCEP economies accounted for 71% of Hong Kong's merchandise trade.
"Hong Kong has applied for accession to RCEP and once approved, the city will become the first new member of the bloc, enjoying a wide range of benefits, such as tariff concessions. It will also help Hong Kong further integrate into regional supply chains and strengthen trade and investment with other members in the bloc, especially Japan and Korea, which have yet to sign free trade agreements with the city," HKTDC Director of Research Ms Irina Fan said.
Premier platform for RCEP
About 1,400 Japanese companies have set up regional headquarters or offices in Hong Kong. With the support of the Hong Kong Japanese Chamber of Commerce & Industry (HKJCCI), the HKTDC surveyed more than 100 Japanese companies via a questionnaire to better understand their business development in the first year of RCEP, advantages of the Hong Kong platform and services, and the city's role in helping them expand into the RCEP market.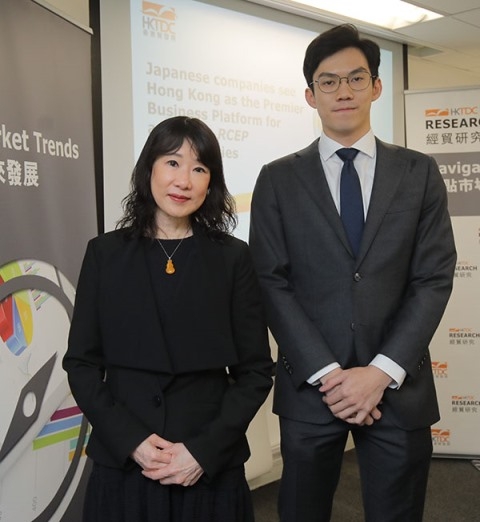 Most survey respondents operate in the import and export trade sector, followed by wholesale and retail, finance and logistics. More than 20% said their Hong Kong office served as the company's overseas headquarters or main regional office that manage operations outside of Japan. Other functions include marketing and sales (73.5%), logistics and supply chain management (36.3%) and sourcing and procurement (25.5%).
HKTDC Economist Mr Corey To said Hong Kong plays an important role in facilitating RCEP related business (nearly 90% of respondents manage or handle RCEP business via Hong Kong) and over 60% of the respondents saw Hong Kong as "important" or "very important" in helping capture arising business opportunities in the RCEP region.
Respondents also revealed that strong regional connectivity made Hong Kong the premier platform for RCEP. Core strengths include business networks with the mainland (88.8%), freedom of capital flows and currency exchange (79.7%), efficiency as a trans-shipment and distribution hub (72%) and more.
RCEP accession benefits
The survey also found that more than half the Hong Kong-based Japanese trading companies had already enjoyed RCEP benefits, such as unified rules of origin, lower tariffs and streamlined customs procedures. Close to 80% anticipated more benefits should Hong Kong join the bloc. This reflects Hong Kong's role as a major logistics hub in the region as well as its deep trade ties with many RCEP economies.
Mr To said among the non-trade sector, 60% expected to benefit from Hong Kong's RCEP accession, largely because of the anticipated increase in economic activity and investment flows across the mainland, Hong Kong and Japan, and due to improved access for service sectors and enhanced intellectual property rights protection, which will create opportunities for such sectors as e-commerce.
Overall, more than half the respondents suggested Hong Kong's accession to RCEP would improve their company's ability to capture RCEP business opportunities. Providing marketing information about RCEP economies and encouraging co-ordination among public bodies and regulators were also seen as helpful.
Regional business base
The survey results echo the statements made in HKTDC Research's in-depth interviews conducted with Japan-affiliated companies in Hong Kong. These case studies show Hong Kong's competitive edges in a number of areas, which are beneficial to Japanese companies that aim to leverage Hong Kong as a base for business expansion in the region: solid financial infrastructure, well-established hub for international trade and logistics, quality professional services and a pool of diversified talents, prime location adjacent to GBA and among key economies in the Asia-Pacific.
Related links
HKTDC Research
Full report
APAC forms economic powerhouse
Exploring RCEP opportunities
Launch pad for going global