Biotechnology, medical robotics and information technology are developing at lightning speed and Hong Kong, along with all the Guangdong-Hong Kong-Macao Greater Bay Area (GBA), is an innovation hotspot in all these fields.
Global healthcare sector leaders streamed into Hong Kong for the second International Healthcare Week, organised by the Hong Kong Trade Development Council (HKTDC), for an opportunity to draw on the region's strength in the fields.
Flagship events
As the flagship Healthcare Week events, the third Asia Summit on Global Health (ASGH) and the 14th Hong Kong International Medical and Healthcare Fair (Medical Fair) featured fruitful discussions on a wide range of topics, including the GBA as a powerhouse of healthcare innovation, complemented by exchanges on Chinese-Western medicine, aging and women innovators.
Dr Peter K N Lam, Chairman of the HKTDC, said: "Drawing on its strengths in scientific research, a world-class medical system, a highly skilled workforce, strong financing and fundraising capabilities and advanced logistics and transportation infrastructure, and backed by the huge market of the Greater Bay Area, Hong Kong is the preferred hub and perfect springboard into Asia for the growing healthcare market.
The ASGH attracted over 2,500 participants from 40 countries and regions. The Medical Fair welcomed over 10,000 visitors from 56 countries and regions. More than 300 one-on-one deal-making sessions and over 600 business-matching meetings were also arranged to help participants seize business opportunities.
Hot topics
ASGH, co-organised by the Government of the Hong Kong Special Administrative Region (HKSAR) and the HKTDC, continued to bring together healthcare leaders, innovators and investors.
The first-day Plenary Session: Reimagining the Future of Healthcare invited Sir Jonathan Symonds, as one of the speakers. He said: "When COVID struck, the world didn't collaborate in the way that it should have. There will be another COVID. We cannot operate in the same way as we did. We must tackle global problems globally."
Another speaker, Mr Tatsuo Yasunaga, Representative Director, Chair of the Board of Directors, Mitsui & Co., Ltd, noted: "In implementing value-based healthcare, we try to achieve both clinical outcome improvement and cost savings. We expect to achieve the first goal through new drug and medical device developments and health risk management. We are also moving towards personalised healthcare to bridge the gap between medical care and prevention."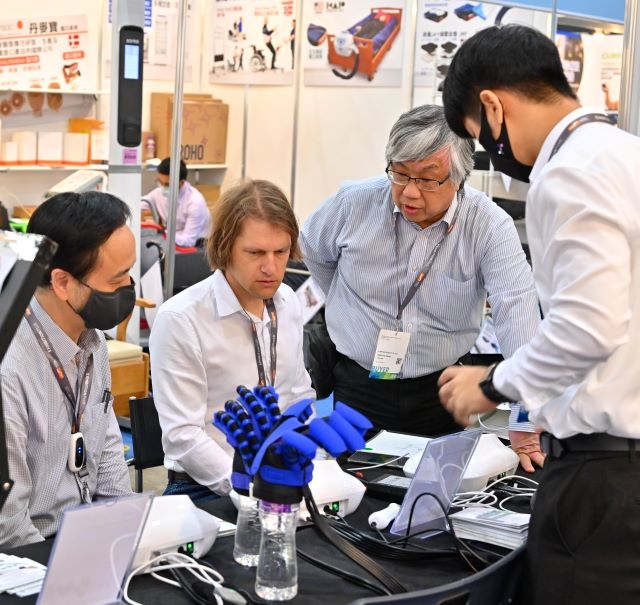 The Unleashing Opportunities in Integrative Chinese-Western Medicine session today examined research, treatment and medicine developments that transformed markets in Asia and abroad. The session showcased the potential for complementary, integrative healthcare and highlighted the business opportunities that collaboration between Chinese and Western medicine presented.
Mr Abraham Chan, Founder, Chairman, CEO and Executive Director at PuraPharm said modernising Chinese medicine included standardising products by creating standardised granules from herbs. Computer programmes let practitioners diagnose conditions and dispense treatments. Big data collected by practitioners helped improve products and perform drug discovery.
Noting Hong Kong's high life expectancy and increase in the elderly population, panellists at the Ageing Well: Breakthroughs and Investment Landscape in Longevity session said this presented both challenges and opportunities, such as drug discovery, research financing and monitoring gadgets.
Dr Donald Li, Chairman of the Elderly Commission, said higher demand for a wide range of healthcare products and services generated opportunities. This was especially true of monitoring devices allowing the elderly to live at home safely.
Proven platform reaching out to global buyers
The Medical Fair, organised by the HKTDC and co-organised by the Hong Kong Medical and Healthcare Device Industries Association (HKMHDIA) ran under the HKTDC's EXHIBITION+ hybrid model. The physical fair at the Hong Kong Convention and Exhibition Centre (HKCEC) successfully closed today, while exhibitors and buyers from around the world can continue conducting business online via the Click2Match smart business-matching platform until 25 May.
University projects showcased
In recent years, the Hong Kong SAR Government has actively promoted collaboration between the government, industry, academia and researchers by bringing together enterprises, universities and research institutes to cooperate and promote technological innovation.
At ASGH, the hybrid InnoHealth Showcase and exhibition zone featured projects and solutions from more than 140 healthcare-related innovative technology enterprises, from which 50 of the enterprises and projects are presented by five local major universities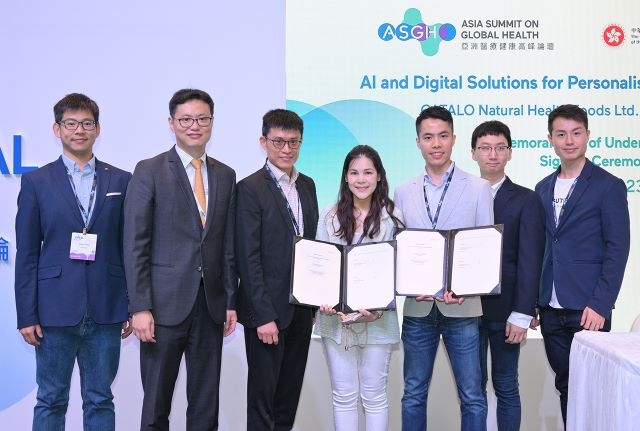 Innovation and Technology Commission (ITC) and Cyberport joined ASGH as Health Innovation Partners, with ITC showcasing16 health-related InnoHK R&D centres to demonstrate Hong Kong's strength as a global innovation powerhouse.
Numerous companies in the healthcare industry as well as six local universities and various enterprises supported by the universities, which are commercialising their research and development accomplishments, joined the Medical Fair to showcase cutting-edge medical products and technologies. Among the university-affiliated companies are Sramek Insight Limited, Herbap Biotech, Agilis Robotics, Metasurgical Technology, Cellomics International and Greater Bay Biotechnology.
Related links
International Healthcare Week
Asia Summit On Global Health
Programme
Speakers
Hong Kong International Medical and Healthcare Fair
Interesting product list and Activity schedule