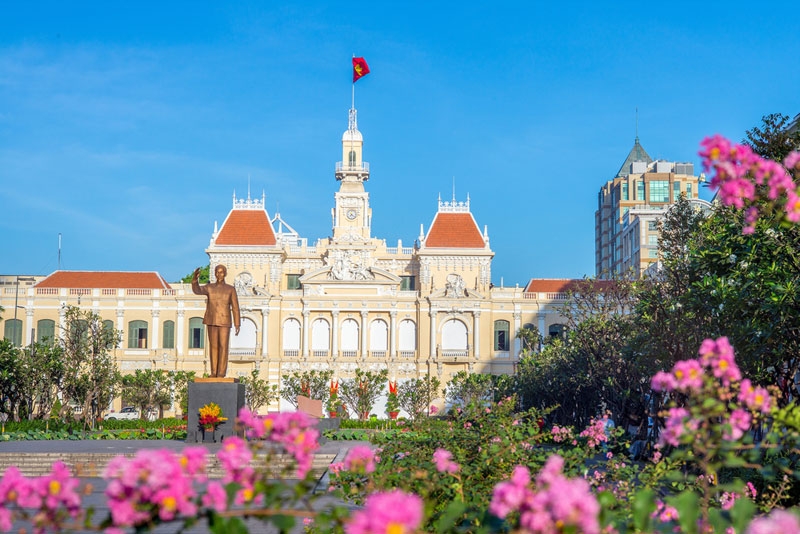 https://hkmb.hktdc.com/en/OTkxMjU4NDU0
Post-Covid Prospects: Vietnam
Interview with Vu Thi Thuy, Head of Trade Office, Consulate General of the Socialist Republic of Vietnam in Hong Kong and Macao
David Sit, Corey To
One of the youngest and fastest-growing economies in the ASEAN bloc, Vietnam has experienced notable growth over the last three decades amid continuous market reform. Between 2000 and 2020, the country's transformation from an agricultural to a manufacturing and services-dominated economy has seen it post an average 6.4% real GDP growth each year. [1]
However, with the Covid-19 pandemic hitting Vietnam in early 2020, disruptions in supply chains and the curtailment of external demand – particularly in services trade – have caused a rare slowdown in its economic growth. Real GDP rose by just 2.9% in 2020 and 2.58% in 2021, the lowest growth figures the country has experienced since 1986. [2] Although Vietnam weathered the initial waves of the pandemic well, the fourth wave in April 2021, caused by the Delta variant, created a serious shock to the manufacturing sector and stalled the country's economic recovery.
Despite the uncertainties arising from the recent appearance of the Omicron variant in Vietnam, the IMF projects that the country will experience a strong rebound in economic growth in 2022, with a 6.6% rise in real GDP. [3]
David Sit, Assistant Principal Economist (Asian and Emerging Markets) at HKTDC, interviewed Vu Thi Thuy, Head of Trade Office, Consulate General of the Socialist Republic of Vietnam in Hong Kong and Macao, to discuss how Vietnam coped with the challenges brought by the pandemic, the economic outlook for the country moving forward, and the business opportunities arising from the increasing trade between Vietnam and Hong Kong.
David Sit: Can you brief us on the situation in Vietnam regarding Covid-19 and the progress of the country's vaccination programme?
Vu Thi Thuy: According to Vietnam's Ministry of Health, the country had recorded 2,510,860 cases of Covid-19 in total as of 14 February 2022, with 2,226,754 patients having recovered and been discharged from hospitals, and 38,946 reported deaths.
When the pandemic first began in Vietnam in early 2020, the Vietnamese government implemented drastic measures including strict travel restrictions, quarantine policies and social distancing measures to contain the spread of the disease. These measures initially helped Vietnam control the pandemic successfully. However, in April 2021, the emergence and rapid spread of the Delta variant greatly disrupted production for the manufacturing sector in the southern provinces of Vietnam. The daily number of new infections increased to over 15,000 by December 2021.
In view of this critical situation, as well as the looming threat of the Omicron variant, the Vietnamese government applied a series of flexible measures to control the pandemic, in the hope of striking a balance between maintaining normal economic activities and containing the outbreak. These measures included:
Entry restrictions imposed on foreign visits;
Speeding up the vaccination programme, with more than 180 million doses of the coronavirus vaccine having now been administered;
Adjusting the country's disease prevention strategy to "Living with Covid-19", with the motto of "Safe adaption, flexibility, effective control of the Covid-19 epidemic".
With these measures in place, Vietnam is gradually resuming normal business and social life. Domestic travel, the service sector and other production activities, including those at industrial parks, have gradually recovered.
In order to promote the resumption of trade, investment and tourism, the Vietnamese government has been resuming international flights. Flights between Vietnam and Cambodia, Japan, Singapore, the US and 11 other destinations have already been running again since 1 January 2022. Starting from 15 February 2022, Vietnam will gradually reopen its borders for international tourism, restoring the frequency of international flights to pre-pandemic levels in the following couple of months.
Sit: How was Vietnam's economy impacted by the Covid-19 outbreak? What do you see as the near‑ to medium‑term outlook for Vietnam's major industries and trade?
Vu: While the Covid-19 pandemic has driven the global economy into a recession, Vietnam has maintained real GDP growth at 2.91% and attracted nearly US$29 billion (HK$226 billion) in FDI in 2020. Even during the fourth wave of infections, the Vietnamese economy still maintained a real growth rate of 2.58% in 2021. This can be attributed to the government's dual goal of "fighting the epidemic and developing the economy".
Good business sentiment in Vietnam is reflected in the large number of newly registered enterprises: 13,004 new enterprises were registered in January 2022, a 28.9% increase from the same period in 2021. In January 2022, the country also had 19,121 previously closed businesses returning to operation, a 194% increase year-on-year.
Vietnam's total merchandise trade volume reached a record high of US$650 billion in 2021, while the total amount of newly registered, adjusted, and paid-in capital for share purchase by foreign investors reached US$31.15 billion in the same period.
We expect Vietnam's economic indicators to continue to improve, led by the current recovery rate of the manufacturing sector. Even during the Covid-19 pandemic, Vietnam has remained attractive to many international investors. Vietnam is also improving its global supply chain connectivity, with 15 signed FTAs, including the Regional Comprehensive Economic Partnership (RCEP), linking Vietnam to major global markets.
Sit: What has the Vietnam government done to support businesses and the economy?
Vu: Right from the beginning of 2020, the Vietnamese government set a dual goal of preventing and controlling the spread of the disease alongside stable and effective economic development. Up to now, with drastic but flexible and effective measures, Vietnam has minimised the negative impact on the economy of the epidemic. It will continue to promulgate a number of policies designed to promote recovery, restore production and stimulate trade, in order to fulfil the country's economic growth target of 6-6.5% in 2022.
The main policy orientations of the government are currently:
Controlling the epidemic: Safely adapting, flexibly and effectively controlling the Covid-19 epidemic to restore production quickly while limiting the number of cases
Increasing international trade and investment cooperation: Strengthening international economic integration, effectively implementing signed FTAs to participate more deeply in the global supply chain, so as to create a driving force for economic growth. Completing institutions and policies, improving the business investment environment and managing international commitments in commercial activities
Developing domestic trade: Increasing the share of domestic trade's contribution to GDP growth. Supporting the formation and development of a distribution enterprise system to promote linkages of product supply chains. Developing e-commerce, and various types of commerce based on digital platforms.
Sit: What are the key focuses of economic development in Vietnam in the post-Covid-19 era to support long-term growth?
Vu: Vietnam has always been an attractive destination for international investors, given its competitive edges such as:
Its location at the heart of Asia, which allows for easy access to major markets such as ASEAN, China, Japan and South Korea
Its stable political environment and open society
Its abundant, young and highly educated labour force with more competitive costs than those of other countries in the region
A legal framework that is constantly progressing towards an open business environment, transparent investment policies and favourable profit-based incentives for business
Its active role in global integration, with more than 15 signed FTAs, including RCEP and the Comprehensive and Progressive Agreement for Trans-Pacific Partnership (CPTPP), and two other FTAs currently in negotiation. These connect Vietnam with most of the major market regions of the world.
As a result, in recent years, many international businesses have chosen Vietnam as a destination to invest and transform their global production and supply chains. Despite the pandemic, FDI flows into Vietnam still grew steadily. In 2021, there were 1,738 newly registered FDI projects, with a total capital of US$15.2 billion (a year-on-year increase of 4.1%).
Building upon this trend, the Vietnamese government launched special investment incentives on 1 Nov 2021. These covered a list of 157 projects calling for foreign investment between 2021 and 2025, in the fields of traffic infrastructure, industrial parks and economic zones, energy infrastructure, information technology (IT) infrastructure, waste and wastewater treatment systems, education and health infrastructure, cultural, sports and tourism infrastructure, agriculture, forestry and fishery, and the manufacturing and service sectors.
Sit: What are the key sectors that Hong Kong businesses should be paying attention to?
Vu: The Vietnamese government has invested greatly in the transport infrastructure of the country, with many projects run as public-private partnerships (PPPs). Between 2011 and 2020, the total road length in the country increased at an annual rate of 7.3%.
The Ministry of Transport plans to invest up to US$65 billion into building new expressways, railways, ports and airports. One notable project is the construction of Phase 1 of the Long Thanh International Airport, scheduled for completion in 2025, which will be able to handle 25 million passengers and 1.2 million tonnes of cargo per year. Through the development of ports such as those in Hai Phong and Da Nang, the government aims to expand the country's ports to accommodate an annual cargo capacity of at least 1.14 billion tonnes, up from 680 million tonnes in 2020.
The development of industrial parks is also one of the government's key investment initiatives. As of May 2021, there were 394 industrial parks in Vietnam, of which 25 were newly established in the first half of 2021. The industrial parks cover a total area of 121,900 hectares, and have an occupancy rate of 71.8%.
The industrial parks are strategically located across the country, typically near major roads, allowing businesses to access nearby ports, airports and train terminals easily. These zones also boast a wide range of facilities and infrastructure, such as water and power supply, wastewater treatment, residential facilities, kindergartens, financial services and on-site customs offices. The Vietnamese government offers tax and land leasing incentives to investors operating in the industrial parks, with the types of exemptions and incentives depending on the location and industry.
Investors are encouraged to consider the different options offered and choose the most suitable locations for their needs. For example, industrial parks in the northern provinces such as Ha Noi and Bac Ninh are popular with Chinese businesses looking to relocate to Vietnam, because of their proximity to China and well-developed transport infrastructure.
Another sector to pay attention to is the digital economy. According to a report by Google, Temasek and Bain & Co., Vietnam is expected to become the second-largest e-commerce market in Southeast Asia by 2025, with a market size of US$39 billion – three times the estimated size of US$13 billion in 2021. By November 2021, the Covid-19 pandemic had created a new 8 million digital consumers in the country, although 29.3% of the population has yet to participate in the digital market. There is great potential for investment and development in IT infrastructure, e-commerce and digital services.
Vietnam's 4G network currently covers 99.8% of the population, and 16 provinces and cities have been selected for pilot schemes to set up 5G networks. To further accelerate urbanisation and digitalisation in Vietnam, the government initiated smart city projects in major cities such as Hanoi, Ho Chi Minh City, and Da Nang. The aim is to integrate new technologies into urban infrastructure, as well as to increase the provision of digital government services for residents and businesses.
The Vietnam Trade Office in Hong Kong is very welcome and ready to share information with Hong Kong investors who are interested in and seek investment opportunities in Vietnam.
Sit: How do you see the economic and trade relationship between Hong Kong and Vietnam? How big is the current Vietnamese business presence in Hong Kong and how do you see Hong Kong businesses playing a part?
Vu: There has been good progress in economic, trade and investment co-operation between Vietnam and Hong Kong in recent years. According to the Foreign Investment Agency of Vietnam, Hong Kong is Vietnam's 7th largest trading partner and the 5th largest investor among the 106 countries and territories investing in Vietnam in 2021.
We believe there are many opportunities for better and more cooperation between the two territories that can be explored.
Currently, Vietnamese companies do not have a strong presence in Hong Kong. Before the Covid-19 pandemic, many companies were interested in exploring the opportunities in Hong Kong, but with the pandemic heavily disrupting business activity, investment projects were put on hold.
In general, the Vietnamese business community highly appreciates Hong Kong's business environment, especially in terms of professionalism and transparency. Many Vietnamese enterprises have sought investment and business opportunities in Hong Kong in recent years.
However, in order to strengthen the co-operation between the two business communities, we look forward to the Hong Kong SAR government putting in place more generous policies regarding visa access for Vietnamese citizens, such as granting more visas to Vietnamese investors and entrepreneurs looking to establish companies and a commercial presence in Hong Kong.
Businesses in Vietnam also hope to participate more in trade promotion activities in Hong Kong, in order to facilitate the sharing of information and access to the Hong Kong market for high-quality Vietnamese products. Strengthening connections at both the government and enterprise levels through trade and investment activities would also be beneficial for businesses in both regions, leading to an increase in co-operation regarding research and technology transfers.
Sit: What opportunities does the Greater Bay Area (GBA) offer to Vietnamese businesses? Are Vietnamese companies keen to get involved in GBA projects? How can Hong Kong as a whole and Hong Kong companies help?
Vu: We have learned that the GBA is a long-term project of the Chinese government to increase economic integration in these regions, aiming to take advantage of the potential of each place, facilitate the movement of people, capital, goods and services between cities, bring Hong Kong and Macao into deeper integration with the mainland and open to the world.
Vietnamese enterprises are very interested if the GBA brings opportunities to expand business cooperation, trade in goods, and investment. We hope that the Hong Kong government will create favourable conditions for Vietnamese businesses wishing to invest and do business in Hong Kong.
In order to convey to the Vietnamese business community more about this co-operation, we look forward to the Hong Kong government systematically providing information on the GBA, as well as the opportunities and challenges for foreign business in the area.
We would like to express our gratitude and appreciation for HKTDC's co-operation and ongoing support for the Vietnamese business community.
Finance & Investment
Medical & Healthcare Services
ASEAN
Southeast Asia
Viet Nam