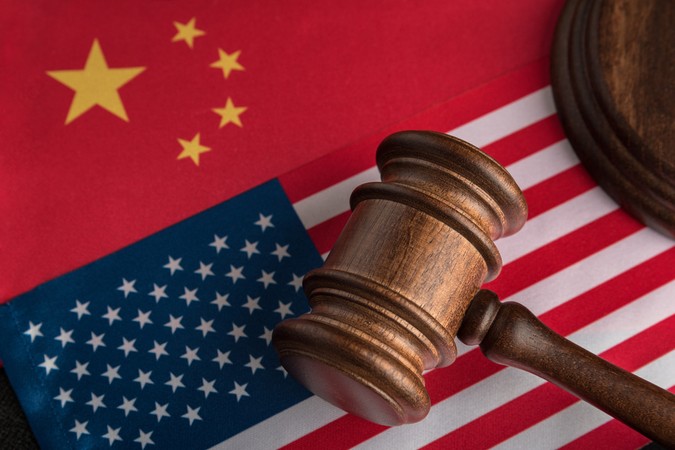 https://hkmb.hktdc.com/en/OTgyNjY5OTMz
The New US Forced Labour Prevention Act
Louis Chan
US President Joe Biden on 23 December signed into law legislation (H.R.6256) aimed at ensuring that goods made with forced labour [1] in mainland China's Xinjiang Uyghur Autonomous Region (XUAR) do not enter the US market.
Effective from 21 June 2022, the Uyghur Forced Labour Prevention Act (UFLPA) establishes a rebuttable presumption that any goods, wares, articles and merchandise mined, produced or manufactured wholly or in part in Xinjiang, or produced by a properly identified entity, or, in gist, any work performed in the XUAR, are made with forced labour and therefore barred from entry into the US under Section 307 of the Tariff Act of 1930 (19 U. S. C. §1307). As a result, all types of goods, particularly from "high-priority" sectors such as cotton, tomatoes and polysilicon, from any country (not confined to China-origin products) that may have raw materials, parts and components made, or some type of processing, in the XUAR will be deemed inadmissible to the US unless certain criteria are met.
To avoid potential lengthy detentions of merchandise and to prepare for the US Customs and Border Protection's (CBP) enforcement, suppliers to US importers should update their practices, procedures and documents to address forced labour, map supply chains, and educate upstream and downstream partners on record-keeping to support the origin of goods, materials and processing. In addition, all identified direct and indirect suppliers need to be screened to ensure they are not on a US sanctioned-party list.
In a recent interview with Louis Chan, the Hong Kong Trade Development Council's Principal Economist (Global Research), J. Nicole Bivens Collinson, President, International Trade & Government Relations, of international trade law firm Sandler, Travis & Rosenberg, P.A., shared some views on the new UFLPA legislation and its impact on supply chains, and how Hong Kong companies can prepare for the changes.
Chan: What are the key new provisions brought forward by the UFLPA? Are there any significant changes in addition to the forced-labour actions already in place?
Collinson: Yes, there are some significant changes in the legislation that will impact this process. Specifically, under the new law, imports of goods from the XUAR will be banned unless the CBP determines that:
The importer of record has fully complied with relevant guidance to be provided by the CBP, as well as any regulations issued to implement that guidance;
The importer has completely and substantively responded to all inquiries for information submitted by the CBP to ascertain whether the goods were made wholly or in part with forced labour; and
By clear and convincing evidence, the goods were not made wholly or in part by forced labour.
Any good from the XUAR that therefore overcomes the rebuttable presumption of being made with forced labour and is allowed entry will be included in a public list to be issued by the CBP 30 days after making such a determination.
In addition, an interagency Forced Labour Enforcement Task Force (FLETF) will have to develop a strategy to prevent the importation of forced-labour goods from China along with the following lists:
Entities in the XUAR that produce goods with forced labour;
Entities working with the government of the XUAR to recruit, transport, transfer, harbour or receive forced labour or Uyghurs, Kazakhs, Kyrgyz or members of other persecuted groups out of the XUAR;
Products made wholly or in part by such entities;
Entities that export products made with forced labour from China to the US; and
Facilities and entities, including the Xinjiang Production and Construction Corps (XPCC), that source material from the XUAR or persons working with the government of the XUAR or the XPCC for purposes of a poverty-alleviation programme or pairing-assistance programme or any other government labour scheme that uses forced labour.
The Task Force must seek public input no later than 24 January 2022, and the public will be given no less than 45 days to submit comments, or by 10 March 2022. A public hearing must be held within 45 days after the close of the public comment period or by 22 April 2022.
The US Department of State must then submit a report to Congress by 23 March 2022 that provides a strategy to address forced labour in the XUAR along with lists of (1) Entities in China or affiliates that use or benefit from forced labour in the XUAR; and (2) Foreign persons that acted as agents of such entities or affiliates to import goods into the US. The final strategy to be developed by the Task Force must be in place by 21 June 2022.
Importantly, the UFLPA calls for the Task Force to provide guidance to importers with respect to due diligence, effective supply chain tracing, and supply chain management measures to ensure they do not import any goods made with forced labour from mainland China and especially from the XUAR as follows:
The type, nature and extent of evidence that demonstrates that goods originating in mainland China were not made wholly or in part in the XUAR; and
The type, nature and extent of evidence that demonstrates that goods originating in mainland China, including goods detained or seized pursuant to Section 307, were not made wholly or in part with forced labour.
Chan: How may the new act affect Hong Kong's exports to the US? Does it affect only goods produced and originated from mainland China? What about goods sourced by US businesses but not destined for sale in the US market? What will be the consequences and penalties for violation?
Collinson: This law will impact any goods made in any country that may incorporate an input that was produced, mined or grown in Xinjiang. In other words, if a good is manufactured in Hong Kong that incorporates a component from Xinjiang, that good is subject to the law. The question is how can the CBP enforce this law when it has virtually no visibility into the supply chains of companies.
Furthermore, US brands will undertake supply chain visibility exercises to determine if there are inputs from Xinjiang in their supply chains. These brands do not want to risk the social backlash that could result from media reports that they produce goods using forced labour. Thus, Hong Kong suppliers will likely face higher compliance demands from their US clients when it comes to XUAR-proofing their supply chains as the consequences for goods that cannot rebut the presumption of forced labour will be denial of entry into the US market.
Even with respect to goods sourced by US businesses, but not destined for the US market, there is another law (18 US Code §1589) which states that any entity that "knowingly benefits, financially or by receiving anything of value, from participation in a venture which has engaged in the providing or obtaining of labour or services by means of force, threats of force, physical restraint, or threats of physical restraint to that person or another person; by means of serious harm or threats of serious harm to that person or another person; by means of the abuse or threatened abuse of law or legal process; or by means of any scheme, plan or pattern intended to cause the person to believe that, if that person did not perform such labour or services, that person or another person would suffer serious harm or physical restraint; knowing or in reckless disregard of the fact that the venture has engaged in the providing or obtaining of labour or services by any of such means, shall be fined, imprisoned for not more than 20 years, or both. While this criminal provision is not related to an actual import, if there is a relation to such entity, whether located in the US or not, it can trigger the specified action.
This, coupled with the UFLPA, may mean heightened risks – customs detention, denial of entry, criminal charges, fines and imprisonment in the case of reckless disregard for brands continuing to source from Xinjiang, even for non-US markets.
Chan: There is a rebuttable presumption included in the text of the UFLPA, which shifts the burden of proof for demonstrating the involvement of forced labour in the supply chain of a good from the government to businesses and individual importers. How can Hong Kong exporters put forward enough evidence to rebut the presumption?
Collinson: We are hopeful that the law that requires the CBP to issue guidance and inform importers of the documents required to rebut the presumption will be sufficient in clearing goods. However, we do not know what the documents will be, nor do we know if provision of the same will suffice for the CBP's release of the goods. We do know that the importers need to show visibility from "earth to hearth" or "soil to shelf".
Manufacturers and vendors need to complete document traceability to the origin of the goods/inputs/intermediate materials and during production available to importers of record in the US. These documents must be made available in as little time as possible because a detention must be resolved within three months of issuance.
That time frame includes the CBP's time for consideration and determination. Thus, if documents are not provided until day 80, it would only allow about 10 days for the CBP to make a determination. We suggest that factories be able to provide all documents within 30-45 days of receiving a detention notice. In addition, the documents provided cannot be a "data dump", but something useful in guiding the CBP through the tracing process and available in English (at least for the primary titles).
Chan: What is your advice for Hong Kong companies on due diligence and mitigation measures to ensure supply chain integrity and how to implement compliance programs to avoid being implicated in violating the new law?
Collinson: My recommendation is that Hong Kong exporters and manufacturers assist their customers in the US by gaining visibility in their upstream supply chain. This effort may entail outreach to tier 1, 2, 3, 4 suppliers. Knowing where these goods came from and obtaining assertions that each shipment (not just a blanket waiver) does not involve forced labour will be essential in demonstrating to the CBP that the goods are admissible.
There are a number of software programs that assist in managing the plethora of documents that need to be readily accessed for a given shipment to the US that can help in managing this task. But Hong Kong traders need to be able to quickly provide the necessary documents with the push of a button and in a timely manner to continue being a reliable trade partner for US brands and importers.
We have worked with several companies in mainland China, Hong Kong, the US, the EU and elsewhere in reviewing their policies, procedures and practices to determine if they have in place the necessary measures to ensure they have supply chain visibility. In some of those cases, this effort is in response to a detention order or withhold release order (WRO), and in others it is prophylactic in sensitive areas as identified by the US government and in anticipation of a potential WRO.
Industries that have been identified by the interagency memo as a risk include agriculture (including such products as raw cotton, hami melons, korla pears, tomato products and garlic); cell phones; cleaning supplies; construction materials; cotton, cotton yarn, cotton fabric, ginning, spinning mills and cotton products; electronics assembly; extractives (including coal, copper, hydrocarbons, oil, uranium and zinc); fake hair and human-hair wigs, hair accessories; food-processing factories; footwear; gloves; hospitality services; metallurgical-grade silicon; noodles; printing products; renewable energy (polysilicon, ingots, wafers, crystalline silicon solar cells and crystalline silicon solar photovoltaic modules); stevia; sugar; textiles (including products such as apparel, bedding, carpets, wool and viscose); and toys.
It is not yet clear what documentation will be required and, because all products may be produced differently, the exact documentation that may assist in clearing a good for entry will vary. However, based on the CBP's enforcement of Section 307 heretofore using the WRO mechanism, it is clear that importers must have visibility into their entire supply chain, not just the tier 1 supplier.
To illustrate, documentation that will be useful, but by no means comprehensive nor indicative of all the information that will be needed, may include such items as the following:
Customs entry documentation for finished goods: Entry Summary Form 7501, commercial invoice, packing list, bill of lading;
Transactional documents for finished goods: purchase order, proof of payment;
Finished goods factory profile, equipment list, production capability, number of employees, how many shifts, owner/officer names, etc.;
Finished goods bill of materials showing all materials/parts used in the finished goods (it would also be helpful if this lists origin/manufacturer of each material);
Daily production reports for finished goods to trace work in progress by specific order/style/unique identifier;
Transactional documents for all tier 2 materials: identity of producer entity, affidavit of origin from producer, purchase order, invoice, packing list, proof of payment;
Transportation documents for all tier 2 materials: shipping documents, bill of lading, receiving reports;
Transactional documents for all tier 3 materials: identity of producer entity, affidavit of origin from producer, purchase order, invoice, packing list, proof of payment;
Transportation documents for all tier 3 materials: shipping documents, bill of lading, receiving reports;
Transactional documents for all tier 4 materials: identity of producer/ginner entity, affidavit of origin from producer/ginner, purchase order, invoice, packing list, proof of payment;
Transportation documents for all tier 4 materials: shipping documents, bill of lading, receiving reports; and
Similar documentation if there are more suppliers back to the original input.
The outcome of the strategy to be developed by the Task Force will further inform and confirm as to the documentation needed to secure entry and to prove that goods are not made with forced labour.
---
[1] Forced labour: "All work or service which is exacted from any person under the menace of any penalty for its non-performance and for which the worker does not offer himself voluntarily." – 19 U.S.C. §1307; language modelled on the International Labour Organisation (ILO) Forced Labour Convention, 1930.

Mainland China
North America
USA