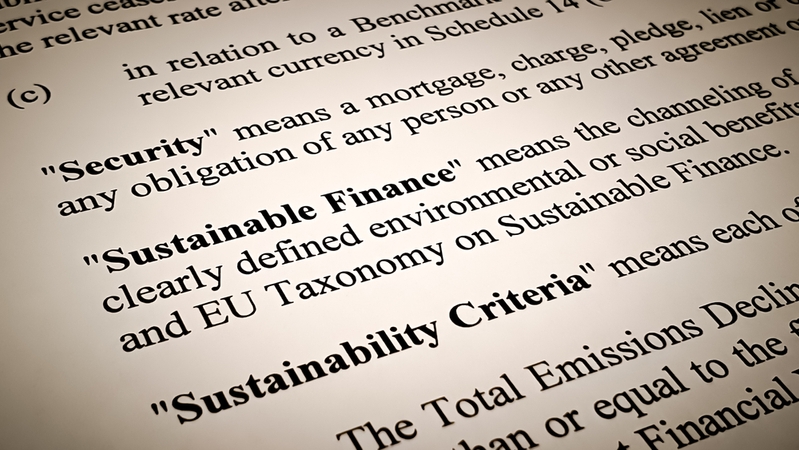 https://hkmb.hktdc.com/en/OTczMTI4Mjc3
Red Light for Greenwashing: The EU Taxonomy
Louis Chan
European governments and companies have reportedly outperformed the global average in terms of their sustainability performance, endorsing Europe's international reputation as a forerunner of sustainability thinking. As a lifeline out of the ongoing Covid-19 pandemic, for instance, the European Green Deal is poised to spend one-third of the €1.8 trillion investments from the bloc's NextGenerationEU Recovery Plan and seven-year (2021-27) budget.
But while corporates have an overall solid understanding of how to address corporate sustainability, the remarkable rise of sustainable or ESG investing as more investors and issuers – public and private – utilise ESG, climate data and tools to support their investment decision making are also heightening the risk of greenwashing.
With the Covid-19-induced hiatus in economic activity having offered a glimpse of an alternative, greener economy, this article will detail how the EU is taking measures to channel investment into more sustainable activities by introducing the sustainable finance and EU taxonomy package – a common classification of economic activities significantly contributing to environmental objectives, using science-based criteria – as part of its efforts to achieve the objectives of the European Green Deal and in recognition that significant, truly sustainable investments are needed for the EU's green transition.
EU Taxonomy
In order to meet the EU's climate and energy targets for 2030 and reach the objectives of the European Green Deal – all 27 EU Member States committed to turning the EU into the first climate-neutral continent by 2050 by pledging to reduce emissions by at least 55% by 2030 compared with 1990 levels – the EU is striving to develop a common language, classification system or taxonomy and a "green list" of technologies and project sectors that will be classified as sustainable under EU law, out of a growing raft of country- or industry-specific standards or roadmaps to enhance its green transition while avoiding greenwashing.
On 21 April 2021, the European Commission (EC) adopted a comprehensive and ambitious package of measures to channel investments towards more sustainable activities – the sustainable finance and EU taxonomy package – as part of its efforts to achieve the European Green Deal goals and secure significant, truly sustainable investments for the bloc's green transition. According to the EC, companies that seek to fund greener activities will have access to new sources of funding through global capital markets. This could, in turn, also benefit businesses from Hong Kong and mainland China that seek to invest in more sustainable economic activities.
The sustainable finance and EU taxonomy package comprises three key elements:
An EU Taxonomy Climate Delegated Act, clarifying the technical screening criteria (TSC) and which economic activities contribute most to achieving the EU's environmental objectives. This Act was published as Commission Delegated Regulation (EU) 2021/2139, and entered into force on 29 December 2021. It began to apply on 1 January 2022;
A proposal for a Corporate Sustainability Reporting Directive intended to streamline sustainability reporting by companies; and
A set of six amending delegated acts [1] on fiduciary duties, investment, and insurance advice to ensure that financial firms incorporate sustainability into their procedures and investment advice.
The framework Taxonomy Regulation entered into force on 12 July 2020, setting down four overarching conditions that economic activity needs to meet in order to be considered as environmentally sustainable. The economic activity must (1) substantially contribute to one or more of the environmental objectives; (2) do no significant harm to any of the other environmental objectives; (3) be carried out in compliance with minimum social and governance safeguards; and (4) comply with technical screening criteria (TSC), which the Climate Delegated Act sets out in relation to climate change mitigation and climate change adaptation.
The Taxonomy Regulation also establishes six environmental objectives:
Climate change mitigation
Climate change adaptation
The sustainable use and protection of water and marine resources
The transition to a circular economy
Pollution prevention and control
The protection and restoration of biodiversity and ecosystems
Under the Taxonomy Regulation, the EC had to come up with the actual list of environmentally sustainable activities by defining TSC for each environmental objective through delegated acts. The TSC must take into account the nature and the scale of the economic activity and sector to which it refers, and whether the economic activity is a 'transitional economic activity'. In consequence, the criteria are set as a quantitative threshold or minimum requirement; a relative improvement; a set of qualitative performance requirements; process or practice-based requirements; or a precise description of the nature of the economic activity itself where that activity by its nature can contribute substantially to climate change mitigation.
The TSC are contained in two annexes to Commission Delegated Regulation (EU) 2021/2139, dealing with climate change mitigation and climate change adaptation, and covering activities including the following among others: forestry; manufacturing (e.g., of batteries or energy efficiency equipment for buildings, or aluminium, or iron and steel, among others); and installation, maintenance and repair of energy efficiency equipment.
Notably, the Taxonomy Regulation only applies to Member States' rules regulating financial markets, financial products and corporate bonds, financial market participants and large companies required to publish non-financial statements under the Non-Financial Reporting Directive. However, more technical screening criteria for each environmental objective must be determined through delegated acts.
The six amending delegated acts clarify financial firms' obligations to consider the sustainability risks of the investment, to discuss a client's sustainability preferences and sustainability factors and objectives in product oversight and governance processes for products and instruments. These delegated acts have not been opposed by the European Parliament or the Council within the period of three months and will thus apply from various dates, in the second half of 2022, according to the specific date indicated in the relevant act.
The first delegated act concerning the TSC for economic activities with significant contribution to climate change mitigation and adaptation (the Climate Delegated Act) was formally adopted on 4 June 2021. The Climate Delegated Act (namely, Commission Delegated Regulation (EU) 2021/2139 mentioned above) was published in the EU Official Journal on 9 December 2021, providing such TSC for a number of sectors and sub-sectors as the manufacture of batteries, the manufacture of plastics in primary form, as well as the sub-sector electricity generation using solar photovoltaic technology. With respect to the latter, the text explains that any activity that generates electricity using solar photovoltaic technology is considered to substantially contribute to climate change mitigation, and lists factors that need to be complied with to establish that the activity does no significant harm, including that the activity should assess, and if possible use, durable and recyclable equipment and components.
Businesses from Hong Kong and mainland China may find the EU Taxonomy Compass useful in order to navigate the applicable rules in their sectors of interest. It provides a visual representation of the contents of the EU taxonomy, starting with the Climate Delegated Act, as adopted on 4 June 2021. Looking forward, it will be updated to include future delegated acts specifying TSC for additional economic activities substantially contributing to the climate objectives and the other environmental objectives of the Taxonomy Regulation. The Compass will also reflect reviews of the delegated acts in the future.
On 6 July 2021, the EC also proposed a delegated act, which specifies the content, methodology and presentation of information to be disclosed by large financial and non-financial companies on the share of their business, investments or lending activities that are aligned with the EU taxonomy. An EC press release explains that non-financial companies will have to disclose the share of their turnover, capital and operational expenditure associated with environmentally sustainable economic activities as defined by the Taxonomy Regulation and further specified in the nearly 350-page EU Taxonomy Climate Delegated Act or Commission Delegated Regulation (EU) 2021/2139, which entered into force on 29 December 2021 and began to apply on 1 January 2022.
As Hong Kong businesses interested in investment opportunities may know, the EU taxonomy will guide and mobilise private investment in activities that are needed to achieve climate neutrality in the next 30 years. The existing energy mix in Europe today varies from one Member State to another. Some parts of Europe are still heavily based on high carbon-emitting coal. The taxonomy provides for energy activities that enable Member States to move towards climate neutrality from such different positions. It was announced on 1 January 2022 that the EC will amend the Taxonomy Disclosure Delegated Act and begin consultations with experts so that investors can identify if activities include gas or nuclear activities, and to what extent, so they can make an informed choice.
Taking account of scientific advice and current technological progress, as well as varying transition challenges across Member States, the EC considers there is a role for natural gas and nuclear power as a means to facilitate the transition towards a predominantly renewable-based future. Within the taxonomy framework, this would mean classifying these energy sources under clear and tight conditions (for example, gas must come from renewable sources or have low emissions by 2035), in particular as they contribute to the transition to climate neutrality.
ESG Investing Opportunities
Not only is the EU a key export market for Hong Kong, but its forerunning ESG effort, including the implementation of the sustainable finance and EU taxonomy package, are also set to open up new investment opportunities for Hong Kong companies, traders and investors.
The taxonomy will add certainty as to which activities will be considered sustainable in the EU and how sustainability information is reported. An official endorsement as "green" is increasingly important, for instance, to funds or financial bodies that want to avoid greenwashing and attract customers and investors on the basis of an environmentally friendly portfolio.
The EU sustainable finance taxonomy is a robust, science-based transparency tool for companies and investors to create a common language for investing in projects and economic activities that have a substantial positive impact on the climate and the environment, while embracing disclosure obligations on companies and financial-market participants.
With a detailed list of economic activities and environmental criteria that must be met in order to be labelled as green investments, the "green" stamp will be restricted to genuine climate-friendly projects, making those investments more attractive to private capital while stopping the overstating of projects' environmental credentials.
According to the EC, companies that seek to fund greener activities will have access to new sources of funding through global capital markets. This could, in turn, also benefit businesses from Hong Kong that seek to invest in more sustainable economic activities.
Earlier last year, it was also reported that mainland China would co-operate with the EU in developing green investment standards which, if they could be aligned or co-ordinated with the EU taxonomy, could in turn provide consistency and lessen the administrative burden for those Hong Kong companies, investors and traders that operate in both mainland China and the EU.