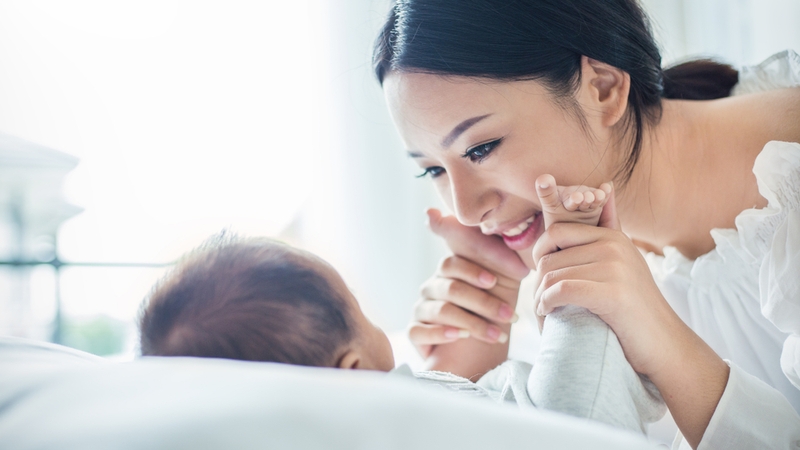 https://hkmb.hktdc.com/en/OTYxNjM5OTY0
Greater Bay Area Start-ups: Smart Technology in Maternal and Child Health
Interview with Song Liguo, founder of Guangzhou iTingbaby Technology Co Ltd
Alice Tsang
Song Liguo had worked in various medical science and technology institutions before he spotted a gap in the market in the lack of medical products catering to the crucial 1,000 days encompassing pregnancy and the first two years of motherhood. With this in mind, he established iTingbaby Technology Co Ltd in Guangzhou, in February 2017, to develop medical products related to gynaecology and pediatrics. Song hoped that with the help of smart technology a new generation of parents might enjoy a healthier, happier and more relaxed time during pregnancy and early parenting. In this interview, he talks about the challenges he encountered in starting his business in Guangzhou, as well as his overseas deployments.
A safe and sound environment
The iTingbaby team has less than 10 members, who together have many years of experience in the development of medical devices and apps, and of marketing and operations. The company currently has two core product ranges, namely its smart MSI (mother sound intervention) system and its premature baby monitoring products.
"The smart MSI system creates for premature babies the sound inside the mother's body," said Song. "Babies have basic sensitivity to sound by 24 weeks of their growth. After this, the sound they are most familiar with inside the womb is their mother's heartbeat. But premature babies are put in incubators after they leave the womb early. Not being able to hear their mother makes them feel anxious and unsafe. Amir Lahav, assistant professor of pediatrics at Harvard University Medical School, said in a research paper published in 2015 that the simulation of maternal heartbeat or voice in the incubator can stimulate the premature baby's hearing, as well as cerebral cortex development."
Song said iTingbaby's MSI system is a brand-new solution. "We have developed a commercial solution – from collection of the mother's voice, to sound synthesis, to transmission, to hospital. The system retains the sound environment of the womb or simulates similar sounds to stimulate the hearing and speech development of premature babies. Since the MSI system is not a medical device, it is exempted from clinical testing for registration with the National Medical Products Administration. However, clinical testing is required for future additions of artificial intelligence (AI) technology."
The MSI system is available in three editions. The home edition is for use at home; the medical edition is for use in neonatal wards in hospitals; and the business edition is geared towards partner companies. The system is now produced in Guangzhou.
At the same time, iTingbaby is also developing premature birth monitoring products using AI. Song said pregnant women's anxiety tends to increase as their due date approaches. The products being developed by iTingbaby will allow expectant mothers to monitor the conditions of their foetus at home through analysis of the electromyogram indices of uterine contraction, allowing them to judge and monitor their labour status and allay any anxieties. "We intend to start from expectant mothers with premature tendencies and eventually extend our project to cover regular pregnancy monitoring," he added. "Since premature monitoring products are classified as medical devices, clinical testing is required, thus prolonging the development cycle."
Song attaches great importance to intellectual property because of the innovative nature of iTingbaby's products. He said the company has 27 patents pending, including 14 invention patents. Among these, five invention patents have been granted.
Targeting public hospitals
The company has set its sights on both corporate (hospital) and individual (consumer) customers, but has found that as a start-up business the investment costs required to target the consumer market are too high. Song said: "Since we have established good connections with medical device agents and hospitals, we have confidence in opening up the corporate market. As for the consumer market, we have consulted different mother groups and obtained a lot of valuable opinions. They also like our products very much. We began venturing into the consumer market in July 2019. With the high costs of marketing and operations, advertising and market education, the investment return was barely satisfactory, which was why we halted our consumer market business in August 2020."
Public hospitals are major clients of iTingbaby today. Song explained: "We have Grade 3A general hospitals and prefectural- and city-level public hospitals as our target clients. These hospitals have strong neonatal departments and are well-equipped. They receive pregnant women with symptoms of premature birth from all parts of the country. We will start co-operating with private hospitals after our premature birth monitoring products have been upgraded for regular monitoring."
Success factors
Song believes there are three factors behind each successful start-up. He said: "First, the spirit of entrepreneurship. This means being able to immediately evaluate the situation and make corrections when we encounter difficulties. For example, after finding out that the consumer market is not performing as expected, we switched our attention to the corporate market. Second, ample funds. Scientific research companies involve huge investment but a longer payback period than other businesses. Sufficient operating funding is needed to support development. Third, talent recruitment. As a start-up company, we cannot afford to offer high salaries and employ too many people. Our staff may need to tread beyond their familiar waters."
It is understood that iTingbaby has indeed come across difficulties in financing. Song said: "Our first round of financing came from a Chinese American. When we started our Pre-A round of financing, we encountered many difficulties in spite of our efforts to contact investors because our core products cannot generate immediate profits or have good sales figures."
Guangzhou's start-up atmosphere
Song chose Guangzhou to start his business not just because it is his home but also because as one of the core cities in the Guangdong-Hong Kong-Macao Greater Bay Area (GBA), the government of Guangzhou offers substantial support to entrepreneurs. "Our R&D investment cost is higher than in other businesses," he said. "Fortunately, as an accredited 'high-tech enterprise' in Guangdong, we are eligible for funding support and reduction of office rental. However, we still hope the government would increase tax subsidies for entrepreneurs. In the Nansha Industrial Park where we are located, business inspections and entrepreneurship counselling are conducted on a quarterly basis to promote exchanges and contact between businesses."
What is the atmosphere for innovation and entrepreneurship in other GBA cities? In Song's opinion: "Objectively speaking, Shenzhen's atmosphere is indeed better than that of Guangzhou. I have worked in Shenzhen before. There are many energetic and motivated young people and foreigners there and they are all working hard to come up with new ideas and make new trials. They are also willing to take up new challenges. Dongguan and Foshan have a strong manufacturing base but there is nothing special about their innovation atmosphere. Hengqin in Zhuhai has a lot of co-operation with Macao and has supportive policies for innovation. It has also nurtured a number of successful companies in the healthcare field."
Domestic foothold first
Faced with an ageing population and the need to improve the nation's demographic structure, the Chinese government has introduced many measures to encourage childbirth. For example, in May of this year it announced a new policy of allowing couples to have up to three children and in July it issued guidelines on further "reducing the burden of homework" and "after-school tutoring" for students during compulsory education years. Song is optimistic about China's baby and maternity market. He said: "The number of newborns on the mainland is still falling, but all items of family expenditure on babies are on the rise. We are now focusing on the China market because hospitals in the west encourage mothers to go to the neonatal ward to hold their premature babies and the sense of mother-child separation is less serious. Mainland hospitals are very careful about the monitoring of premature babies. Through our MSI system, babies can hear their mother's heartbeat or voice even in their incubators, which helps stimulate the healthy development of their brain."
On plans for overseas expansion, Song said: "Our partners in Italy, Sweden, the US and Brazil will help us open up the local markets, but we still need to apply for different certifications in the light of funding and local medical device regulations. These include the CE mark in Europe, USFDA (United States Food and Drug Administration) certification in the US, and ANVISA (Brazilian Health Regulatory Agency) certification in Brazil."
For Southeast Asia, Song said he hoped to open up these local markets through Hong Kong. "Many of Hong Kong's certification authorities have strong influence in Southeast Asia," he commented. "Being able to sell our products in Hong Kong will be of help to us in venturing into the Southeast Asian market. We hoped that mainland-registered medical products will be able to directly gain accreditation in Hong Kong or can be sold in Hong Kong after simple record-filing procedures, and vice versa, because certification of medical products takes time and is costly, giving start-ups a lot of pressure. It will be great news for start-ups if a pilot scheme can be launched in the GBA to align the laws and regulations governing medical products."
Note 1: This article forms part of a joint study conducted by HKTDC Research and HSBC: "Exploring the Greater Bay Area Start-up Ecosystem"
Note 2: The opinions and views expressed are those of the interviewees and do not necessarily reflect the views of HKTDC or HSBC. HKTDC or HSBC shall in no way be responsible for the accuracy, completeness or timeliness of the information provided by them, and for any loss associated with the use of such information.
Medical & Healthcare Services
Technology
Baby Products
Hong Kong
Mainland China
Hong Kong