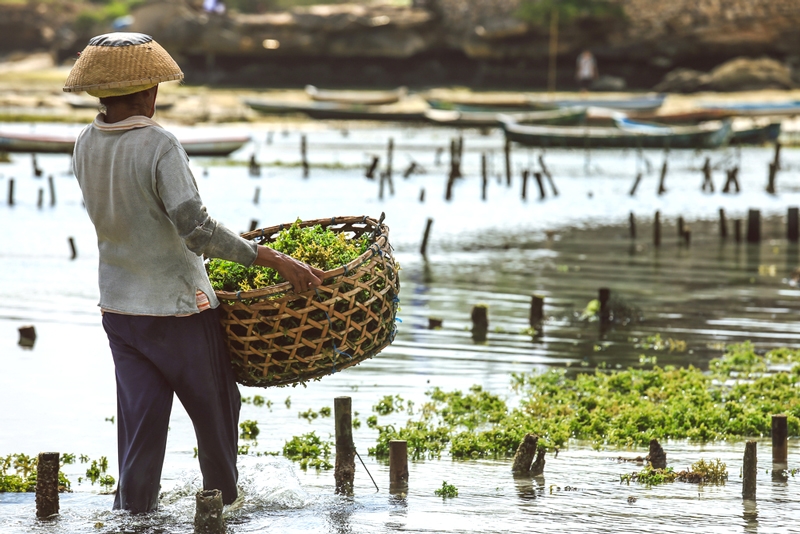 https://hkmb.hktdc.com/en/OTYxMDcxODMw
Producing in Multiple Countries Effectively Reduces Costs for Marine Science Firm
Interview with Freeman So, Chief Financial Officer and Secretary, Green Future Food Hydrocolloid Marine Science Co Ltd
Doris Fung
Southeast Asia is rich in natural resources and its tropical climate is well suited to agriculture. Hong Kong-based Green Future Food Hydrocolloid Marine Science Co (Greenfresh) imports seaweed from Indonesia to produce food hydrocolloids, commonly used in food production and processing. Covid-19 has blocked retail channels for some end products featuring hydrocolloids, leading to a temporary drop in market demand for hydrocolloids. However, the pandemic has also given Greenfresh a chance to acquire production facilities in Indonesia and build a transnational production line across Fujian province and Surabaya in Indonesia. 
Greenfresh's Chief Financial Officer and Secretary Freeman So explained the company's decision, saying: "Southeast Asian countries have actively invested in human resources and greatly improved their business environment in recent years. When the pandemic eases, Greenfresh hopes to accelerate its ventures into Southeast Asian markets and further enhance the capacity of its production lines in Indonesia." 
Diversified Investment Strategy 
Seaweed and food hydrocolloids extracted from seaweed or plant and other natural sources are mainly used in the production and processing of food, such as candy, jelly, bread, milk and meat products to give food a richer texture and a higher moisture content that prolongs its best before date. 
Greenfresh's hydrocolloid products use seaweed as a raw material, more than 90% of which is imported from Indonesia, where it grows in nearshore waters. So said: "Indonesia is an island country. Its excellent water quality is most suitable for seaweed growth. Local fishermen and farmers alternate between fishing and seaweed farming as the market demands, thus giving Greenfresh had been importing seaweed from Indonesia for processing in Fujian for the past 10 years, but as production cost continued to rise, the company began to adopt a multiple foothold strategy and completed its acquisition of semi-refined carrageenan production facilities in Indonesia in April 2021. For one thing, the average labour costs in agricultural regions of Indonesia are cheaper than in China's coastal cities. The proximity of processing plants to raw material cultivation sites also helps save on transportation time and costs. 
So said: "In setting up our production lines in Indonesia, we mainly hope to lower production cost and increase the competitiveness of our products. We also hope to better prepare ourselves for the vast Southeast Asian markets. We sell about 45% of our products in the domestic market and export more than 50% of our products to Europe, the Americas and other Asian countries. Our main clients are big food processing companies and purchasers. 
"Currently per-capita income is relatively low in Southeast Asian markets and people there do not consume a lot of processed food at present. Sales in these markets account for less than 10% of our total sales."
Despite the current lack of demand in the region, So is optimistic about the potential of Southeast Asian markets. Explaining his reasons, he said: "Hydrocolloids are mainly used in food and the huge population in Southeast Asia is indicative of the demand for food. Based on the experience of the Hong Kong and mainland food market, the more urbanised the consumer market, the greater is the demand for processed food. We expect to see a substantial increase in the consumption of processed food in Southeast Asia in future." 
Investor-friendly Indonesia 
So said Greenfresh initially planned to build a processing plant in Indonesia, but the land bought for the project was repossessed by the Indonesian government for toll road construction. Coincidentally, a local factory found it extremely challenging to expand its client base due to the Covid-19 outbreak and hoped to collaborate with a leading industry player to scale up its business as quickly as possible and achieve win-win results. Considering the worsening pandemic situation and the time needed to apply for permission to buy land again for the factory, Greenfresh changed its strategy by purchasing the present seaweed processing facilities, helping to bring in new technologies and clients and achieving cost-effective production capacity in the shortest possible time. 
Although not able to travel to Indonesia for the acquisition due to the lockdown, So had no doubt as to the wisdom of the initiative, saying: "Greenfresh had the good fortune of having access to a team of familiar lawyers after years of doing business in Indonesia, who assisted us in handling the relevant legal due diligence and ensuring compliance with all the legal requirements and Hong Kong Stock Exchange regulations. Greenfresh also sent a technical team to evaluate the acquisition target's asset quality, capacity and how advanced its production lines were. 
"As we mainly communicate by remote means because of the pandemic, being on the same page is very important. Had we not had lawyers we had previously worked with in the other country we probably would have had to spend more time and would have communicated less effectively. Any teething problems may also have delayed the acquisition process." 
Looking back over the deal, So is convinced that the Indonesian government adopted an open and positive attitude towards the foreign investment, saying: "Greenfresh is an R&Ddriven manufacturing business. We will look to employ a significant number of local people, bringing benefits to the domestic economy. As a socially responsible company, we place great emphasis on compliance with local legal requirements in running the business, including updating the tax authorities of our tax liability on a regular basis. With the help of our team of local lawyers, we had no problem communicating with the Indonesian government overall." 
Hong Kong: Financing Support  
According to So, Greenfresh's headquarters in Hong Kong is mainly responsible for supporting the group's trade and financing activities. Expanding upon this, he said: "In addition to IPO financing, Greenfresh also raises funds for its business activities through bank loans. Initially, we hope to increase the loyalty of Indonesia suppliers by making relatively prompt payments for seaweed purchases. We do, however, recognise that, it takes time to collect payments in production and marketing. Credit financing allows us to buy raw materials with loans and give our mainland production lines sufficient time for production and processing within the repayment period." 
In So's opinion, Hong Kong banks offer flexible and low-interest credit financing plans to businesses. Outlining this in more detail, he said: "The average lending rate is 2-3% in Hong Kong, 5-6% on the mainland, but more than 10% in Indonesia. In the purchase of the production lines in Indonesia, Hong Kong banks were very proactive and provided Greenfresh with a suitable financing plan based on the strategic intention and projected returns of the acquisition." 
Greenfresh hopes that Hong Kong can play a bigger role in marketing to European and American customers in future. At present, its sales director and most of its account managers are based at its sales centre in Xiamen, which is only a 45-minute drive from its production base in Zhangzhou. 
Expanding upon the company's structure, he said: "We chose Xiamen as our sales centre at that time because we hoped to facilitate communication with the production lines and arrange delivery and quality inspection. It was also closer to banks, accountants, lawyers and other professional service providers. Given the advance of technology, however, remote management is now more of a possibility. 
"Hong Kong people are conversant in foreign languages and know the European and American markets well. We hope to expand our Hong Kong sales team to provide a better service to our European and American clients in the territory." 
Rising Environmental Awareness  
As the market is increasingly concerned about environmental protection, So was keen to highlight the fact that Greenfresh had started expanding and improving its sewage treatment facilities several years back, saying: "In the past, many of our smaller-scale production lines were forced to suspend operations or even shut down due to environmental protection issues. For this reason, in recent years our clients have been more concerned about the environmental compliance of our production lines in order to ensure supply chain sustainability." 
Indeed, growing environmental awareness on the mainland has led to increasingly stringent environmental protection requirements from local government authorities. By comparison, environmental protection requirements are more basic in Indonesia, with its government giving manufacturers more time to satisfy environmental requirements. 
Greenfresh is actively trying to gain a better understanding of Hong Kong's ESG (environmental, social and governance) requirements and its board of directors has already set the relevant environmental performance targets. Acknowledging the importance of this, So said: "Facing increasingly strict environmental protection regulations, Greenfresh will strive to further raise its environmental protection level and ensure a stable supply chain for its clients, while enhancing the group's competitiveness through sustainable developments over the long-term."
---
The opinions and views expressed are those of the interviewees and do not necessarily reflect the views of UOB or HKTDC. UOB or HKTDC shall in no way be responsible for the accuracy, completeness or timeliness of the information provided by them, and for any loss associated with the use of such information. 
Note: This article forms part of a joint study conducted by HKTDC Research and UOB: "Trade and Investment Between GBA and ASEAN and the Roles of Hong Kong".
Please click here for the full report.
Food & Beverages
Finance & Investment
Hong Kong
Mainland China
ASEAN
Southeast Asia
Hong Kong
Indonesia