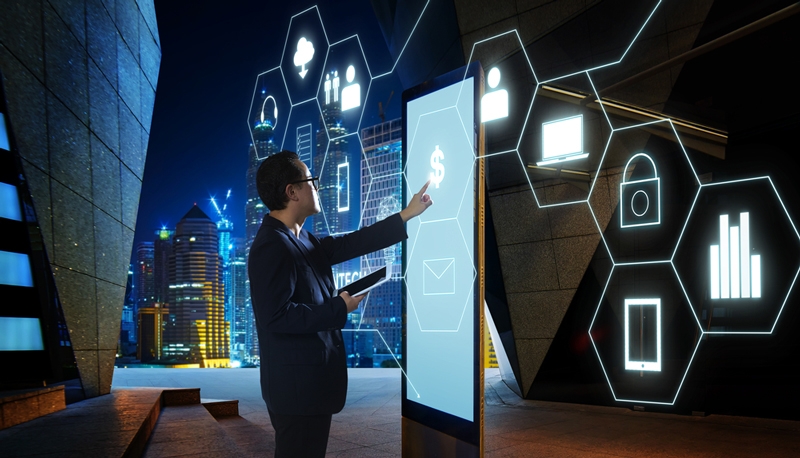 https://hkmb.hktdc.com/en/OTY3MDQ4Mjk5
ASEAN Financial Services Embrace Digital Transformation
Interview with Matthew Chen, CEO, Sunline Holding (HK) Ltd
Doris Fung
Financial technology (fintech) is indispensable to financial services such as banking, securities and insurance, but efficient financial software systems are needed to capture new opportunities in internet finance. Shenzhen Sunline Tech Co (Sunline Tech), incorporated in Shenzhen in 2002, is a leading mainland supplier of fintech solutions. It went public in 2012 as a provider of systems and software for internet finance and big data analytics, the core business of financial institutions. Matthew Chen, CEO of its holding company in Hong Kong, saw considerable room for fintech development in ASEAN countries, with their huge populations but relatively backward banking systems. Benefiting from the policy incentives offered in the Guangdong-Hong Kong-Macao Greater Bay Area (GBA), Sunline Tech plans to make Hong Kong its regional headquarters for ventures into Southeast Asia.
Inclusive Financing
Sunline Tech is one of the biggest fintech companies on the mainland. It has hundreds of clients, nearly 80% of which are banks. The remaining 20% include insurance and securities companies as well as financial and asset management institutions. It began venturing into ASEAN countries a few years ago and now has a business presence in seven countries, with subsidiaries in Malaysia, Thailand, Indonesia, the Philippines and Singapore. It has a joint venture business in Indonesia and has staff based in Vietnam.
In Chen's view, the large populations and underdeveloped banking services of ASEAN countries give Sunline Tech vast room for development. He explained: "For example, Indonesia is the most populous country in Southeast Asia. It has many small islands and people living on these islands have no access to banking services. Many people in Indonesia do not even have bank accounts. There is a great potential demand for financial services and fintech can help achieve inclusive financing in that country. We used our experience in developing internet finance in mainland China over the past 10 and more years to open up the Southeast Asian market. We have developed nearly 20 banking clients in Southeast Asia in the past three years and have been rated as one of the leading fintech companies in the Asia-Pacific region by many international market research companies."
Knowing the Market
Sharing his years of experience in opening up the ASEAN market, Chen said: "Each ASEAN country has its own characteristics. Religious belief, cultural life and customs vary from country to country. It is necessary to fully understand these and do as the Romans do when in Rome. Singapore has the most mature financial industry, followed by Malaysia and Indonesia." Sunline Tech's employees in Southeast Asia today mainly come from Malaysia. Labour costs in Malaysia are lower than in Singapore. In addition, Malaysia has a large population of Chinese who can speak many languages, including English, Cantonese and Malay.
Chen has a profound understanding of the challenges involved in opening up the ASEAN markets. "We are a market leader on the mainland but are not well-known overseas, which makes it difficult for us to attract new clients. We also have difficulty recruiting fintech talent in these countries. Enterprises may find it advisable to approach overseas markets by seeking local partners, forming joint ventures or through acquisitions. Financial and tax matters pose another difficulty. Policies differ from one ASEAN country to another. Enterprises need to have a thorough understanding of local laws and restrictions when handling profits in different countries."
Hong Kong as Regional Headquarters
Sunline Tech first ventured overseas in 2015 with Hong Kong as its first stop. At that time, it bought a Hong Kong company which had been dealing in forex trading software for more than 20 years. About 12 banks in Hong Kong used its software to support their forex trading. It set up Sunline Holding (HK) Ltd in Hong Kong after this acquisition and gradually put all overseas and Hong Kong subsidiaries under the Hong Kong holding company.
Chen said he hoped the implementation of the current GBA policy incentives would strengthen Hong Kong's role as the group's regional headquarters. "Our present focus is on the development of a capital management centre for both forex management and cash management, especially the handling of exchange rate fluctuations and risks of different currencies. We are a Shenzhen-based fintech company, and Hong Kong is undoubtedly our first choice for setting up our regional headquarters or capital centre for Southeast Asian countries." He made special reference to the services of InvestHK of the HKSAR government. "We have talked with InvestHK and other government agencies and they have recommended many other relevant organisations to us. Hong Kong's vast commercial network is of great help in opening up overseas markets."
On the other hand, Hong Kong is also the ideal place for Sunline Tech's IPO listing of overseas business. "Hong Kong has an active capital market and many mainland fintech companies are hoping to get listed in Hong Kong. We plan to combine our overseas business for main board listing in Hong Kong and we are working in this direction."
Empowering Digital Transformation
Chen said Sunline Tech is capitalising on the Covid-19 pandemic to further expand its business. "Cash transactions are still common in many Southeast Asian countries. The pandemic has made the banking sector aware of the pressing nature of digital transformation and the need to tap the pool of potential clients. Cross-border trade between ASEAN countries also needs to go online. As this change involves payments, transfers and wealth management products, financial systems need to undergo transformation. Sunline Tech has seized this opportunity to assist banks in bringing their offline business online. Thanks to these and other factors, our sales have increased during the pandemic."
In future, Sunline Tech will continue to expand its Southeast Asian markets and take the opportunity offered by the Belt and Road Initiative to open up markets in the countries involved. "We are focusing our energies on Asia at present but we will continue to expand to other regions in the future, and we hope to break into Africa through the Middle East. We have already established initial ties with local partners in several Middle Eastern countries. We hope to gain access to North Africa, South Africa and even the entire African continent through the United Arab Emirates and Saudi Arabia before looking to the Latin American markets."
The opinions and views expressed are those of the interviewees and do not necessarily reflect the views of UOB or HKTDC. UOB or HKTDC shall in no way be responsible for the accuracy, completeness or timeliness of the information provided by them, and for any loss associated with the use of such information.
Note: This article forms part of a joint study conducted by HKTDC Research and UOB: "Trade and Investment Between GBA and ASEAN and the Roles of Hong Kong".
Please click here for the full report.
Hong Kong
Mainland China
ASEAN
Hong Kong