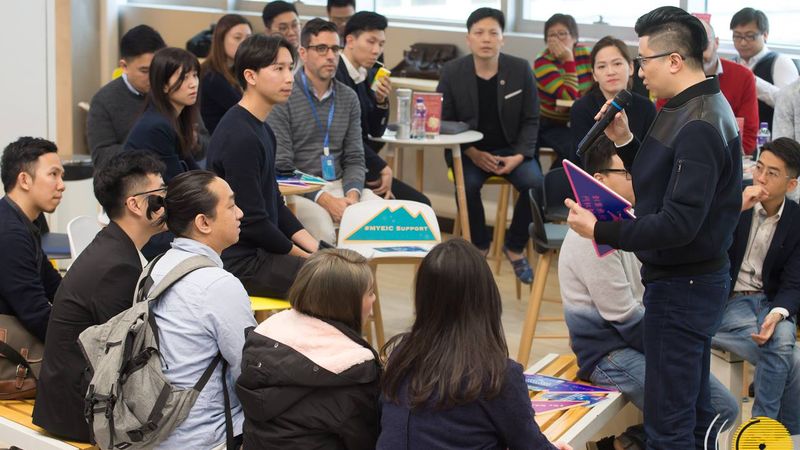 https://hkmb.hktdc.com/en/OTY2OTA4Nzc2
Greater Bay Area Start-Ups: Macao the Link Between China and Portugal Entrepreneurs
Interview with Wei Lixin, Vice President, Macao Young Entrepreneur Incubation Centre
Alice Tsang
The government of the Macao Special Administrative Region (SAR) has devoted great effort to promoting youth innovation and entrepreneurship over recent years. After launching the Macao Young Entrepreneur Incubation Centre (MYEIC) in 2015, the government officially signed an agreement with Parafuturo de Macau Investment and Development Limited (PFM)1 on 18 October 2017 commissioning PFM to operate the incubation centre. The MYEIC provides a range of up-to-date support facilities and professional services for Macao entrepreneurs or people wanting to contribute to the SAR. Wei Lixin, vice president of the MYEIC, shared with HKTDC Research the characteristics of start-ups in Macao and how Macao can leverage its advantages as a bridge between China and Portugal to help local start-ups tap into Portuguese-speaking markets.
Macao's start-up environment
The MYEIC adopts the resource sharing and collaboration model to provide a full range of basic facilities and professional support services for its members round the clock. The one-stop services it offers include office space, legal and accounting consultancy, entrepreneurship training, road show marketing, and investment-capital matching. As of June 2021, the incubation centre had 233 members. Currently, 54 incubation projects are in progress, most being in the technology sector (over 50%) while the rest are in the fields of culture and innovation, commercial and trade services, and medical health.
Wei explained: "As entrepreneurs encounter different challenges at different stages, the MYEIC offers stepwise matching services such as inviting mainland and overseas experts to the Innovation and Entrepreneurship Think Tank to 'examine' start-up projects, organising road shows, supporting business matching and hosting 'Dinners with CEOs' for first-time and serial entrepreneurs and those whose projects are entering the incubation phase. These activities can not only broaden the horizons of entrepreneurs but also help them keep abreast of the latest developments in different sectors." Wei added: "By offering support and assistance of various kinds, the incubation centre has created a youthful and entrepreneurial atmosphere which encourages young people to develop businesses in different sectors and help advance the country's development strategy."

Summarising the three major challenges faced by Macao start-ups, he said: "First of all, there is a shortage of labour. Macao has a population of about 680,000 and an unemployment rate that stayed at the relatively low level of 1.8% prior to the pandemic. As of August 2021, its overall unemployment rate stood at 2.8%, while the figure for local residents was 3.7%. Despite this, statistics show that the labour costs for Macao-based entrepreneurial ventures remain relatively high. Furthermore, there are not enough experienced professionals in the technology, medical, financial sectors. In the past, Macao's economic growth relied heavily on the tourist, entertainment and gaming industries and so professional personnel are in short supply, and often have to be recruited from outside. Lastly, we suffer from capital constraints. Macao is a small market and businesses have to look to other markets for growth. For start-up companies, this, coupled with the drastic contraction in tourist numbers during the pandemic, is a challenge." In view of this, the MYEIC is constantly looking for platforms to support Macao start-ups seeking to expand their markets.

Leveraging entrepreneurship platforms
With the support of the Economic and Technological Development Bureau (DSEDT) of the Macao government, the MYEIC proactively co-operates with its mainland counterpart. Under the auspices of mutual recognition of youth entrepreneurship projects, the Macao centre encourages Macao youths to move into the mainland incubation centre, where they will find help to start businesses on the mainland. The MYEIC currently collaborates with a number of youth innovation entrepreneurship bases in the nine mainland GBA cities, including Chuang Hui Gu (hub of creativity, innovation and entrepreneurship - cultural and creative community for young people in Guangdong, Hong Kong and Macao) and the Guangdong-Hong Kong-Macao (International) Youth Entrepreneur Hub in Guangzhou; the Macao-Hengqin Youth Entrepreneurship Valley (Inno Valley) in Zhuhai; and the Zhongshan E-Park Entrepreneurship Base (the Guangdong-Hong Kong-Macao Youth Innovation and Entrepreneurial Cooperation Platform) in Zhongshan.
In addition to targeting the mainland GBA market, Macao also seeks to expand the markets in Portuguese-speaking countries for start-ups taking advantage of its historic links and the shared Portuguese language. In June 2018, PFM signed a co-operation agreement with Beta-i, a well-known Portuguese incubator, whereby members of the MYEIC can, on the recommendation of the incubation centre, move into Beta-i's incubation base or take part in its projects. This arrangement supports young mainland and Macao entrepreneurs seeking to innovate and start businesses in Portugal. The DSEDT launched the Youth Innovation and Entrepreneurship Exchange Programme of China and Portuguese-speaking Countries as a venue for promoting interaction and exchanges among the young entrepreneurs in Macao, mainland China and Portuguese-speaking countries. The exchange programme will strengthen Macao's role as an economic and trade co-operation platform between China and Portugal and encourage young entrepreneurs to visit Portugal to learn about the local market and to identify opportunities for co-operation and development. This programme is currently on hold as a consequence of the pandemic.
PFM signed a co-operation agreement with Hong Kong Cyberport in 2019. Both parties pledged to share resources and advantages with entrepreneurs in incubation, and to jointly establish a platform for Hong Kong and Macao entrepreneurs to access entrepreneurship resources, build an extensive market network, and enhance business skills and knowledge. Under the agreement, the MYEIC nominates entrepreneurship projects with potential for the Cyberport Creative Micro Fund (CCMF) and Cyberport Incubation Programme, while Cyberport recommends start-ups to participate in the MYEIC's incubation programme and helps their projects establish a foothold in Macao and Portuguese-speaking countries. In addition, both parties provide professional consultancy services and training in technical and business knowledge to entrepreneurs they support.
The Golden Track
Many Macao start-ups wish to tap into the mainland market. Because of the fierce competition on the mainland, the fastest and most effective way of gaining recognition is participating in start-up contests. Wei said: "Many investment institutions and international enterprises pick out start-ups with potential from contests, while entrepreneurs can communicate with other enterprises and investors and build personal networks through participating in contests." The MYEIC organises the Macao Youth Innovation and Entrepreneurship Competition every year. Winners then represent Macao in competitions on the mainland such as the China Innovation & Entrepreneurship Competition (organised by the Ministry of Science and Technology) and the China International College Students' "Internet+" Innovation and Entrepreneurship Competition (organised by the Ministry of Education).
Among the awards received by projects nominated by the MYEIC are: the global winner of the Create@Alibaba Cloud Startup Contest; top 12 position in the Fosun Protechting InnoStar Global Innovation Competition; the gold award of the Beijing-Tianjin-Hebei & Guangdong-Hong Kong-Macao Youth Innovation and Entrepreneurship Competition; the gold award of the China International College Students' "Internet+" Innovation and Entrepreneurship Competition; and the bronze award of the Qianhai Guangdong-Hong Kong-Macao-Taiwan Youth Innovation and Entrepreneurship Competition.
Strengthen start-up exchanges
According to Wei, given that there are certain similarities between Hong Kong and Macao, the two cities can complement each other in fostering start-ups by taking advantage of the mainland GBA cities. "Land supply in Hong Kong and Macao is tight and the costs of human resources and operation are higher than on the mainland. This has exerted considerable pressure on start-ups. Since Hong Kong and Macao lack production capabilities while GBA mainland cities such as Shenzhen, Dongguan and Guangzhou have highly concentrated manufacturing zones, start-ups in the two SARs should focus their attention on the GBA. As the local markets in Hong Kong and Macau are small, start-ups at a certain stage of development will seek to expand their businesses into larger markets. The GBA has a population of over 80 million sharing the same language, culture and environment as Hong Kong and Macao, so it provides an ideal location for start-ups to further expand." He added: "The scientific research base in Hong Kong universities is well developed and generates many ideas and projects with great spin-off potential. For instance, Da-Jiang Innovations (DJI) and Huolala are successful start-up companies built around innovative ideas coming out of Hong Kong universities."
Where expanding to overseas markets is concerned, Wei pointed out that Hong Kong and Macao start-ups should take full advantage of local resources. He remarked: "Hong Kong, as an international business hub, has close business ties with markets in Europe, America and Southeast Asia, and many international corporations have set up offices in Hong Kong. Start-ups can therefore get in touch with overseas companies via Hong Kong. Meanwhile, Macao, due to its historical background, has forged close and extensive connections with Portuguese-speaking countries covering a total population of over 200 million. It plays the unique role of a commercial and trade co-operation platform between China and Portuguese-speaking countries. Depending on the nature of their projects, start-ups can choose the appropriate platform as their springboard for 'going out' from the GBA."
Under the impact of Covid-19, many exchange activities have moved online. Wei expects that once the pandemic is over, exchanges between start-ups in Guangdong, Hong Kong and Macao will resume. When this happens, start-ups should make good use of the unique advantages of the GBA, such as lower operating costs and ample supply of technical personnel, and capitalise on the in-depth integration of the GBA to move forward.
Note 1: This article forms part of a joint study conducted by HKTDC Research and HSBC: "Exploring the Greater Bay Area Start-up Ecosystem"
Note 2: The opinions and views expressed are those of the interviewees and do not necessarily reflect the views of HKTDC or HSBC. HKTDC or HSBC shall in no way be responsible for the accuracy, completeness or timeliness of the information provided by them, and for any loss associated with the use of such information.
---
1 Parafuturo de Macau Investment and Development Limited was established by the Macao Special Administrative Region government on 24 November 2015.
Hong Kong
Mainland China
Hong Kong
Macau