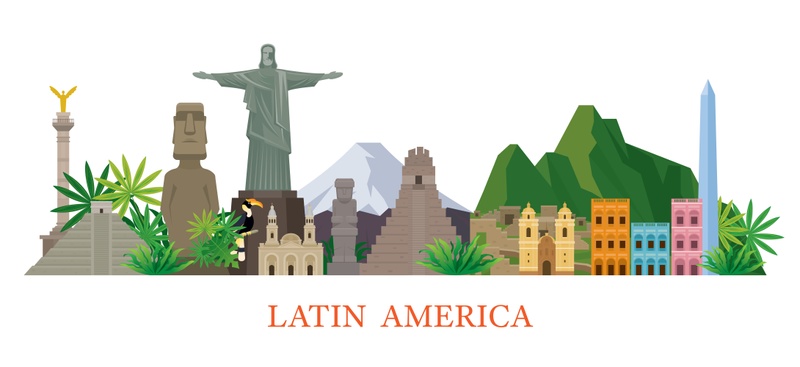 https://hkmb.hktdc.com/en/OTU4MzA4NDgz
Latin American E-Commerce: A Fast-Growing Phenomenon
Louis Chan, Nicholas Fu
The Covid-19 pandemic has spurred phenomenal growth in e-commerce in Latin America. As more and more consumers turn to online shopping via mobile phones, shopping platforms are luring cross-border e-commerce traders to expand into this part of the world. Countries in the region are also ramping up efforts to foster e-commerce, ushering in a period of vibrant market development over the next few years.
HKTDC Research hosted a webinar, "The E-Commerce Route into Latin America", in December 2021. Speakers Nicholas Fu, Economist (Global Research) with HKTDC Research, and Virginia Hui, Greater China Cross Border Trade Seller Consultant from Mercado Libre, discussed the e-commerce and economic landscape in Latin America and shared insights on how Hong Kong businesses can succeed there. The webinar was moderated by Louis Chan, Principal Economist (Global Research) at HKTDC Research.
Huge Market in Brazil and Mexico
Fu first spoke on the economic landscape and latest e-commerce trends in the Latin American market. He noted that Brazil and Mexico are the biggest markets in Latin America. Brazil had the largest share of GDP in 2020, with 33%, followed by Mexico at 25%. Brazil also boasts the biggest population in the region with over 200 million people, while Mexico's population stands at 130 million. Chile has the highest per capita income among the top 10 Latin American economies, at US$13,000, followed by Costa Rica at $12,000, Argentina at $8,500 and Mexico at $8,500. The region's average per capita income is $8,100.
The biggest cities in these countries are usually their capitals which are relatively highly populated, Fu said, adding that in Argentina, Peru and the Dominican Republic, three quarters of the countries' entire populations live in their respective capitals. Meanwhile, the capital cities of Chile and Guatemala account for close to half their countries' total populations, and a wholesale volume constituting 90% of the country's total wholesale trade.
Fu highlighted the three countries of Chile, Argentina and Mexico for particular attention, pointing out that in addition to their large populations they have significant per capita income and spending power. Hong Kong companies should seek out partners to venture into the local logistics, transport and wholesale sectors, through which they can probably reach most of their target customers.
Stable Economies
Levels of inflation in the top 10 Latin America economies apart from Argentina remain steady, ranging from 2% to 5% in 2020. In the past few decades Argentina has periodically seen hyperinflation, most recently in 2019 when the official inflation rate reached a staggering 50%, as the Central Bank printed money to pay off foreign debts. To resolve its economic crisis, Argentina implemented forex and price control measures in 2020 and held discussions with the International Monetary Fund (IMF) on debt matters in December 2021.
Where trade is concerned, most Hong Kong exports to the top 10 Latin American economies from 2018 to October 2021 were bound for Mexico and Brazil, while a considerable volume also went to Chile, Argentina, Colombia and Peru.
Mobile Savvy Consumers
As the pandemic rages on, Latin American countries have accelerated efforts to promote vaccination. By December 2021 over 85% of the population in Chile had received two vaccine doses. Meanwhile, online purchases have become a new market norm, and one survey shows that 73% of Latin American consumers have downloaded mobile phone shopping apps during the pandemic. The online purchase ratio in Peru and Colombia is close to 70%, whereas the share of online bank accounts in Chile is over 70%.
The first three places of the top 10 online shopping platforms in Latin America in 2020 were all occupied by Mercado Libre (or Mercado Livre) headquartered in Argentina, selling to the populous countries of Brazil, Mexico and Argentina. Another platform favoured by Latin Americans is Falabella whose headquarters are in Santiago in Chile.
Looking ahead, Fu referred to a survey which shows that 70% of online shoppers said they would continue shopping online and using electronic payments after the pandemic. Consequently many Latin American countries are taking the opportunity to boost e-commerce development. Colombia has rolled out policies to foster e-commerce, while other countries have eased restrictions on internet and mobile phone services, with Chile lowering taxes on mobile phone purchases. Fu expects brisk growth in e-commerce in most Latin American countries in the next few years, predicting that the market in Brazil, Mexico, Chile, Colombia and Peru will grow by over 35% annually.
Mercado Libre: Rooted in Latin America
Virginia Hui, Greater China Cross Border Trade Seller Consultant with Mercado Libre, spoke of the market potential in Latin America and her company's support for Hong Kong businesses breaking into e-commerce in the region. Hui remarked that Latin America is a blue ocean market where online retail accounts for a mere 5% of total retail sales and prospects for growth are considerable. The region has a population of over 650 million, an internet coverage rate of 60% and an online shopping population of over 200 million. In 2020, online sales surged by 36% year-on-year, making it one of the fastest-growing e-commerce markets worldwide.
Hui pointed to a study of the top 10 nations worldwide for growth in cross-border e-commerce sales volume and shopper numbers in 2020. In terms of sales volume growth, three Latin American countries were on the list, namely Argentina (up 100.6%) topping the list, Mexico (up 65.2%) ranking fourth and Brazil (up 50.1%) ranking seventh. For increase in shopper numbers, the second and third places went to Brazil (up 14.2%) and Mexico (up 10.7%) respectively. Going forward, Hui anticipates that young online shoppers will be the main drivers in growing the market.
Founded in Buenos Aires in 1999, Mercado Libre became the first Latin American technology company listed on the US' Nasdaq stock market in 2007. The company offers solutions for online shopping, sales, marketing and payments to businesses and individuals, and operates its own logistics services. Its business spans 18 Latin American countries and territories including Argentina, Brazil and Mexico.
Mainland Promotion Team
To expand its business, Mercado Libre established a trade promotion team based in Shenzhen in July 2019. It provides localised solutions to help address challenges faced by mainland and Hong Kong sellers, including a language tool on its website to translate English into Latin America's local languages (mainly Spanish and Portuguese). Cross-border sellers can set up just one online shop on the company's platform to sell to all the Latin American countries where Mercado Libre has a presence. No monthly rental is charged on the online shops, and free advisory and support services are offered to new clients in the first year.
On the logistics front, Mercado Libre has built its own overseas warehouse in Mexico, to which Hong Kong companies can ship their goods for last-mile delivery. Efforts are also made to help cross-border e-commerce traders sell via multiple points and multiple channels in Latin America, with sales points now covering Mexico, Brazil, Chile and Colombia. As it usually takes two weeks to ship goods to the Mexican warehouse and another week to reach the final destination, Hong Kong companies are advised to allow three weeks for goods delivery.
Given the complicated and fast-changing cross-border trade policies and regulations in Latin America, Mercado Libre strives to support cross-border e-commerce traders in making the right choices. For instance, Hui noted that import tariffs are due on online purchases valued over $40 in Brazil. Consequently, the company's Brazilian website has pre-set the prices of e-commerce products below $40 to avoid order cancellations by customers who are unwilling to pay the tariff.
Hui added that payment on the company's platform is settled in US dollars. Where an online shop's sales reach $500, payment will be remitted to the e-commerce traders' accounts once every two weeks. If existing clients open a new shop, the remittance cycle will be further shortened to once every week.
Good Potential for Mainland and Hong Kong Brands
Currently, Mercado Libre is recruiting two types of cross-border sellers, namely trading companies and brand owners. Hui explained that priority is accorded to brand owners with their own factories since they are usually more specialised, experienced and capable of instilling greater confidence in buyers. Product-wise, fast-selling items on the company's platform include auto and motorcycle parts, kitchen appliances and small tools, mechanical and educational toys, outdoor sports products and baby products.
To join the platform on Mercado Libre, the e-commerce trader must have suitable experience and offer products meeting the demands of the Latin American market. A minimum monthly turnover of $60,000 is also generally required, but this may vary depending on the traders' specific circumstances. Latin America is in a time zone exactly opposite to that of the mainland and Hong Kong, so companies wishing to enter the market must consider the time difference to ensure that their pre-sale and after-sale services will not be compromised.
Commenting on business prospects, Hui said that the Latin American retail market remains largely untapped, as there are few local brands to choose from and consumers have grown comfortable with purchasing international brands. Opportunities should abound for brands from mainland China and Hong Kong which come with superb quality, competitive prices and strong customer service.
Central & South America
North America
Argentina
Brazil
Chile
Mexico
Colombia