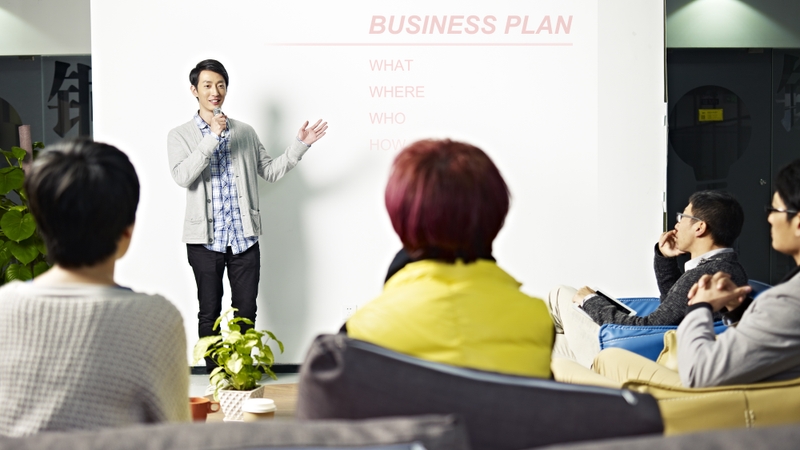 https://hkmb.hktdc.com/en/OTM5MjMzNjAw
Greater Bay Area Start-Ups: The Hong Kong Advantage
Interview with Belinda Wong, Founder of Leader Corporate Services Limited and Manager of Startup China Club (Hong Kong)
Alice Tsang
Belinda Wong holds a Master's Degree in Business Administration and a Bachelor's Degree in Social Sciences. She is a Fellow Member of the Hong Kong Institute of Directors, Fellow Member of the Hong Kong Securities and Investment Institute, a member of the Hong Kong Chartered Governance Institute. Having provided company secretarial services to local and multinational corporations for over 30 years, Wong has amassed a wealth of experience in all kinds of company secretarial work, such as corporate restructuring, merger and acquisition, and business transfer. She is the author of the Hong Kong Company Secretary's Practice Manual and Hong Kong Company Secretary Checklist. In 2010, she founded Leader Corporate Services Limited. In 2019, building upon her extensive experience, Wong established the Startup China Club (Hong Kong) to foster exchanges and networking between start-ups overseas and those in the Greater China Region. Wong spoke to HKTDC Research recently about the advantages of starting a business in Hong Kong and how Hong Kong can complement the strengths of cities in the Guangdong-Hong Kong-Macao Greater Bay Area (GBA) to create synergy.
A start-up platform 
In 2019, Oliver Döring, the founder of The Startup Club in Germany, invited Wong to inaugurate the Startup China Club (Hong Kong). The idea was to build an interactive platform to connect and promote exchanges between start-ups in the Greater China Region and their overseas counterparts. As well as providing market updates, the platform also hosts webinars and offline events on different formats and themes, designed to inspire innovative thinking among entrepreneurs. Since February 2020, Wong has organised a great number of online and offline activities in Hong Kong. Local events aside, Startup China Club (Hong Kong) has partnered with overseas bodies in staging online events - an example of this being its collaboration with Malaysia's Asia Entrepreneurs Academy (an organisation offering mainly management training for entrepreneurs and start-ups) on a webinar on business regulations in the two jurisdictions.
Elaborating on the platform, Wong said: "Currently, we do not focus on a specific type of activity or service. 'Start-up' is in fact a concept straddling wide-ranging fields. Despite the general belief that start-ups are mostly about technological innovation, technology may not necessarily be the focus of innovation. One can innovate in all manner of ways - for example, using novel methods to perform old tasks."
Among the many different types of start-ups Wong has come across, some have succeeded while others have failed. Giving her take on why start-ups fail, Wong said: "The first two to three years are the most critical. Entrepreneurs must clearly define their company's positioning and ascertain the potential of their products and services. Some may be clear about where their company is heading but fail to fully understand the market reception of their products and services. Others may be too idealistic and once the market does not respond as expected, they are at a loss on the course to take. There are also some young entrepreneurs who partner with their friends or schoolmates, in which case it is crucial that they complement each other in their knowledge and skills."
Hong Kong's advantages 
Wong believes that although mainland cities like Shanghai and Beijing have become more international in recent years, Hong Kong, given its high degree of internationalisation, remains a better place for facilitating start-ups' growth. Listing the city's advantages, Wong said: "With the free flow of information nowadays, it is not hard to obtain information in overseas markets. But compared to the mainland, Hong Kong has quicker access to information in the global business world. Prompt access to market information is critically important for start-ups.
"Furthermore, Hong Kong may be a small market, but it is an ideal platform for start-ups to promote and test their products and services, given that start-ups often start out on a small scale with limited manpower and funds. Hong Kong is also an international business centre where many expatriates work and live. As such, despite their limited resources, start-ups can easily get their products and services to non-Chinese users. Start-ups in Hong Kong can also reach out to overseas markets through the local offshoots of overseas companies and chambers of commerce in Hong Kong."
Another of Hong Kong's strengths is its well-developed professional services sector, especially in areas like financial and legal services. Practitioners in Hong Kong command professional knowledge of overseas and mainland markets and are fully competent in providing support to growing start-ups. Wong also mentioned another of Hong Kong's plusses, saying: "As an international financial hub, Hong Kong has a robust financial system with a virtually unrestricted flow of capital, and funds can be raised here relatively easily."
Wong believes that the environment for start-ups in Hong Kong has improved significantly in the past 10 years. Citing some examples of how things have improved, Wong said: "The Hong Kong government has launched a number of support funds for start-ups, including the Technology Start-up Support Scheme for Universities of the Innovation and Technology Commission, the Corporate Venture Fund of the Hong Kong Science Park and the Cyberport Macro Fund of the Cyberport. Moreover, the Hong Kong-Shenzhen Innovation and Technology Park in the Lok Ma Chau Loop adjoining Shenzhen offers Hong Kong's innovation and technology ecosystem not only space to grow, but also proximity to tap the supply chain, manufacturing capabilities and talent pool in Shenzhen. In recent years, universities in Hong Kong have also begun offering courses on how to do business, while a number of private companies have set up innovation centres to provide various forms of assistance to start-ups, like helping them seek investors and develop connections."
The Covid-19 challenge
During the Covid-19 pandemic, many businesses have been struggling to stay afloat. Pointing out that the challenge has been particularly hard for start-ups, Wong said: "Only the fittest can survive during times like this. As borders have closed, many networking activities and business negotiations have gone online, seriously hampering start-ups' development. For example, it has not been possible to conduct business missions during the epidemic. While start-ups can still feature themselves in seminars organised by the Hong Kong Trade Development Council or major chambers of commerce, these by themselves are not sufficient. We hope the pandemic will end soon and normal business activities can resume, and that upon the re-opening of the borders between Hong Kong and the mainland, more networking activities for generating new business opportunities can take place."
Pointing to a silver lining, however, Wong added: "Along with the crisis have come opportunities. Businesses have now learned not to focus on a single market but to be flexible in order to cope with market changes. At the same time, the pandemic has driven up considerably the demand for health-related products and services, and the prospects for sectors like life sciences, healthcare and pharmaceuticals are particularly promising."
Complementing roles
Having gone on business missions to various mainland cities before the Covid-19 outbreak, Wong is convinced that different GBA cities should exploit their unique strengths to create synergy and fuel the region's overall economic development. Expounding on this theory, Wong said: "Compared to other GBA cities, Hong Kong is smaller in size and lacking in manpower in sectors such as manufacturing. It should therefore consider collaborating and sharing out the work with other GBA cities. For instance, while Hong Kong excels in basic research and life sciences research, it will have to co-operate with mainland factories for mass production of products.
"I have arranged visits of Qianhai of Shenzhen for my clients, who are impressed by Qianhai's infrastructure and relatively low start-up costs compared to Hong Kong. As for other cities like Dongguan and Shenzhen, the ample support for start-ups, including funds open to application by start-ups, coupled with their convenient transport links with Hong Kong, have also made them attractive destinations for entrepreneurs."
Wong has amassed vast experience in the business sector over many years. Offering advice based on that experience to those interested in venturing into the mainland market, Wong said: "The mainland market is way larger than Hong Kong. To build their people and business networks there, start-ups could proactively approach start-up incubators and training bodies to seek information and professional advice. They should also be aware of the cultural differences between the mainland and Hong Kong. When recruiting staff, special attention should be paid to candidates' skill sets and sense of loyalty. If overseas staff are hired to work on the mainland, entrepreneurs should bear in mind whether they can adapt to the work style and lifestyle on the mainland."
Boosting Hong Kong's role
The environment for start-ups and relevant government policies in Hong Kong have improved gradually. However, Wong highlighted the need to beef up efforts to promote Hong Kong to start-ups, saying: "From my contacts with some overseas start-ups, I have found that they are unaware of the funds for start-ups and support measures offered by the Hong Kong Government. Hong Kong must step up its promotional efforts overseas on the city's strengths as a start-up platform".
Hong Kong also faces the challenge of implementing the "minimum corporate tax"1, meaning that there is little room for Hong Kong (a simple, low-tax regime) to offer further tax incentives to lure entrepreneurs. Although Hong Kong has done well in implementing policies to create a favourable start-up environment and in grooming talent, Wong suggested that more international elements be incorporated in talent training to keep start-ups posted on developments on the mainland and overseas. This will help start-ups expand into different markets, broaden their international horizon and boost their overall competitiveness.
Note 1: This article forms part of a joint study conducted by HKTDC Research and HSBC: "Exploring the Greater Bay Area Start-up Ecosystem"
Note 2: The opinions and views expressed are those of the interviewees and do not necessarily reflect the views of HKTDC or HSBC. HKTDC or HSBC shall in no way be responsible for the accuracy, completeness or timeliness of the information provided by them, and for any loss associated with the use of such information.
---
1 On 1 July 2021, the OECD announced that 130 countries and jurisdictions have agreed to reform international taxation rules, so that multinational corporations will be levied a minimum corporate income tax rate of at least 15% to prevent them from shifting their profits to low-tax jurisdictions.