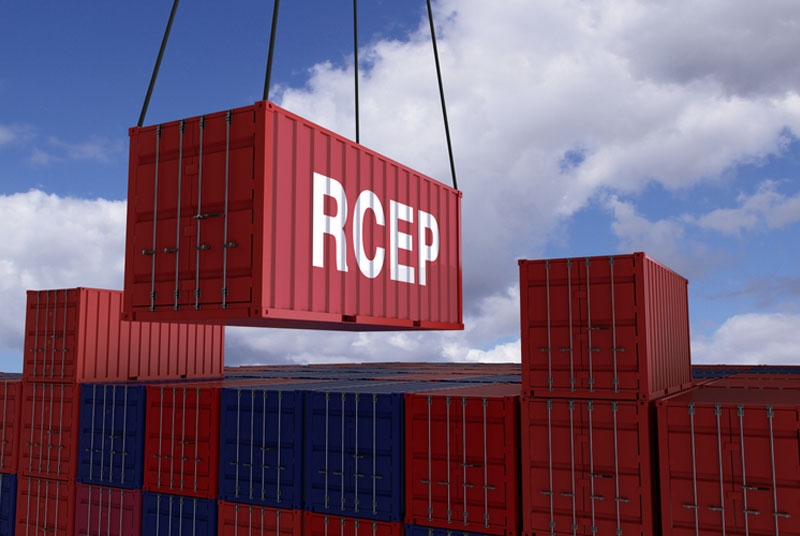 https://hkmb.hktdc.com/en/ODkxOTQ0MDE3
RCEP Promotes Economic, Industry and Supply Chain Integration
Joint research by HKTDC Research and ACCA
Wing Chu, Business Advisory Manager, HKTDC Research; Yuki Qian, Regional Head of Policy, ACCA China
Interview with Sun Lei, Deputy General Manager of the Finance Shared Service Centre at Haier Group
The Regional Comprehensive Economic Partnership (RCEP) agreement will play an important role in promoting regional economic integration. That's the view of Sun Lei, Deputy General Manager of the Finance Shared Service Centre at Haier Group, who believes that strong economic growth momentum in Southeast Asia is creating opportunities for Chinese companies that are actively expanding overseas.
Sun said, "There will be more opportunities in trading goods and services, as well as investment," Sun said. "The agreement will strongly stimulate the export and trade of home appliances. Trade liberalisation and preferential tariffs for goods that are enabled by the agreement will facilitate trade."
Haier Group, which manufactures home appliances, started out in Qingdao, China. It set up its first overseas factory in the Indonesian capital Jakarta, before expanding to Malaysia, Thailand, Vietnam and more locations in Indonesia. In 2011, the company entered Japan and New Zealand through mergers and acquisitions. Haier has been deepening its presence in RCEP countries for years.
The group has long considered Southeast Asia an important market for home appliances. The region is home to more than 600 million people, and although it has a relatively low urbanisation rate, rapid economic growth is driving demand for home appliances. Sun predicted that the market will contribute significantly to Haier's financial performance, saying: "From 2018 to 2023, the compound growth rates of retail sales of major appliances and small home appliances in Southeast Asia are expected to reach 8.4% and 7.9% respectively, which is significantly higher than the average level in China and the world."
Currently, total trade between China and RCEP members accounts for about one-third of China's total foreign trade. Anticipating increased trade between China and RCEP members, Sun believes that Chinese home appliances manufacturers will be in a favourable position to grab a larger share of RCEP markets. Outlining the steps that Chinese manufacturers will take, Sun said: "We will pay attention to the new rules regarding trade, e-commerce, procurement, and the Internet of things under the RCEP agreement."
Going global
Sun believes the RCEP agreement will help further integrate the home appliances industry and supply chains, a development which is aligned with Haier's strategy for overseas expansion. The group has long followed the principle of manufacturing and marketing locally under the name of a local brand that it has created.
Over the years, Haier has acquired companies in various countries, such as Japan's AQUA, New Zealand's Fisher & Paykel, Italy's Casarte and GE Appliances in the US, merging its own brand with theirs. But this strategy comes with a challenge – the need to merge distinctive cultures. To meet this, Haier developed a new organisational model that connects employees with users' needs.
Instead of answering to someone further up, every employee answers to users directly. Project teams that cater to their needs are formed from members of many different divisions. It's an organisational model that creates value by giving employees freedom, and it is one that Haier has exported to the new companies it has created to achieve success when expanding overseas.
Sun says political stability, tax policies and financing services in foreign countries are key factors to consider when looking to expand overseas. The group also considers how to localise design, manufacturing, marketing and management.
Describing the process that Haier embarks upon when looking to expand, Sun said: "While we rely on third-parties to understand and implement tax, audit and accounting policies, we also do our part internally to update our knowledge of the local policies, optimise our enterprise resource planning for overseas offices, provide multilingual financial support and adopt advanced technologies to work more efficiently."
Although Hong Kong is quite distant from the group's headquarters in Qingdao, the city plays an important part in its expansion. In 2017, Haier successfully raised HK$800 million in debt financing through Hong Kong's capital market to support its expansion plans.
Referring to the role Hong Kong can play in facilitating the process of Chinese companies going global, Sun said: "Hong Kong can fully utilise its function as a capital market. With its status as an international financial centre with ample capital supply, the city has a sound market infrastructure that lays a solid foundation for financing. Corporate listing approval cycles are short and efficient, the issuing structure and listing conditions are flexible and diverse, and refinancing is convenient with financing channels."
Electronics & Electrical Appliances
Household Products
Finance & Investment
Hong Kong
Mainland China
Southeast Asia
Hong Kong