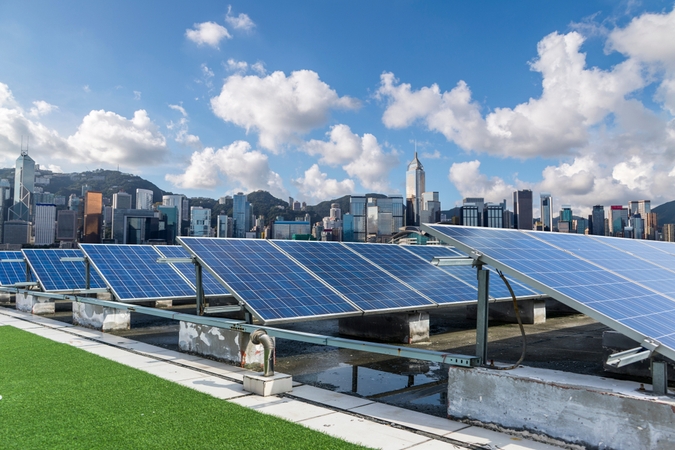 https://hkmb.hktdc.com/en/ODkwODg1Njc4
Delivering Sustainability: A Solar-Powered Carbon Neutrality Roadmap
Interview with Glenn Lim, CEO of the NEFIN Group
Charlotte Man
Clean energy transformation is key to the balance between economic development and carbon neutrality, as energy production is by far the largest source of greenhouse gas emissions [1]. To reshape the global energy landscape, the share of renewable energy (RE) in total final energy consumption (TFEC) will have to increase from 17% in 2017 to 28% in 2030 and further to 66% in 2050 [2]. This can perhaps only be made possible if fossil fuels can be replaced with renewable electricity generated by solar, wind, hydro power or other renewable sources.
Some economies are on track to meet the global RE target, with a prominent example being the EU. The trade bloc has proposed to set its RE target for 2030 to 40% of the TFEC, much higher than the global target of 28% and its legally binding target of 32% has been in force since late-2018 [3]. However, the clean energy transformation in Asia was found to be somewhat lagging behind, with the RE adoption rates of 8% in East Asia, 12% in Southeast Asia and 8% in the rest of Asia in 2017, compared to 17% in the EU [4].
To play catch-up, more Asian governments have laid out clean energy strategies and formulated policies to stimulate private clean energy investment. The trend is somewhat reinforced as the Covid-19 pandemic highlighted the importance of developing RE sources as a solution to supply chain bottlenecks and energy insecurity.
In addition to the lucrative financial incentives provided by local governments, more Asian traders are also aware that most, if not all, global industry leaders have ramped up their commitment to sustainability, including the use of RE, in their businesses and supply chains globally. Taking everything into account, more Asian traders have started to formulate their long-term RE strategy in order to stay competitive.
In view of the market dynamics, HKTDC Research sat down with Glenn Lim, CEO of the NEFIN Group (NEFIN), a leading solar energy solutions provider and investor in Asia with a vision to deliver carbon neutrality solutions for organisations looking to achieve their environmental, social and governance (ESG) goals, to understand how the pursuit for sustainable energy has been transforming the commercial landscape in Asia.
RE100
Having operated in the field of solar energy asset management for almost a decade in Asia, NEFIN has been working closely with global companies for years from its dual headquarters in Hong Kong and Singapore. It helps business clients devise and execute ESG-RE strategies for the region, including multinational companies, as well as their manufacturing partners and suppliers in the region.
Pointing out that achieving full renewable power is now a shared vision among global leaders, Lim said: "Business leaders in most – if not all – industries have a common goal to achieve RE100, with a vision to deliver carbon neutrality to meet ESG targets for their businesses. In addition to empowering their own operations with clean energy, they are also working closely with suppliers to enhance energy efficiency and move to RE100.
"A prominent example is Apple. With a vision to achieve carbon neutrality across its entire business, manufacturing supply chain and product lifecycle by 2030, the tech guru has reached RE100 across its global facilities [5] and has been working with its suppliers to bring online four gigawatts of clean energy in 2020, while having another four gigawatts of clean energy in the pipeline [6]. Other big names such as Philip Morris [7] and Nespresso [8] have also made such promises."
Emphasising that traders will have to enhance their sustainability performance, including RE, in order to deliver value to their global clients, Lim said: "The financial market has been a driving force for corporate commitment on sustainability and to improve their ESG profiles. To achieve carbon neutrality, companies will have to use multi-pronged approach, including RE100. No doubt this is driving the entire global supply chain to change from top to bottom, when more companies are taking account of suppliers' sustainability performance when awarding contracts and evaluating performance. Asian traders should realise that sustainability commitment, including RE commitment, is no longer an investment, but an obligation."
RE Investment Climate
Lim indicated that the investment climate for RE projects has been greatly enhanced in recent years in Asia thanks to the improved regulatory transparency on compliance requirements and the introduction of various lucrative support schemes i.e. the "G" in ESG. He urged Asian traders to seize this golden opportunity to help their businesses prepare for hitting the benchmark of RE100 in the near future by investing in RE projects now.
Lim identified several fast-developing markets in Asia, including Hong Kong, Singapore, Thailand, Indonesia, Japan and Macao. To elaborate how governments have taken action to stimulate corporate investment on RE, Lim cited Hong Kong as an example, saying: "To make RE projects more appealing from a financial perspective, the city has launched a lucrative feed-in-tariffs (FiT) scheme that allows an RE system owner to sell the RE to the two local power companies at a rate as high as about five times the normal electricity tariff rate, which shortens the payback period of an RE investment to around five to six years from more than 15 years [9].

"The regulators in the city, including the Electrical and Mechanical Services Department (EMSD) and the Building Department (BD), have also laid out concrete regulatory framework with relevant laws, regulations and technical guidelines pertaining to the installation of solar energy projects. This clears doubts from property owners, electrical engineers and contractors on the legal requirements applicable to the installation of RE systems at different types of buildings or premises [10]."
Brain Trust
Asking his advice for businesses planning/ in the making to achieve RE100, Lim pointed out that corporates have to be clear on two important considerations on the path to RE100: time horizons and budget. These served as pivots when an ESG consultant is engaged to optimise the strategy, formulate and execute the action plan.
Lim highlighted the consultant's strategic role in those projects, saying: "Unlike contractors that are tasked with some specific scope of work, an ESG consultant like NEFIN provides a holistic approach to clients from strategy formulation to project planning, project financing, project management and asset management."
Lim warned that that many Asian businesses are not aware of the importance of having an ESG consultant in place and end up paying for costly mistakes, saying: "Some property owners are surprised to see a premium hike in their properties after deploying a solar PV system, which can be largely prevented by such measures as optimising system design and introducing proper precautionary measures in association with arc fault. Improper installation of solar PV systems, such as incorrect seaming of connectors, may cause arc fault, which may develop into fire hazards."
Another benefit brought by an ESG consultant is the higher operational efficiency of an RE system and the subsequent improvement in return of investment thanks to the optimised system design, set-up and operation. To provide evidence on the superior performance of NEFIN's solar PV system, Lim cited the solar PV system on the Hong Kong Electric (HKE) Lamma power plant as an example, saying: "The 1-megawatt rooftop solar system generates 1.1 million units of electricity annually, which implies a conversion rate of more than 1,100 units of electricity, about 30% higher than the conversion rate of 800-900 units of electricity of a typical one-kilowatt solar system [11]."
Lim indicated some ESG consultants might also offer tailor-made financing schemes to provide corporates with enhanced financial flexibility when engaging in RE projects. Citing NEFIN as an example, he said: "Riding on the rise of green finance across the globe, we have raised funds from the ample capital pool in Hong Kong by obtaining green loans, which allows us to offer attractive financing options to partners who opt for minimal or even zero upfront investment."
To choose a fully-fledged and professional consultant for their first ESG-RE project, Lim suggests corporates to take a more comprehensive approach in their tenders, saying: "Many large corporates maintain an approved list of suppliers and contractors, requiring the inclusion on the list as one of the bidding criteria. However, given that these projects are novel to many, and ESG consultants are probably very field-specific, so it is no surprise that they are not on the list. As a result, ESG consultants are unfortunately excluded from most if not all the bids."
"Companies should consider moving away from the lowest-bid procurement approach to the value-for-money approach by placing more value on total solutions offered by ESG consultants that can offer the full suite of ESG advice, implementation and maintenance, including add-on services like AI-powered, real-time data monitoring and analytic services for fault detection and efficiency optimisation. Given these add-on services are essential to avoid costly mistakes, enhance investment return and achieve ESG goals for companies, the cost of carrying these measures should be justified in the whole budget equation."
Rosy Outlook
With more Asian governments setting more concrete green targets to transform their economies to carbon neutral, such as Hong Kong (by 2050) [12], South Korea (by 2050) [13], Japan (by 2050) [14], mainland China (by 2060) [15], Lim expects this will channel tens of billions of dollars to the RE sector in Asia Pacific. He said: "Commercial solar energy projects alone will see an annual investment of US$60 billion in mainland China until 2060 and US$20-25 billion in the rest of Asia in the next 20-25 years."
In addition to stimulating corporate investment, Lim urged governments in Asia to exploit the public actions necessary to unleash the full potential of RE in their economy, since it is impossible for all economies to achieve RE100 solely through commercial investment. To name but a few, he mentioned deploying floating solar power systems on reservoirs and importing RE from neighbouring countries through high-voltage direct current transmission and inviting Asian governments to carefully scrutinise the feasibility of every available option.
With a growing list of Asian businesses and governments gearing up to achieve carbon neutrality, Lim believes the RE industry is set for an increasingly bright future and NEFIN is ready to benefit from the strong reputation and foundation built in the industry over the past decade.