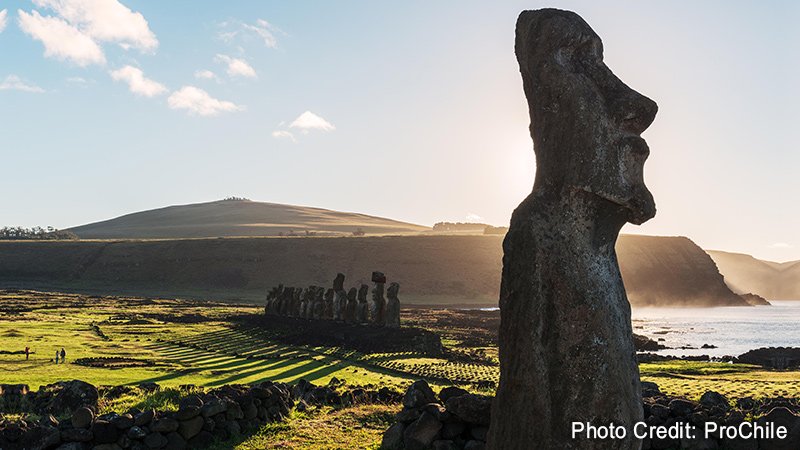 https://hkmb.hktdc.com/en/ODk2OTU3NTU3
Post-Covid Prospects: Chile
Louis Chan
Chile confirmed its first Covid-19 case on 3 March 2020, becoming the fifth country in Latin America (after Brazil, Mexico, Ecuador and Dominican Republic) to identify the presence of the coronavirus within its borders. Since then, the virus has continued to spread across the South American country with around 1.7 million cases and more than 37,700 deaths up to 3 November 2021.
Widely considered the most liberal country in the region and one of the freest economies in the world, Chile offers a very accommodating trade and investment regime. The country's open markets have helped in the battle against the pandemic, where it was among the first to gain access to vaccines and to start its massive inoculation campaign. They have also cushioned its economy amid one of its worst economic crises in recent history, so that the country suffered a 5.8% economic slide last year in comparison to the region's average 7% decline in GDP.
In addition to the nationwide vaccination rollout, rapid expansionary policies were put in place under the State of Catastrophe which was in force from 18 March 2020 until 30 September 2021. Anti-crisis measures such as the two-year, US$12 billion Economic Emergency Plan for Coronavirus (Plan Económico de Emergencia) alongside the so-called "2-percent constitutional plan" to cover the necessary fiscal expenses arising from the pandemic were put in place. A raft of urgent schemes to reactivate the economy through job creation, public and private investment promotion and SME support under the "Chile Recovers Step-by-Step Plan" (Plan Paso a Paso Chile se Recupera) will cost a total equivalent to nearly 10% of its 2019 GDP. The hope is that these will boost the Chilean economy back up to pre-crisis levels, and a GDP growth of 11% is forecast in 2021, considerably higher than the 6.3% average for the region.
To discover how Chile is navigating the coronavirus pandemic and how its businesses are preparing for a post-Covid recovery in partnership with their Hong Kong counterparts, Louis Chan, Principal Economist (Global Research) at HKTDC, sat down with Osvaldo-Patricio Alvarez-Perez, Consul General and Head of the Commercial Office of Chile in Hong Kong.
Chan: How is the vaccination programme in Chile progressing? Do you have a timetable for when the majority of the population will be fully vaccinated?
Alvarez-Perez: The Covid‑19 outbreak saw Chile's open trade policy take centre stage in the nation's fight against the pandemic, thanks to our 25 international trade agreements – including free trade agreements with mainland China and Hong Kong – and double taxation treaties with 64 economies, which represent almost 90% of the world's GDP. Chile is Latin America's most open and export-oriented economy and so we were in a strong position for the procurement of highly sought-after medical supplies such as personal protective equipment (PPE) and vaccines during the global health emergency.
Chile was among the first countries in the world to gain access to vaccines and to start a massive booster vaccine campaign. We began to roll out our nationwide Covid-19 inoculation scheme as early as 24 December 2020 and the booster vaccination initiative started on 11 August 2021. With immunisation targeted as a clear priority, Chile administered more than 33 million shots by 3 November 2021, including more than 571,000 single-shot jabs and more than 5.8 million booster shots for those initially inoculated with Sinovac vaccines.
Thanks to the fast and broad vaccination rollout, more than 13.4 million or 92% of the adult population have had their first dose to date, while more than 13.6 million or 90% of the adult population have completed their primary vaccination course (single-shot and double-shot vaccines included). In addition, the vaccination programme has been extended to cover children and teenagers aged between 6 and 17 years old. So far, more than 3.8 million doses have been delivered, including 2.4 million first doses, 1.4 million second doses and 6,000 booster jabs.
After achieving various milestones to achieve herd immunity such as vaccinating 5 million people by the end of the first quarter and 80% of the populace by the end of the first half of 2021, we now aim to expand the vaccination coverage to the younger population. It goes without saying that we will continue to promote the booster vaccine campaign to further reduce infections, minimalise hospitalisations and prevent Covid-related deaths, following the results of the world's first study on the Covid-19 booster dose.
Chan: What is the near-to-medium-term outlook for Chile's major industries and trade, especially in the wake of government support schemes. How is the vaccine-boosted recovery kicking in, given these stimuli? Do you have any timetable for further re-opening?
Alvarez-Perez: After the 5.8% decline in GDP caused by the Covid-19 pandemic, the Chilean economy has made a rapid recovery in 2021, far exceeding expectations. In addition to our historic deployment of support measures in the face of the unprecedented economic shock, and the success of our vaccination production, distribution and administration, this recovery has been made possible by the adaptive capacity of businesses and individuals.
After a humble revival of merely 0.5% in the first quarter, Chile posted another year-on-year economic expansion of 18.1% in the second quarter of 2021. This was due in part to the higher liquidity released from various fiscal stimuli and support packages put in place by the government, such as the Family Emergency Income (IFE), and Middle Class Loans. The economy has been further helped by the early pension fund withdrawals of up to 10% of the Chilean Retirement System (AFP) contributions, and the gradual re-opening of services such as education, wellness, tourism and hospitality. 
On current trends, the recovery is not only boosting our economy back to its pre-pandemic levels, it is also delivering enviable GDP growth of up to 11% for the whole of the year and 2.5% (against the 2021 high base) in 2022. This sustained economic growth is also being felt in the labour market. In the three months to August 2021, Chile added 110,000 jobs, and the unemployment rate fell to 8.5% which is the lowest level since March 2020.
Another very positive development witnessed during the year was that small- and medium-sized enterprises (SMEs) in Chile managed to stay afloat, thanks to the various SME-support initiatives like Reactivate SME (Reactívate Pyme). In addition to employment subsidies and tax payment holidays, the Chilean government has supported the SMEs in digital transformation through schemes such as "I Choose SME (Elijo Pyme) and SMEs Online (Pymes en Línea). SMEs can take part in online events on a regular basis, join digital platforms, including marketplaces associated with the Santiago Chamber of Commerce (CCS), to buy and sell products online, connect with potential clients via SME-targeted marketing and networking channels, and enjoy free access to digital marketing, e-payment, logistics and social commerce courses.
Going forward, we will continue to take appropriate measures in line with global and domestic dynamics and vaccination progress. For instance, the Chilean government has updated the "We Care for Each Other Step-by-Step (Paso a Paso nos cuidamos)" first launched in July 2020, to allow foreigners to visit Chile with a mobility pass – a validated proof of coronavirus vaccination. Along with other new operating regulations for different sectors, we are progressing towards fully opening our borders and economy to reactivate international business and domestic trade.
Chan: The Covid‑19 outbreak has seen struggling businesses obliged to embrace e‑commerce, and individuals learning to work, study, and exercise at home or via telecommuting. Are there any indications of this digital transformation in Chile? Do you see these behavioural changes overhauling the consumer and industrial landscape of Chile post-pandemic?
Alvarez-Perez: The pandemic has accelerated Chile's digital transformation. According to CCS, one of the country's most prominent trade associations, online sales more than doubled to US$9 billion in 2020 during a difficult time for physical retail, so that retail sales overall dropped by just 3.8% during the global health crisis.
Thanks partly to 300,000 new fixed internet connections and a 10% growth in wireless network coverage, the contribution of e-commerce sales to total retail sales soared to 6.3% last year from just 1.2% prior to the Covid-19 outbreak. Based on the CCS's survey, more than 70% of Chilean consumers will continue buying online, even after they resume physical shopping.
The pandemic has also accelerated the implementation of e-governance. In response to the various pandemic challenges, the Chilean government has put in place new digital platforms and solutions. These include the launch of a Virtual Police Station (Comisaría Virtual) to accept online reports and issue temporary permits and safe conduct passes during quarantines and night-time curfews, which frees up the police (Carabineros) for work related to crime prevention. The virtual platform is fast becoming a part of everyday life for Chileans, and celebrated its first two years of operation in June 2021. Some 663 million permits were issued during the pandemic when they were essential to enable people under quarantine to carry out daily activities and stock up on essential goods and services.
These initiatives together with the relevant SME-support measures will promote digital inclusion in Chile and prepare the nation to thrive with cutting-edge technologies, infrastructure, and solutions. We also have the "Solidarity Connectivity Plan (Plan Solidario de Conectividad)" that ensures the lowest-income households have access to telephone and internet services if they cannot pay their monthly bill due to "force majeure", and an ambitious two-year implementation timetable for 5G, to keep Chile well ahead of its regional peers.
Chile has always been a forerunner in the global trade discussions with respect to e-commerce, digital transformation and new-generation telecommunications. Recent examples include the Digital Economy Partnership Agreement (DEPA) signed between Chile, New Zealand, and Singapore on 12 June 2020, which is a first of its kind agreement establishing a friendly framework of new approaches and collaborations in digital trade issues, promoting interoperability between different players, and addressing issues brought about by the acceleration of digitalisation. 
Chan: Global trade and investment was weakened by the pandemic when travelling and business plans were shelved or postponed last and this year. Looking forward in 2022, what do you see as the most promising areas for Chile-Hong Kong collaboration?
Alvarez-Perez: Our privileged agro-climatic conditions have made Chile a grape-growing paradise in South America, and a major wine supplier to Hong Kong. Thanks to the reduction of wine duties to zero in 2008, the city has become an increasingly important platform for Chilean wineries to grow their business given the growing affluence and burgeoning wine culture in underpenetrated Asian markets.
Apart from our fine wines, Chile is one of the top 10 agricultural exporters in the world and the second-largest food supplier to Hong Kong in the first eight months of 2021. Thanks to the opposite seasons of growth and harvest in Chile and this part of Asia, Hong Kong as Asia's culinary capital is well-positioned to be a showcase for Chilean fresh fruit, dairy, meat and seafood products and a trading hub to the greater Asian region.
Next year will mark the 10th anniversary of the signing of the 19-chapter Chile-Hong Kong Free Trade Agreement, which nowadays boasts tariff-free trade for 98% [1] of Chile's tariff lines for Hong Kong origin products and tariff-free access to all products originating from Chile, among other commitments on service trade and investment.
We have made great progress in developing a rewarding bilateral and commercial relationship over the past decade, but we believe there is still plenty of room for expansion. Chile has much to offer, including future food R&D to develop technological advances in the global food system, and many other opportunities in education, fintech, visual arts, and tourism, while there is a full spectrum of FDI-related services that Hong Kong as a regional financial and innovation hub can offer to Chilean companies.
On the cultural front, Hong Kong can also be an important platform for Chilean art in Asia. A good recent example concerns the Affordable Art Fair 2021 in August 2021, which featured art pieces from 44 galleries worldwide, including Chile's South Trip Art Gallery.
To make the art and artists of Chile further stand out at fairs, exhibitions and auctions all over the world, ProChile is planning a series of promotional projects for 2022 to increase awareness about Chile and its rich artistic heritage.
Last but not least, home to one-third of the world's known copper reserves, Chile is not only the world's largest copper producer, but also the valuable metal's principal exporter. Our commodity-based economy has much to offer to the city's many mega projects like those under the Northern Metropolis Development Strategy and Smart Port development.
Also of great interest to Chilean companies are the Belt and Road Initiative (BRI) and the Greater Bay Area (GBA) development. While there is a general awareness of these epoch-making initiatives, Chilean entrepreneurs, especially the SMEs, start-ups and scale-ups, are eager to know about the specific business opportunities these initiatives would represent and how they could get involved with the help of Hong Kong as a super-connector. We look forward to more detailed information through seminars, workshops and promotion events to make these auspicious opportunities widely known in Chile. 

---
[1] The remaining 2%, comprising, for example, cereals, sugars, articles of iron or steel, continue to be subject to import tariffs because of domestic sensitivities in Chile.

Finance & Investment
Medical Supplies & Medicine
Food & Beverages
Central & South America
Southeast Asia
Other Asian Countries
Hong Kong
Chile
Hong Kong