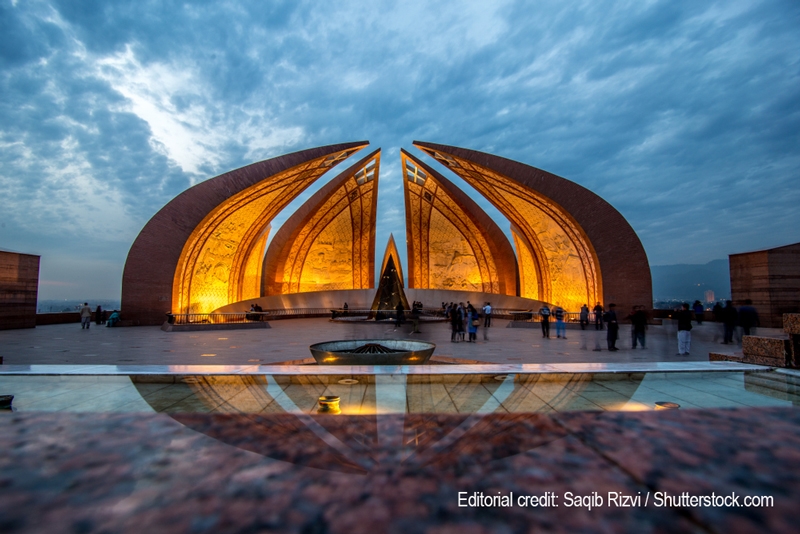 https://hkmb.hktdc.com/en/ODg5OTk2OTM5
Post-Covid Prospects: Pakistan
Interview with Bilal Ahmad Butt, Consul General of Pakistan in Hong Kong
David Sit
The first Covid-19 case in Pakistan was reported on 26 February 2020. With Pakistan currently undergoing its third wave of the virus, the number of infections there had surpassed 1.2 million by September 2021. However, Pakistan has a population of more than 220 million – the fifth highest in the world – and so the number of cases per capita is lower than that in many developed economies. This relatively low infection rate can be attributed to the country's favourable demographics, and also the actions taken by Pakistan's government in response to the crisis.
Covid-19 has had a significant impact on Pakistan's manufacturing and services sectors in the financial year (FY) 2019-2020 (from July 2019 to June 2020). Real GDP fell 0.47%, the first recession the country had suffered since the 1950s. However, Pakistan has recovered quickly, with real GDP growing 3.94% in FY2020-21. The Asia Development Bank (ADB) projects a continuous economic recovery in FY2021-22 with real GDP growth of 4%, citing strong private investment, improving business activity, a steady vaccine rollout and the implementation of economic stimulus measures.
David Sit, Assistant Principal Economist (Asian and Emerging Markets) at HKTDC, talked to Pakistan's Consul General in Hong Kong, Bilal Ahmad Butt, about how Pakistan weathered the Covid-19 pandemic, the economic outlook for the country, and the opportunities available for Hong Kong businesses in Pakistan in the post-Covid-19 era.
David Sit: Can you brief us on the situation in Pakistan's regarding the Covid-19 situation and the progress of the country's vaccination programme?
Bilal Ahmad Butt: Covid-19 presented socio-economic challenges to Pakistan that we had never encountered before. Nonetheless, the outbreak in Pakistan remained moderate, especially when compared to other countries at similar development levels. The daily number of new infections reached a high of 6,600 in June 2020, and now the country is facing fewer than 3,000 new cases per day. This is in part due to Pakistan's advantageous demographics, with 60% of its population aged between 16 and 40. Pakistan also has a sound healthcare system with many medical practitioners trained in top-tier universities overseas, which contributes to the efficient tracking, diagnosis and care of Covid-19 patients.
The Pakistan government reacted promptly to the outbreak, imposing regional and responsive lockdown measures to contain the spread of virus. It has also expanded the vaccination programme to all citizens above the age of 15, and is aiming to vaccinate 70 million people by the end of 2021. As of 20 September 2021, 73.8 million vaccine doses had been administered, with 54.9 million people receiving at least one dose and 23 million (approximately 10% of the population) fully inoculated. The vaccination programme is well on track to meet its target. The Pakistan government continues to be vigilant regarding the development of the pandemic, especially the heightened risk caused by the Delta variant.
Sit: How was Pakistan's economy impacted by the Covid-19 outbreak? What do you see as the near‑ to medium‑term outlook of Pakistan's major industries and trade? What has the Pakistan government done to support businesses and the economy?
Butt: Covid-19 took a toll on Pakistan's manufacturing and services sectors, but the effective pandemic control measures and the prompt policy response from the government helped to alleviate the impact.
Since the pandemic began, Pakistan has chosen to adopt a balanced policy between pandemic control and economic activities – in Prime Minister Imran Khan's words, "where the spread of the virus can be prevented and where the poor man and the country's economy are least affected". Guidelines on smart lockdown were published to facilitate the response of local governments to outbreaks. When elevated Covid-19 transmission becomes evident (more than 1.5 cases per 1,000) through testing and epidemiology, small-scale targeted lockdown measures are imposed at the identified hotspots to break the transmission cycle, instead of using large-scale citywide lockdown measures. Large-scale lockdowns and interruptions to business activities are therefore avoided. While many nations have closed down because of the pandemic, factories and businesses in Pakistan benefit from being able to continue operations.
In addition to its effective pandemic control policy, the government put in place a comprehensive relief package of 1.2 trillion Pakistan Rupees (about US$7 billion, or HK$55 billion), made up of a mixture of fiscal and monetary measures. Key measures included an interest rate reduction by the State Bank of Pakistan, the country's central bank, from 13% to 7% (and the maintenance of the rate at this level until 2022), the extension of settlement dates of loans for businesses impacted by the pandemic, the elimination of import duties for emergency health equipment, and various cash transfers and tax refunds to businesses and facilities.
Sit: What are the key focuses of economic development in Pakistan in the post-Covid-19 era to support long-term growth? What are the key sectors that Hong Kong businesses should be paying attention to?
Butt: The government has identified seven priority sectors for foreign investment. We believe these sectors could support our long-term economic growth and facilitate our economic development in the post Covid-19 era. The Board of Investment of Pakistan provides information on these sectors as well as guides for starting businesses in Pakistan. We believe the following sectors are particularly relevant to Hong Kong businesses:
Tourism and Hospitality
Pakistan is endowed with rich tourism resources in both its natural and cultural landscapes. The country has a diverse geography, with glaciers, vast deserts, scenic valleys and beautiful beaches. It is also home to six UNESCO World Heritage Sites, including the 4,500-year old Mohenjo-daro archaeological site, the historical monuments at Makli in Thatta, and the Tomb of Bibi Jawindi. In addition, Karachi, Lahore and Islamabad are leading destinations for business travel. The British Backpacker Society named Pakistan the world's top adventure travel destination in 2018, describing it as "one of the friendliest countries on earth, with mountain scenery that is beyond anyone's wildest imagination". In 2019, Pakistan received 1.27 million international tourist arrivals, 30% more than five years before.
The Pakistan government wants to develop the tourism sector as a key pillar of economic growth, and has implemented policies to attract foreign visitors. In March 2019, the visa application scheme was largely simplified, allowing foreign visitors from most nations/regions to apply for an e-visa or acquire a visa on arrival. New highways and other infrastructures were completed to improve connections between tourist hotspots in the mountain regions. Currently, though, there's a lack of hotel and hospitality facilities across the country, especially in the luxury class. Hong Kong is renowned for its tourism and hospitality sector and is highly experienced in the construction, management and operation of five-star hotels, high-quality catering and other tourism services. Pakistan could be an ideal place in South Asia for Hong Kong hospitality enterprises to invest in or to expand their business operations.
The Covid-19 pandemic has severely disrupted Pakistan's tourism industry, especially the restrictions on international travel. However, Pakistan is making progress towards opening up its borders, and travellers from most countries only need to present a negative PCR test result on arrival and do not need to quarantine. We look forward to further growth when global tourism resumes in forthcoming years.
Information and Technology (IT) Sector
The accelerating global trend towards digitalisation has meant that the IT sector has seen rapid growth in Pakistan in recent years. According to the Digital Policy of Pakistan published in 2018 and the Pakistan Vision 2025, the size of the information and communications technology industry size is forecast to reach US$20 billion by 2025. The government considers the start-up community, freelancers, developers and IT students to be an important pillar of government strategy. Pakistan is now home to over 10,000 IT companies and more than 300,000 English-speaking IT professionals. Due to its young population and sound IT education system, Pakistan provides around 25,000 IT graduates for the job market each year at reasonable salary levels. The government has also invested in the telecommunication infrastructure to support the IT sector. According to the Ministry of Information Technology and Telecommunication, as of 2020, over 85% of the telecommunication infrastructure in Pakistan runs on fibre optic cables, while broadband penetration stands at about 41% with 95 million subscribers.
Pakistan's current IT sector is focussed on software development, consultancy and support services. Total exports of computer software, software consultancy services and other computer services accounted for more than 80% of Pakistan's IT sector exports, with customers from more than 120 countries. The domestic market for the IT sector is also growing significantly, and its estimated market size has reached US$1 billion in annual revenue, supported by the growing adoption of ICT across different sectors. More than 300 international companies, including large enterprises such as IBM, Symantec and S&P Global, have established global consulting services centres, R&D facilities or BPO services centres in Pakistan. Pakistan ranks fourth in the global market for freelance software development, providing flexibility at a low cost. 16 software technology parks dedicated to the IT sector have been established across the country to provide safe and accessible real estate and office space.
Pakistan is actively looking for investment in software houses, e-commerce, m-commerce, IT parks and incubation centres. IT companies in Hong Kong and the Greater Bay Area (GBA) can benefit from Pakistan's low labour cost and IT capabilities by collaborating with Pakistani companies.
Housing and Construction
Pakistan is home to more than 220 million people, making it the fifth most populous country in the world. With an annual population growth of 2.4%, the demand gap for residential housing is significant. Pakistan has an estimated annual housing demand of 700,000 units, and only half of that demand is fulfilled, resulting in an estimated housing backlog of 11-12 million housing units. The government has planned the construction of five million residential housing units with amenities, with a focus on financially underserved and middle-income households over the next five years as a measure for socio-economic uplift. The 'Naya Pakistan Housing and Development Authority (NPHDA)' was formed in January 2020 to oversee the implementation of the plan.
On 4 April 2020, the Prime Minister announced more incentive schemes for the construction industry, including tax concessions, government subsidies and the simplification of the regulatory framework. Therefore, this sector provides great potential for investment along with opportunities for lucrative returns. Hong Kong real estate developers and constructors are experienced in developing high quality residential apartments with high-end amenities. While Pakistani families traditionally prefer houses with lawns, Hong Kong's model of residential buildings could be attractive to the growing numbers of urban middle-class families.
Textiles
Textile and garment manufacturing has long been Pakistan's most important manufacturing sector. According to the country's Board of Investment, the sector accounts for 46% of value added in the manufacturing sector, 8.5% of GDP and 40% of employment. Pakistan is the eighth largest exporter of textile products in Asia and the fourth largest producer of cotton worldwide.
Pakistan's comprehensive textile value chain is characterised by its good capability, from raw material production to garment manufacturing. In particular, Pakistan houses a supply base for all man-made and natural yarns and fabrics, including cotton, rayon and others. The abundance of raw material reduces cost and lead time and contributes to a more resilient supply chain. The low production cost has already attracted many international brands, including H&M, Nike and Adidas, to outsource production to Pakistani mills. We believe Pakistan could be an ideal relocation destination for Hong Kong enterprises' spinning, weaving and garments factories.
Sit: What initiatives are in place to support overseas companies, such as Hong Kong businesses looking to invest and operate in Pakistan?
Butt: Pakistan maintains a liberal investment regime in both manufacturing and non-manufacturing sectors in order to promote foreign investment. All sectors are open for foreign investment except in selected restricted industries for national security or religious reasons, such as securities, currency, arms, and consumable alcohol. 100% foreign equity ownership is permitted in most sectors as well, with no minimum amount threshold for foreign investment. Furthermore, the remittance of capital, profits and dividends is permitted. Furthermore, there are no specific restrictions for foreign investors regarding holding or transferring land.
In addition to its liberal investment regulations, the federal and regional governments in Pakistan offer various incentive schemes, including tax relief and sector-wise incentives (such as income tax exemption, duty reduction for imported capital goods and sales tax reductions) in many of the priority sectors, including IT, electric vehicle manufacturing, tourism and logistics. For example, zero income tax is levied on IT and IT service export firms and start-ups.
Special Economic Zones (SEZs) provide the necessary infrastructure and extra incentives to businesses. The first SEZ in Pakistan was opened in 2015, and by 2020 21 SEZs had been established in the country. A series of nine new SEZs are planned for under the China Pakistan Economic Corridor (CPEC) initiatives. SEZs are either set up by the government or in collaboration with the private sector. Fiscal benefits include a one-time exemption from custom duties and taxes for all capital goods imported into Pakistan for the development, operation and maintenance of an SEZ (both for the developer and the zone enterprise) and exemption from all taxes on income for a period of ten years. More information regarding the SEZs can be found on the Board of Investment portal. 
Sit: Pakistan has always been one of the key participants in the Belt and Road initiative (BRI). How have the BRI projects been affected by Covid-19? Can you brief us on the CPEC?
Butt: China and Pakistan have maintained a long friendship that can be traced back to the early days of the establishment of Pakistan. Since the announcement of the BRI in 2013, Pakistan has been an active participant. The CPEC, one of the flagship projects of the BRI, was launched with the BRI in the same year. The CPEC spans the entire country and connects Western China with the port of Gwadar in southern Pakistan. The aim is to promote bilateral connectivity and collaboration in economic, trade and investment. CPEC projects provide much needed connectivity and energy infrastructure for Pakistan, covering the construction of motorways, railways, ports, fibre cable networks, power stations and power transmission systems.
While a number of projects were delayed due to the pandemic, most projects remain on track. The most recent completion is the High-Voltage Direct Current power transmission line between Matiari and Lahore, which went into operation as planned in September 2021. Nine SEZs are in planning or under construction to support different industrial clusters, covering IT, garment and textile products, automobiles, electronics and various manufacturing sectors. The CPEC will continue to foster co-operation and development in different sectors, with long-term plans due to be completed by 2030. 
Sit: How about Hong Kong and the rest of the GBA? What is the current Pakistani business presence in Hong Kong and how do you see Hong Kong businesses playing a part?
Butt: While Pakistan and Hong Kong have enjoyed excellent connections over the years, Pakistan's business presence in Hong Kong is yet to become significant. Currently there are around 25-40,000 Pakistani citizens in Hong Kong, most of them working class. A notable example of a business in Hong Kong established by Pakistanis is Black Sheep Restaurants, which operates a dozen premium catering outlets in Hong Kong.
In the near term, we are expecting more Pakistani companies to do business with Hong Kong, particularly in poultry trading. We are looking forward to getting permission from the Hong Kong SAR government to import Pakistan's high-quality beef and goat meat products. In the longer run, we are very optimistic about the opportunities offered by Hong Kong and other cities in the GBA. The GBA, and China as a whole, represents a huge potential market for Pakistani businesses, while its business and industrial ecosystem, especially in research and development and the IT sector, could provide good opportunities for joint ventures and collaboration. Hong Kong continues to be an ideal gateway to mainland China and the Consulate General will continue to promote collaboration between Pakistan and Hong Kong.
Real Estate Services
Garments, Textiles & Accessories
Other Asian Countries
Pakistan