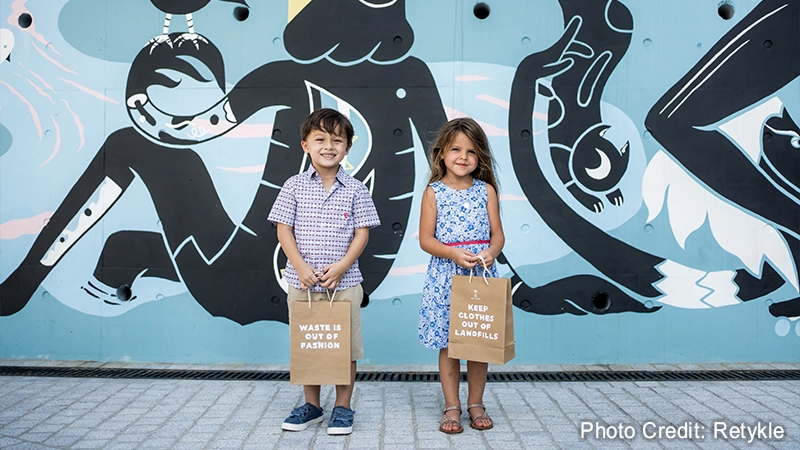 https://hkmb.hktdc.com/en/ODg0MTI0NzM2
Kids' Clothing Reworn: A Growing Market
Interview with Sarah Garner, CEO of Retykle
Charlotte Man
Resale trade is an important tool in the efforts to reduce carbon emissions and hit global environmental targets. Its business model aligns well with the so-called 3Rs of sustainability – re-use, recycle and reduce. In Hong Kong, the resale business remains largely informal, with trade taking place mainly on a consumer-to-consumer (C2C) basis – although there are a few exceptions involving high-ticket items such as cars, wedding dresses and Qun Gua. Now, however, the greater integration of environmental, social and governance (ESG) factors into business investment processes and decision-making, coupled with the rise of consumer awareness and the e-commerce spree that resulted from the Covid-19 pandemic, have made the business increasing commercially viable, even for lower-ticket items. As a result, eco-conscious entrepreneurs have been making attempts to apply it to other sectors, including fashion.
Resale platform
One high fashion merchandising and logistics veteran, Sarah Garner, has been putting this green vision into action since 2016. That was when she established Retykle, an online resale platform for kidswear and maternity fashion which provides a one-stop, frictionless experience both for people looking to sell pre-loved fashion items and customers wanting second-hand designer children's and maternity clothes.
Nearly six years later, Garner has grown Retykle's user pool to 350,000. Most of its members participate in both buying and selling via the resale platform. After a triumphant round of seed funding earlier this year, she is planning to expand her ESG footprint into other Asia Pacific markets, including Singapore and Australia, in order to replicate her early success in Hong Kong.
With the fashion industry being responsible for 10% of global carbon emissions [1], making it more sustainable is pivotal to attempts to reach carbon neutrality goals. People's love of fashion is estimated to generate one garbage truck full of textile waste every second and less than 1% of our clothes are currently recycled. As a result, a growing number of economies have highlighted the importance of the fashion industry in their industrial decarbonisation plans.
One prominent example is the EU, which published a roadmap outlining its strategy for sustainable textiles earlier this year [2]. Developing circular business models such as resale channels to reverse the harm of fast fashion and the ensuing unsustainable consumption patterns has become an integral part of most, if not all, of the efforts to reduce the industry's carbon emissions.
Removing hassle
Retykle is Asia's first online resale platform buying and selling pre-loved high-end babywear, kidswear and maternity fashion. Describing the market landscape prior to the establishment of the platform, Garner said: "A formal second-hand baby, kids and maternity fashion market was largely non-existent. In the absence of any formal channels, parents and expectant mothers mainly relied on social media and/ or discussion forums to shop and handle the entire buying and shipping process for their purchases." Garner, a mother of two, decided to save other parents from the dilemma of having to choose between the time-consuming resale process or the guilt of throwing away all their good-as-new items every time their children needed new outfits.
Garner set up Retykle with the aim of providing users with an easy, one-stop method of trading their pre-loved designer children and maternity apparel. To take all of the hassle out of the resale process, the platform takes on all the sellers' responsibilities, from collection to pricing and delivery, charging about half of the tagged prices as a commission. It offers quality assurance services to mitigate the risks of damage, fault or counterfeit.
Garner said that confining the service scope to high-end kidswear and maternity wear is one of the critical factors that make her resale model commercially viable. Products from this market segment are the most sought after by parents in the second-hand market and the quality and branding assurance offered by these high-end fashion products largely explains how they can command the highest resale value. As a luxury fashion veteran, Garner appreciates the superb quality that high-end clothing can offer, and she pointed out that designer/luxury brands in general set a very high standard for their products.

In order to tap into this market, Retykle has built a fully-fledged team to conduct authenticity and quality checks on every item collected and listed on its platform. This starts with validating each item based on the watch points of its brand, with brands that are counterfeited more often are automatically flagged in the system for closer scrutiny. All items, however, are given a thorough quality check in order to ensure they are in a good condition – meeting one of the pre-determined criteria "new with tags", "good as new" or "gently used". Only those items that are authenticated and quality-proofed are listed on the platform.
Power of automation
Following on from Retykle's initial success, Garner and her team have been optimising the whole business process by using the power of automation to enhance efficiency and expand the capacity of the resale platform. In terms of logistics, Garner started Retykle as a one-woman pick-up fleet before the pick-up reservation system was integrated with the online platform and an in-house logistics team was created. Regarding product pricing and listing, each item is now automatically priced based on several criteria, such as product condition and current retail price, while the product details (such as titles and product descriptions) are automatically generated by visual search tools according to the product images.
Garner said that the due diligence process is one of the most challenging business processes to try to automate, but the lightning speed of AI development has given her hope that it can be done. For example, an AI watchdog for second-hand, branded handbags can carry out authenticity checks by taking images sourced from the brands' official websites and other credible reference points and comparing them with the product images of the second-hand handbags.
Eco-conscious consumers
Retykle has grown its user pool to 350,000 and the number of active listings on its platform are now in excess of 150,000, with an average inventory cycle of less than 30 days. Garner attributes the platform's success not just to its increasingly sophisticated business model, but also to the rise of eco-conscious consumers in Hong Kong and the rest of the Asia Pacific region.
She admitted that, when she established Retykle, second-hand shopping was largely stigmatised in many markets, with just a few exceptions such as France and the UK. This explains why most of Retykle's customers in its first two years were French and British expats living in Hong Kong. However, thanks to better environmental education and also perhaps the pandemic-led ESG drive, Garner has found the stigma of second-hand shopping is fading as more fashion consumers opt for a more sustainable lifestyle. Retykle's customer survey also confirmed the city's rising green consumerism, with the ESG factor replacing the branding factor in 2020 to become the leading motive for second-hand shopping among the resale platform's shoppers.
Garner believes that the trend towards sustainability has been greatly reinforced by the Covid-19 pandemic, which has awakened people's awareness of and responsibility for the natural environment. To stay ahead of the curve, she and her team have ramped up their efforts on customer acquisition by opening up a pop-up store in the city's main shopping district in July 2021 to showcase the company's ESG ideas, alongside the creation of more digital marketing splashes. Retykle has also proved to be a boon for consumers beset by uncertainty and falling incomes thanks to its offer of heavily discounted shopping. Coupled together, these factors have helped Retykle double its sales during this challenging year.
Eco-friendly brands
Garner says that consumers across the world, including those in Hong Kong, are becoming increasingly sceptical of brands and products that call themselves eco-friendly. She encouraged brands to take initiatives that optimise their business operations in order to best fit into the new normal of ESG expectations. Retykle, for example, has partnered with Climate Neutral, a non-profit organisation working to decrease global carbon emissions, and became Climate Neutral Certified earlier this year. The process of certification took Garner and her team a few months to complete, and included having to measure the carbon footprint of each business process, select and fund a carbon credit project to offset the carbon footprint, and formulate strategies to further reduce carbon emissions next year.
In addition to using eco-friendly packaging and other widely-adopted carbon reduction approaches, Garner hopes to make the entire product lifecycle circular by moving towards apparel upcycling technologies such as The Billie System, a collaboration between Novetex and the Hong Kong Research Institute of Textiles and Apparel(HKRITA), to recycle end-of-life stock and textile waste for items that are not fit for donation but should not go to waste.
Garner highlighted one way in which her platform's ESG achievements have been communicated to Retykle members. As well as putting time and effort into pursuing carbon neutrality, she also developed and included carbon-saving visuals into the user dashboard in partnership with Carbonbase, a local climate change software start-up advocating the urgency of effective climate change action. The aim is to help buyers and sellers better understand how much they have reduced their carbon footprint by trading their pre-loved fashion items on the platform instead of throwing them away and/or buying a brand new replacement. This has proved to be a big success in reinforcing the users' commitment to sustainability when buying fashion.
On the supply side, Garner believes that all brands should commit to sustainability as they scale up and plan for new initiatives in the post-pandemic future. Detailing what her own company will be doing to meet this goal, Garner said: "With international expansion on the horizon, Retykle is planning to localise its supply chain as far as possible, instead of cross-selling the items across different markets. This will best minimise carbon emissions.
Garments, Textiles & Accessories
Baby Products